In this article, learn how to download and install Windows Movie Maker on Windows 10.
Let me explain first what is Windows Movie Maker?
Windows Movie Maker is a video editing software created by Microsoft. It was a part of Windows Essentials software suite and offered the ability to create and edit videos as well as to publish them on Facebook, Vimeo, OneDrive, YouTube, and Flickr.
Moreover, Windows Movie Maker allows you to capture video from camera or any other device, or to important it in one of supported formats such as .MPG (MPEG-1), WMV/.ASF, .AVI (DV-AVI), .WAV, .WMA, and .MP3.
We have to mention that formats such as FLV, MOV, AAC, and MP4/3GP are also supported, but in order to use them you need to have the necessary codecs installed.
You may also like: How To Download and install Windows Media Encoder on Windows 10
How To download and install Windows Movie Maker in Windows 10
Installing Windows Movie Maker is quite easy, and if you have Windows Photo Gallery installed, you most likely have Windows Movie Maker installed as well since the two are bundled together.
Here are the steps to install Windows Movie Maker:
1. To begin , download Windows Live Essentials and start the setup.
2. After that, click Choose the programs you want to install option.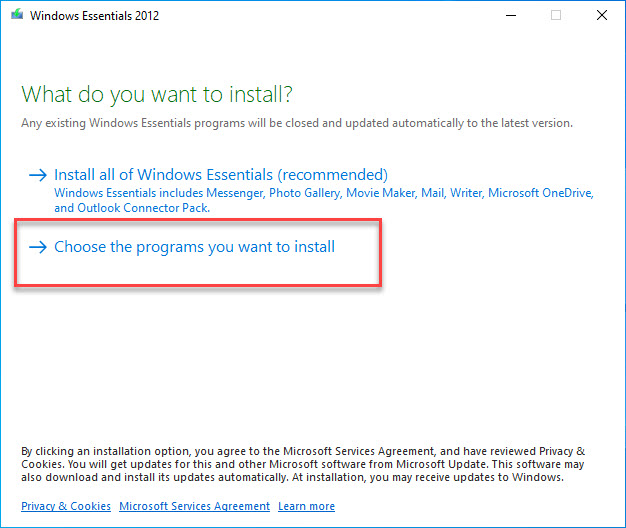 3. Now, tick only Photo Gallery and Movie Maker.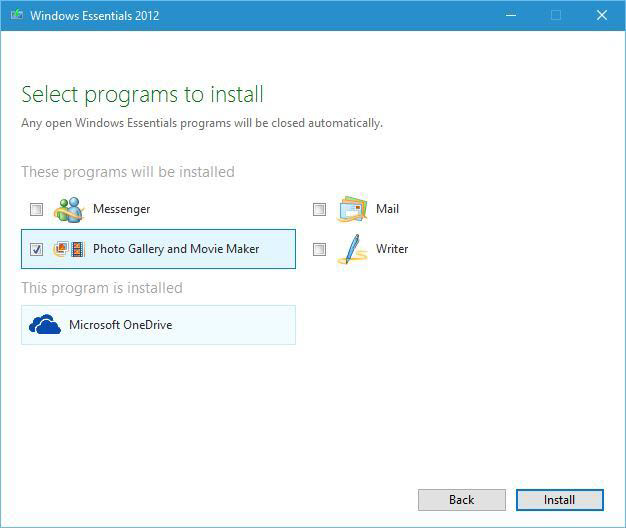 4. Click Install and wait for the installation to finish.
5. After the installation of Windows Movie Maker is complete, click Close.
Now you can launch it simply by double clicking the Movie Maker shortcut.
Main features of Windows Movie Maker are:
– Title Customization Tool
– Credit Customization Tool
– Auto Movie Options
– Timeline Narration
– pecial Effects Options
– Transition Overlays
– Extensive Audio Track Selection
Se also: How To Remove Audio from Video Using Windows Movie Maker
Windows Movie Maker runs without any problems in Windows 10. Although it doesn't have some of the features that other more advanced tools have, it's still one of the simplest applications to use for video editing.
If you can't hear audio in Movie Maker on Windows 10, visit this post and you'll certainly solve them.
Hope something helps you.