In this tutorial, learn how to download and install Windows Essentials on Windows 10.
Windows Essentials is a collection of Microsoft's applications and it was first released in 2006. Over the years Windows Essentials went through many changes with some tools removed and others added from the suite.
The last update for Windows Essentials was released in 2012 and Microsoft has ended support for Windows Essentials, so you are worried whether will Windows Essentials work on Windows 10.
This post will guide you how to install Windows Essentials on Windows 10.
Currently, Windows Essentials is not available for Windows 10. Hence, you can't download Windows Essentials from Microsoft Store.
If you need something similar to this program, you may try Microsoft Photos app, where you can edit and create videos with music, text, filters,, animations, and 3D effects.
In additonal, you can also download Windows Essential from third party websites, but on your own risk.
How To Install Windows Essentials on Windows 10
Installing Windows Essentials on Windows 10 is quite easy, here are the steps:
1. First, click here to download Windows Essentials.
2. Once the file is downloaded, double click the setup file to run the install process.
3. When the What do you want to install window opens, click Choose the programs you want to install.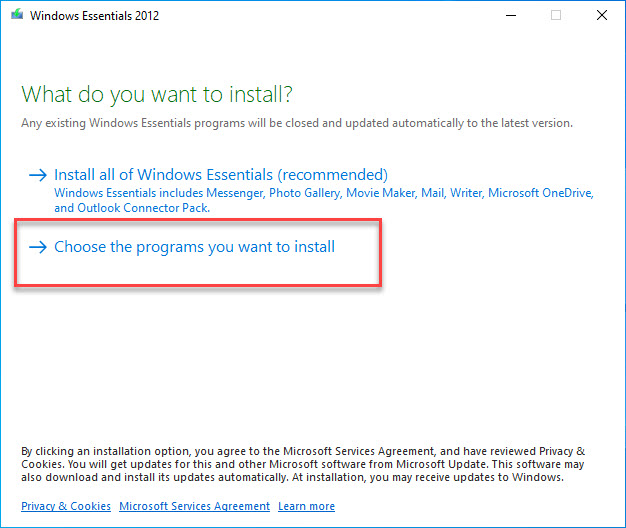 4. Choose the programs you want to install. Make sure that Messenger isn't checked.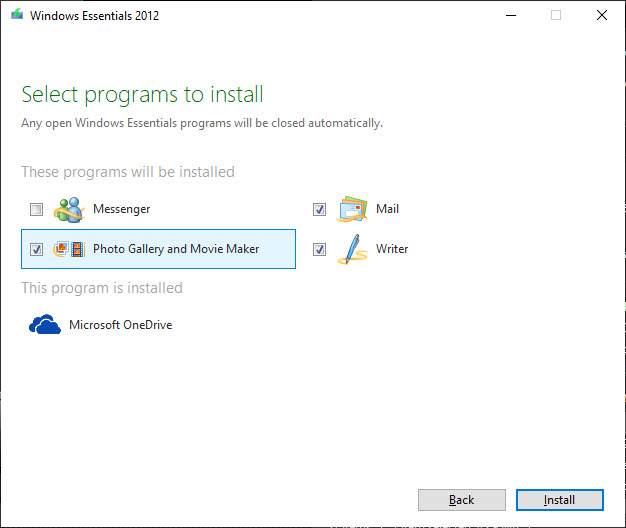 5. Click Install and wait for the installation process to complete.
If you're not familiar with Windows Essentials, I'll give you a short tutorial on what does each application does.
OneDrive: Windows 10 comes with OneDrive preinstalled, so you can't install it using Windows Essentials.
Photo Gallery is a photo editor, image viewer, and photo-sharing program.
Windows Live Mail is a desktop email program and direct successor to Outlook Express. If you're planning to use this client, keep in mind that Windows Live Mail doesn't work with Outlook anymore.
Movie Maker is a video editing software program, it works perfectly on Windows 10.
Windows Live Writer is a desktop blog-publishing application and it allows you to access several major blogging services such as SharePoint, WordPress and many others. By using this tool you can easily write blog posts right from your desktop, without using the blog's web interface.
Windows Live Messenger. Windows Live Messenger service was discontinued in 2013. After Messenger service was canceled, all of its users switched to Skype.
As you can see, you could install Windows Essentials on Windows 10 and use it without any problems.
That's about it.