In this article, learn how to fix "No Audio Output Device is Installed" problem in Windows 10, Windows 8.1/8 and Windows 7.
When scrolling your mouse's pointer to the sound icon, you're seeing the following message displays:
and there's a red X on the speaker in the tray.
This is usually caused by one of two problems: either your Windows Sound Drivers is got corrupted or Windows has disabled your audio device.
If you're also getting this problem in your Windows 10/8/7, this tutorial will help you to solve it.
How To Fix "No Audio Output Device Is Installed" Error in Windows 10/8/7
Method 1. Enable audio output device
This is the first method to fix this problem and get rid of the "No Audio Output Device is Installed" error message.
Step 1. Press Windows Key + R then put devmgmt.msc in the Run dialog box. Click OK to open Device Manager.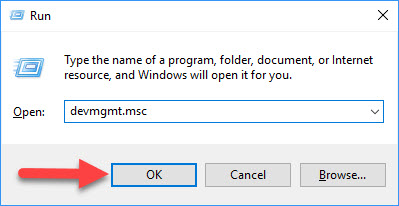 Step 2. When the Device Manager window opens, double-click Sound, video, and game controllers to expand that category.
Step 3. Right-click the sound card or sound processor that you want to re-enable, and then select Enable device.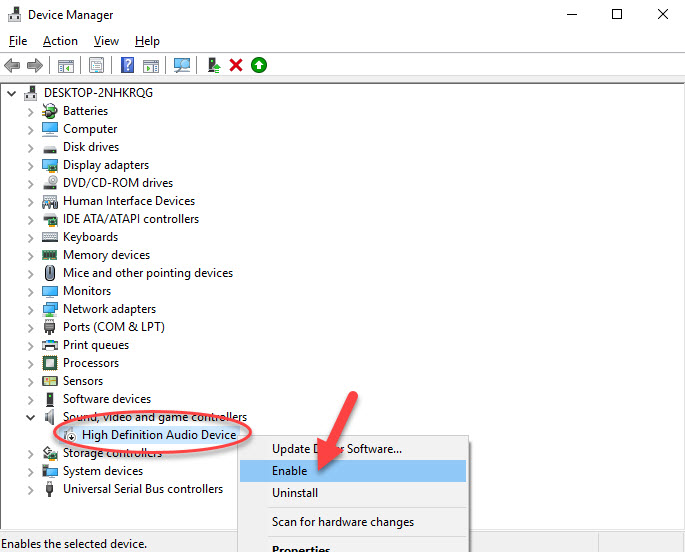 Note: If the audio device is already enabled, skip and go to Method 2 below.
Method 2. Reinstall your audio driver
In the most cases, the "No Audio Output Device is installed" error is due to outdated, broken, corrupt or missing sound drivers. So, the good solution is to uninstall then reinstall audio driver in Device Manager to ensure that your audio driver is working properly.
Step 1. Open Device Manager.
Step 2. Expand Sound, video and game controllers and right click on the sound device then click Uninstall device.

Step 3. Now confirm the uninstall by clicking Uninstall.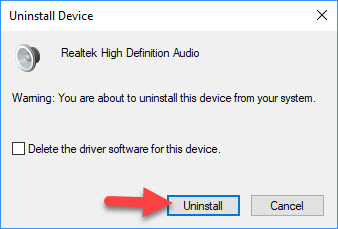 Step 4. Then, in the same Device Manager window, click Action > Scan for hardware changes.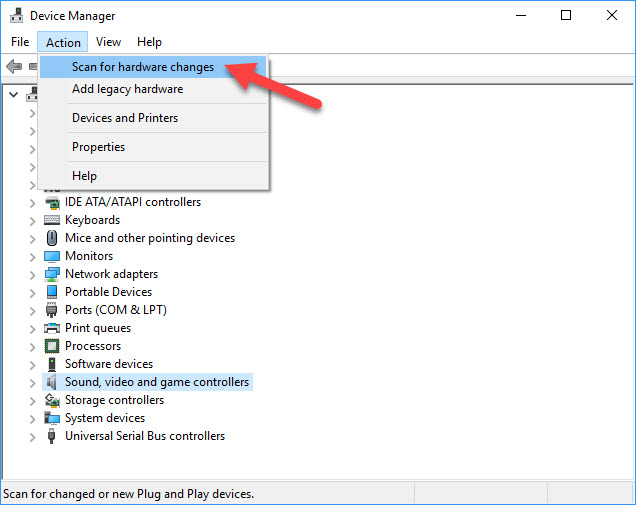 Windows should automatically reinstall your audio driver.
Step 5. Restart your computer and then check if the audio works.
If you don't computer skills to reinstall your audio driver manually in Windows 10/8/7, I suggest you do it automatically with Driver Talent. Driver Talent will automatically scan your system and detect the correct drivers for it.
See also:
Method 3. Run Windows 10 Audio Troubleshooter
You should be able to fix the "No Audio Output Device is installed" problem in Windows 10 by using the built-in Windows Audio Troubleshooter. To do so, follow these steps:
Step 1. Click Start menu and type "troubleshooter" in the search box. Then select "Troubleshooting" from below the search field.
Step 2. Select View all > Playing Audio.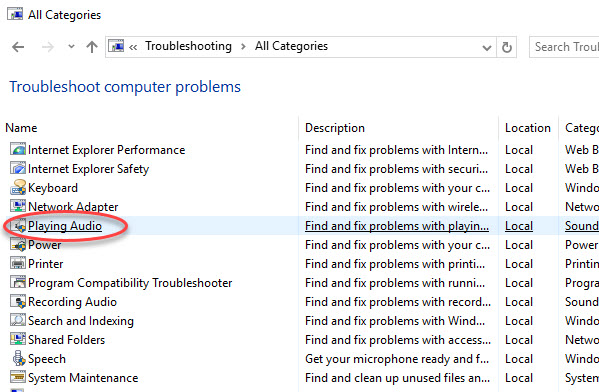 Step 3. Follow the instructions to complete the audio troubleshooting process.
Step 4. Restart your computer.
Here is the video to help you more:

We hope after the following advice, you would be able to easy to fix "No Audio Output Device is installed" problem in Windows 10/8/7. Let us know via comments if you still have the problem!