In this article, I will share a full review of Driver Talent (formerly called DriveTheLife).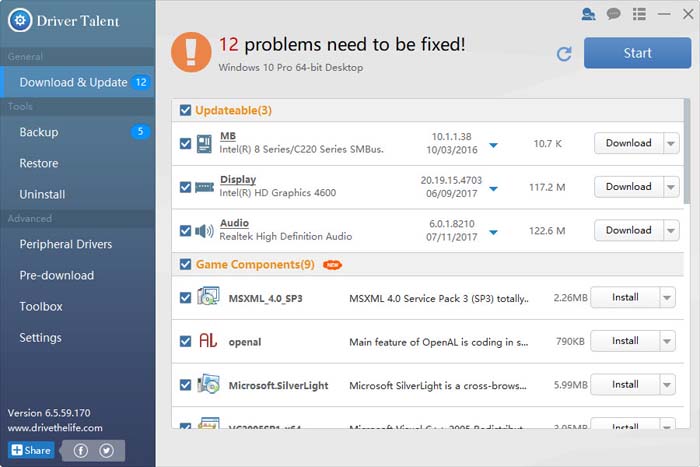 Driver Talent Review:
Driver talent is an easy-to-use, professional driver management and update program which will scan through your personal computer for all existing drivers. It will locate, malfunctioning, outdated, missing, problematic drivers and fix them all with just one click. Driver talent is your best bet to solve different tricky computer problems relating to drivers. The program is bug free and supports a number of features which you would normally expect from a software tool of this nature.
Driver Talent is an excellent choice to help you keep in touch with all of your driver requirements.  It works well on Windows 8.1, Windows 8, Windows 10, XP, 7 and vista. Apart from downloading and installing driver updates, it can also uninstall, restore, backup, drivers for network adapter, video/graphic card, audio/sound card, motherboard, peripheral devices such as USB, scanner, network printer, keyboard, mouse, DVD player, webcam, gamepad, Bluetooth etc.
Driver Talent will work well for you so long as you are using a Windows operating system from Windows XP and above: Windows Vista/7/8/8.1/10, even if it is a notebook/laptop or desktop. From the Hardware Profile section you can check for detailed hardware information. Video tutorials are also available.
Driver Talent is driver updater that is rich in features and also allows you to reinstall drivers which do not have update feature. This can really be helpful if you are trying to fix a driver issue.
All of the recently added drivers are shown on the home page which helps to keep track of the thousands of driver combinations possible. The software has a clean and easy-to-use interface demarcated into tabs including the update, overview and tools. Right from the main overview tab you can easily scan or rescan. It has an uninstaller to uninstall drivers that are malfunctioning. There is currently no option to install beta drivers as people are not expected to install beta drivers. All drivers provided are WHQL, this means that they are certified by Microsoft.
See more: Driver Easy Review
Driver Talent Pros:
Automatically backs up drivers before updating and uninstalling.
Fast download speeds
Installs in less than 5 seconds
Very easy to use
Downloads drivers directly from the software interface.
Driver Talent Cons:
Each driver must be downloaded one at a time.
The automatic scanning schedule cannot be modified.
To begin with, Driver talent has a nice interface which is clean and simple without any ads or extra menus that can be distracting. This makes it very easy to use.
In the download & update tab you will be informed about what driver needs to be repaired and backed up.
From the peripherals tab you can repair drivers, download and install the appropriate drivers and back up all the drivers that have not been backed up. This is a lovely feature because Driver Talent summarizes all the issues and allows you to solve all of them with just a click of the button.
Driver Talent is highly recommended for finding drivers for your computer although it does not allow for bulk downloads and installation like some other driver updater sofwares do.
Again you do not have to manually begin a scanning process as this is done automatically. It removes the need to search and download the drivers yourself.
So, if you do not have the necessary computer skills to fix or update the drivers manually, I highly recommend you do it automatically by using Driver Talent tool.
Download Driver Talent For Windows 10/8/7 Latest Version
Hope something helps you. In my blog, I have jotted down the best 25+ free apps for Windows 10.