In this tutorial, learn how to fix error code INET_E_RESOURCE_NOT_FOUND error when you attempt to load any websites in Microsoft Edge or Internet Explorer.
Microsoft Edge shows the following error message "Hmmm…can't reach this page" with a button "Details". If you click the "Details" button, you will see an error code:
The connection to the DNS server timed out.
Error Code: INET_E_RESOURCE_NOT_FOUND
or
There was a temporary DNS error. Try refreshing the page.
Error Code: INET_E_RESOURCE_NOT_FOUND
or
The DNS name doesn't exist
Error Code: INET_E_RESOURCE_NOT_FOUND
However, please note that this error only affects the Internet Explorer and Microsoft Edge. Hence, you will be able to use other browsers like Google Chrome, Mozilla Firefox or Opera.
Let me explain first what is error code INET_E_RESOURCE_NOT_FOUND?
INET_E_RESOURCE_NOT_FOUND is a Windows 10 error that might happen when trying to open websites from Microsoft Edge or Internet Explorer browser. When the error occurs, you unable to access one particular website that you were able to reach before. However, Firefox, Chrome, and other web browsers work perfectly.
How To Fix Error Code: INET_E_RESOURCE_NOT_FOUND In Windows 10
Method 1. Change Default DNS Server
Once DNS server not responding may cause that the INET_E_RESOURCE_NOT_FOUND error could appear in Microsoft Edge. Hence, in order to fix this problem, you simply change the default DNS server on Windows 10 computer with a third-party DNS service, like Google's DNS or OpenDNS. To do so, follow these steps:
Step 1. Press Windows Key + R then put ncpa.cpl in Run dialog box. Click OK to open up the Network Connections window.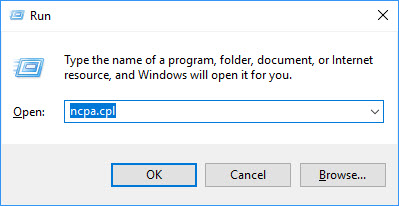 Step 2. Right click network adapter and select Properties.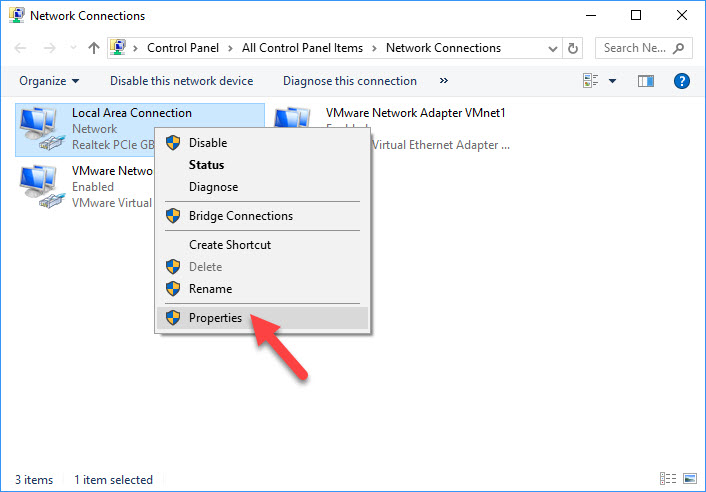 Step 3. Right-click Internet Protocol Version 4 (TCP/IPv4) and click on Properties.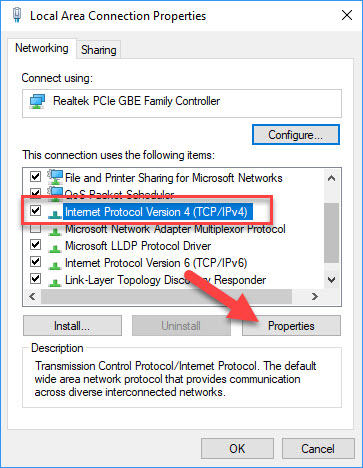 Step 4. Now, you check the radio button for Use the following DNS server address then enter the following server address and click OK.
Google's DNS: 8.8.8.8 / 8.8.4.4
OpenDNS: 208.67.222.222/208.67.220.220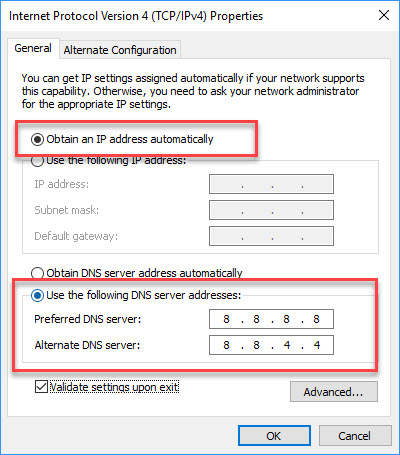 Step 5. Next, you have to clear the DNS Cache on a computer and web browsers. To do that, open Command Prompt as Administrator and type below command and press Enter:
ipconfig /flushdns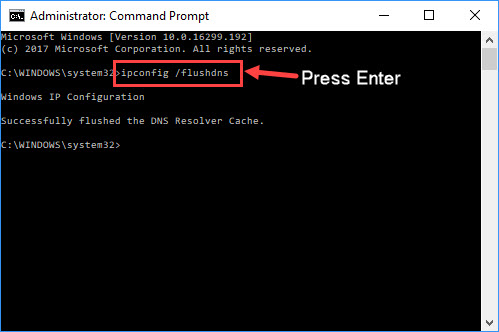 You can now close Command Prompt window, then reconnect Internet again, to check if the problem still persists while attempting to open a certain website.
Method 2. Uncheck Enable TCP Fast Open on Edge
According to Windows 10 users, you should be able to fix this problem by disabling TCP Fast Open feature on Edge browser. TCP Fast Open is a feature designed by Microsoft that improves the security and performance of Microsoft Edge. Hence, turning off it won't have any ill effect on your browsing or computing. Here is follow instructions to disable TCP Fast Open:
Step 1. Open your Microsoft Edge browser.
Step 2. In the URL address bar, you type about:flags and press Enter.
Step 3. Then, go to Network section and uncheck the option named TCP Fast Open.
Step 4. You need to restart Edge browser for changes to take effect.
Method 3. Use InPrivate Browsing
This is a temporary solution but it is useful for you. You can easily get rid of this problem by using InPrivate Browsing. To do that, follow these steps below:
Step 1. Launch Microsoft Edge browser.
Step 2. On the top right corner, you click on the 3 dots.
Step 3. Select New InPrivate Window.
In this InPrivate Window, your Edge browser should work as expected.
Method 4. Change User Account Control (UAC) Settings
Changing the settings of the UAC (User Account Control) have also proven to work for users. If your UAC settings are at Never Notify, the Microsoft Edge won't work. Follow these steps to resolve the problem.
Step 1. Go to the Control Panel (icons view), and click on the User Accounts icon.
Step 2. Move the slider up or down to change the settings. I suggest you pick the second option from the top. Click OK.
Step 3. If prompted by UAC, click Yes.
You can now close User Accounts and then see if the Microsoft Edge is still giving the error or not.
Method 5. Reinstall Microsoft Edge
If the problem still occurs then it is time to reinstall Microsoft Edge.
Note: This way will delete all of your favorites in Microsoft Edge, thus I would recommend you backup your favorites before reinstalling Microsoft Edge.
To reset or reinstall Microsoft Edge, follow these steps below:
Step 1. Close Edge browser.
Step 2. Click here to download the .zip file. Save the .zip file to your desktop.
Step 3. Unblock the .zip file.
Step 4. Using Winzip or Winrar to extract the Reset_Microsoft_Edge.ps1 file of the .zip file.
Step 5. Right-click file Reset_Microsoft_Edge.ps1 and click Run with PowerShell.
Step 6. You will now see PowerShell quickly open and close to run the commands.
Step 7. Once it is done, Microsoft Edge has been reset to default.
After resetting your Microsoft Edge, try to launch Microsoft Edge again and check if the error is gone.
See following video for live demo:

Hope something helps you. If you have trouble with Microsoft Edge, you can see the solution on my website.