In this article, learn how to fix "Hmmm…can't reach this page" error in Microsoft Edge browser.
Basically, when this error message has occurred you can't access certain websites in Windows 10. So why are some Websites not loading, including basic ones (e.g. youtube.com) in Windows 10? There could be a variety of causes, but the most know reason is related to DNS client which might have been disabled after upgrading to Windows 10.
Fortunately, this tutorial will show you a few methods for this error message. So, if Edge browser responds "Hmmm…can't reach this page" to all requests, but all other browsers work just fine, this tutorial is helpful for you.
Read more: How To Fix Error Code: INET_E_RESOURCE_NOT_FOUND In Windows 10
How To Fix "Hmmm…can't reach this page" in Windows 10
Method 1. Manually Setting DNS Server
The first reported method for this error message, that actually was the most effective for many Windows 10 users, I would recommend you change DNS settings on a Windows 10 PC. To do that, follow these steps:
Step 1. Open Control Panel then go to Network and Internet > Network and Sharing Center.
Step 2. On the left pane, you click on Change adapter settings.
Step 3. Right-click your network adapter and select Properties.
Step 4. Double-click Internet Protocol Version 4 (TCP/IPv4) from the list.
Step 5. Now you click the Use the following DNS server addresses option and enter following values:
Google Public DNS addresses: 8.8.8.8/8.8.4.4
OpenDNS addresses: 208.67.222.222/208.67.220.220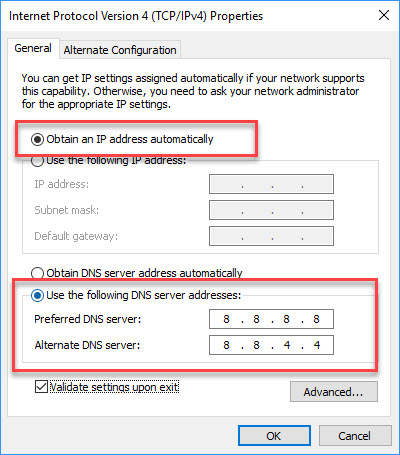 Step 6. Click OK to save the new DNS settings to the adapter.
After changing the DNS address, you can try to launch Microsoft Edge, to check if the error still appears while trying to connect to a desired webpage.
Method 2. Make sure DNS client is running
The "Hmmm…can't reach this page" bug might be happening because of the DNS service in Windows 10 is stopped. So, a good method to fix the problem will be in turning on DNS client service in Windows 10. To do so, follow these steps below:
Step 1. Press Windows Key + R then put services.msc in Run dialog box. Click OK.
Step 2. Locate the DNS Client service and double-click it. If the service is running normally, go to another method.
Step 3. Now, you click Start and set Startup type to Automatic.
Step 4. Click OK to save changes and reboot the machine.
Method 3. Checking proxy settings in Microsoft Edge
Step 1. Open the Microsoft Edge browser.
Step 2. At the top right, click on the three-dots symbol, then select Settings.
Step 3. Scroll down to Advanced Settings and click View Advanced Settings.
Step 4. Go to Proxy Setup, click on Open Proxy Settings.
Step 5. Make sure Use a proxy server is OFF and Automatically detect settings is ON.
If you connect to internet using proxy server, ensure the proxy setting is correct. In that case, make sure the Use a proxy server is ON and the Address and Port setting are correct. If you have any problems, I would recommend you contact the proxy service provider.
Here is the video to illustrate how to fix "Hmmm…can't reach this page" error in Microsoft Edge:

Hope something helps you. If you have trouble with Microsoft Edge, you can see the solution on my blog.