Roblox is a game creation platform where millions of people gather together every day to design, imagine, and share experiences with each other in immersive, user-generated 3D worlds. However, some users have reported that Roblox sometimes throws out an "error occurred while starting" error message.
Hence, they can't launch the application and play the game. You can refer below-mentioned suggestions to resolve this error message.
See more: ​How to Fix Roblox Error Code 267
How to fix "An error occurred while starting Roblox" error message
Method 1. Restart your router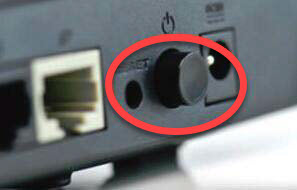 Restarting your router is an easy solution that a lot of Roblox users have confirmed to work. Roblox requires a net connection to launch, so it's not absolutely surprising that a router restart can deal with the "An error occurred while starting Roblox" error. Just press the reset button on your router to restart it.
See more: What is the best browser to play ROBLOX on Windows 10?
Method 2. Disable Proxy Settings
Many Roblox users have got Roblox started by disabling the proxy server setting in Windows. To do that, follow these steps below:
1. Press Windows Key + R then type inetcpl.cpl in Run dialog box. Click OK to open Internet Properties.
2. Switch to the Connections tab, click on the LAN settings button.
3. Uncheck the Use a proxy server for your LAN option if it's selected.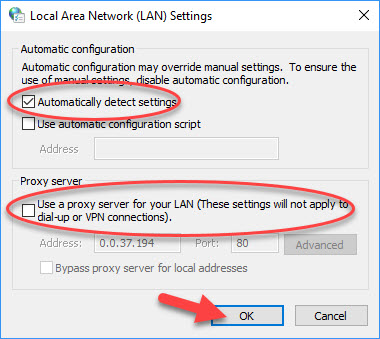 4. Click OK to save changes and then restart your browser.
Method 3. Turn Off Antivirus Software
Also, there were many reports which suggested that Antivirus software blocks Roblox from accessing the internet. Disabling anti-virus software off will ensure that doesn't happen.
You can try turning off your antivirus software temporarily and then check if this fixes the problem at hand. You can read more detailed tutorial on how to disable Antivirus and perform the steps according to the Antivirus utility installed on your computer.
You may also like: 8 Best Antivirus For Windows 10 in 2020
Method 4. Adding Roblox to Firewall exceptions
The "Roblox error occurred while starting" error might be due to Windows Defender Firewall. So you can try to add Roblox to the Windows Firewall's allowed apps list. To do that, follow these steps below:
Keep mind in that you'll need to modify the Windows Defender Firewall settings within an admin account. So log in to an admin account if required.
1. First, log in to Administrator account.
2. Type "Windows Firewall" in the Cortana search box.
3. Once in the firewall settings, click Allow an app through Windows Defender Firewall.
4. Click on the Change settings button then click on the Allow another app button to open the Add app window.
5. Click Browse and choose to add Roblox. Click the Add button to add Roblox to the apps list.
6. Make sure you've checked both Roblox's check boxes on the allowed apps list. Click OK.
7. Click the OK option.
Method 5. Reinstall Roblox
If these above methods don't work, you should try uninstalling Roblox and re-installing them.
See also: How to Reinstall Roblox
There are few methods to do that, but the most effective one is to use an uninstaller software such as Your Uninstaller. Your Uninstaller is a special application that can remove any application, including all its files and registry entries.
After that, download Roblox again from this site.
Re-install Roblox.
VIDEO TUTORIAL: How to fix Roblox start errors

Hope something helps you.