In this tutorial, learn how to fix 'Windows Photo Viewer can't open this picture' problem and view your photos in Windows 10, Windows 8, and Windows 7.
In Windows 10, Windows 8, and Windows 7, the Windows Photo Viewer is the default application for viewing images. Some users have claimed that Windows Photo Viewer fails to open CR2, NEF, and other picture file types and displays this error message as a result of this limitation.
On Windows 10, 8, or 7 PCs, are you unable to access images? What happens if Windows Photo Viewer fails to open a photo?
Windows Photo Viewer cannot open this photo because of the following common causes:
There are no new features in Windows Photo Viewer.
The application does not support image files.
There's something wrong with this picture. It's encrypted.
Your PC has a software problem.
How To Fix "Windows Photo Viewer can't open this picture' in Windows 10
Method 1. Update Windows Photo Viewer
Updates can resolve bugs and other problems in the software. As a result, it may be necessary to update Windows Photo Viewer. To update your Windows Photo Viewer in Windows 10, follow these steps below:
1. Click on Start menu, then go to Settings > Update & Security > Windows Update.
2. Click Check for updates.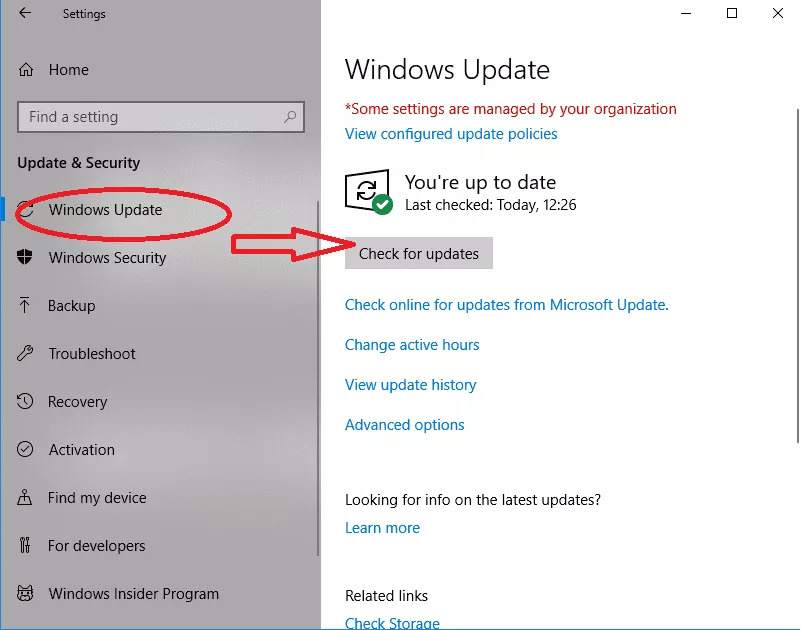 3. Select the check next to the Photo Viewer box to activate the feature. Then click Install Updates.
4. Restart your system when the updates are complete.
Method 2. Open photo in different application
The only file types supported by Windows Photo Viewer are JPEG, TIFF, PNG, GIF, BMP, DIB, and WDP.
Open the picture file in a separate application if it is in a different format. You can use Photoshop, IrfanView, Photo Retouch, Raw Image Viewer, or any other image editing software.
Method 3. Convert image to different format
Windows Photo Viewer can display images in JPEG, TIFF, and PNG formats if the original file format is not supported.
This will fix the 'Windows Photo Viewer can't open this picture' issue. But the high-resolution images will be reduced in size by this method. However, they may now be viewed within the software.
Method 4. Repair image with a Photo Repair Software
If, for example, the picture file is corrupted.
Windows Photo Viewer and other apps cannot open this file.
Not updating Windows Photo Viewer or changing to a different file format solved the problem.
Try using a picture restoration program if your photo is exhibiting the problem since it is most likely corrupted.
There are a slew of internet tools for fixing damaged photos. Almost all of them only handle JPEG, TIFF, and PNG photos, and do not support camera raw data. Stellar Repair for Photo offers a more complete and effective solution since it not only repairs JPEG and TIFF files but also popular raw camera file types like CR2, NEF, ORF, DNG, and so on.. Broken, pixelated, grainy, or otherwise unappealing photos can be restored with this program, which is safe and up-to-date enough to do so.
Unlimited photographs of the same or other formats can be repaired at the same time by the program.
Here are the steps to repair corrupt pictures using Stellar Repair for Photo:
1. Install and run Stellar Repair for Photo. Link download
2. Click Add File.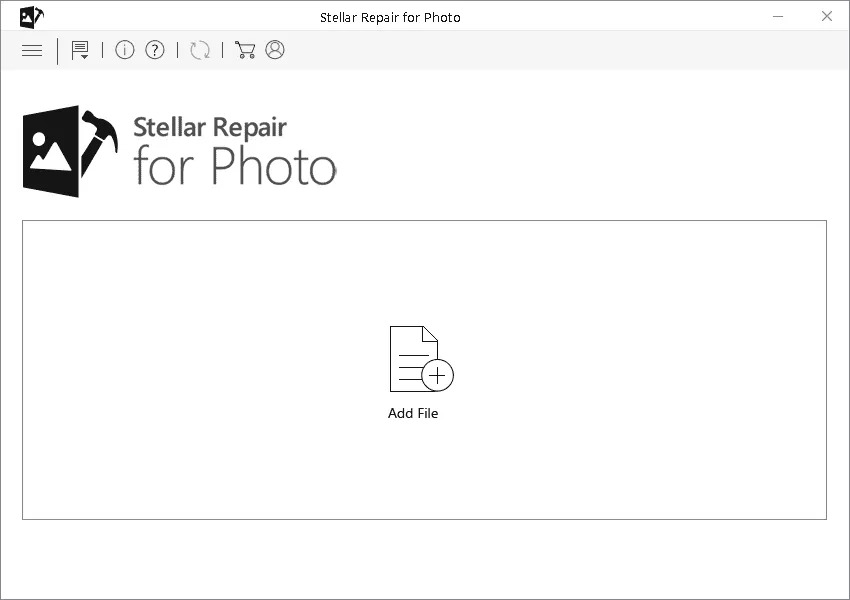 3. Select Repair.
4. Preview the repaired photos and select Save Repaired Files.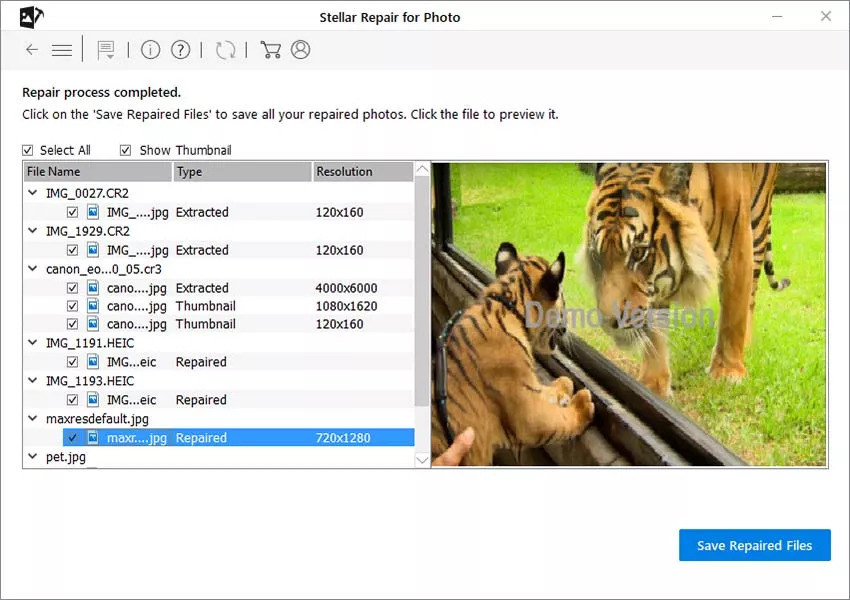 Method 5. Uninstall mobile phone backup suite
Have you just upgraded your PC backup suite for your phone? If this is the case, Windows Photo Viewer might not be able to open photographs. The Android phone's default picture viewer may be in conflict with your computer's photo viewer.
Now that the Android phone backup application has been removed from your computer, try viewing the pictures again.
Here are the steps to uninstall smartphone backup software:
1. Open Control Panel.
2. Click on Uninstall a Programs.
3. In the Programs and Features window, locate your phone's related program with its name (Samsung, Nokia, Oppo etc.), choose, and click Uninstall.
Now, check if your photographs can be opened in Windows Photo Viewer. The phone suite can be reinstalled at a later time.
6. Turn off encryption in image file
Are you attempting to use Windows Photo Viewer to open photographs that were imported from a smartphone? Photos, movies, and other media may be encrypted via the smartphone's settings. It's conceivable that Windows Photo Viewer won't open any encrypted images at this time.
Try to fix 'Windows Photo Viewer can't open this picture' problem by turning off encryption in the image file.
Here are the steps to turn off encryption in photos:
1. Right-click on the photo and click Properties.
2. Go to the General tab, click Advanced.
3. Unselect the box before Encrypt Contents to Secure Data.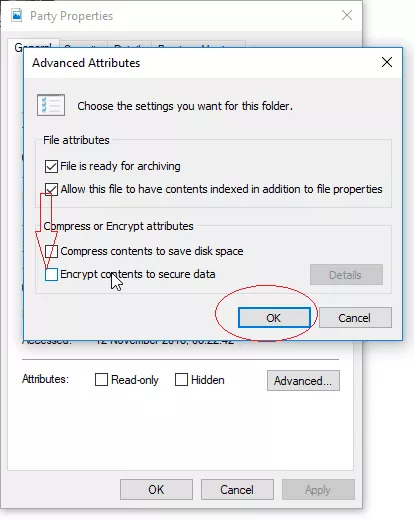 4. Click OK.
Conclusion
Windows Photo Viewer can't open this picture' error is not new. Due to limited file format support, users commonly face this problem. In such a case, converting the file type or viewing the pictures in different photo viewers resolves the issue. Often updating the application along with the Windows update helps.
Apart from this, when you maintain smartphone backup on computer, the device backup suite on PC can cause the error. Try to view the images after uninstalling the Android phone backup suite. Sometimes, the imported images from Android phones do not open in the photo viewer because of the encryption settings. You can remove the encryption on the image file to view it in Windows Photo Viewer.
When none of these troubleshooting methods works, it means the image itself is corrupt. A repair software such as Stellar Repair for Photo serves as the ideal solution for this situation. The software effectively repairs corrupt JPEG, TIFF, DNG, CR2, SRF, and other image file formats of DSLRs, camcorders, action cameras, etc. And it also works on an extensive variety of image corruptions including broken, pixelated, blurry images, and more.