Want to play Android games with high graphic and high frame rate on LDPlayer emulator? In this tutorial, we are gonna show you tips on how to set up your LDPlayer to maximize the FPS and Graphic. There are two types of settings you can change, your computer settings and LD Player Settings.
You may also like: How to optimize Windows 10 for gaming & performance
How to speed up LDPlayer and Improve The Performance in Windows 10
Method 1. Upgrade LDPlayer to the Latest Versions
To begin, make sure that you have the latest version of LDPlayer installed on your Windows PC. And we suggest using the latest version so that you can get the best performance. Here are the steps:
1. Launch LDPlayer and navigate to the icon with three upright lightning bolts in the top right corner of the screen. It's just next to the usual minimise window, full screen and exit buttons par. Click on it.
2. A pop-down will appear, find Check for Updates among the options, click on it.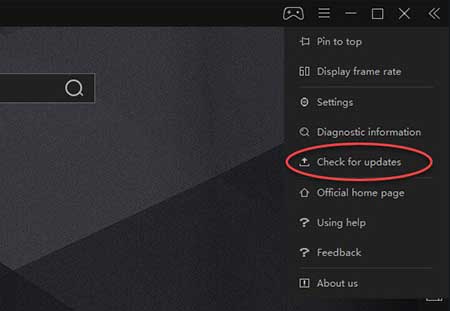 3. A download window will pop up in the middle of your desktop and within a few seconds, it will say you whether you have the latest version or if there is a new one available. If there is a later version, click the Download button and follow the instructions on screen. LDPlayer will close and the new version will install.
Also, you can download LDPlayer latest version from here.

Method 2. Set Up LDPlayer
Here are a few tips about how to set up LDPlayer. You can change it through LDPLayer settings.
1. Advanced settings
– Resolution: Same as your Monitor Resolution
– CPU: Same as your CPU Cores
Set it the same as your CPU Cores so that you can get the best performance. You should not be using other apps while using LD Player as it will degrade the performance of the LD player.
– RAM: Give LD Player all the Ram you have.
– Disk Management: Make sure you give it enough space for running the game. We would recommend 16GB as a good standard if you are going to play more than two games. 10GB is fine if you are playing Only one Game.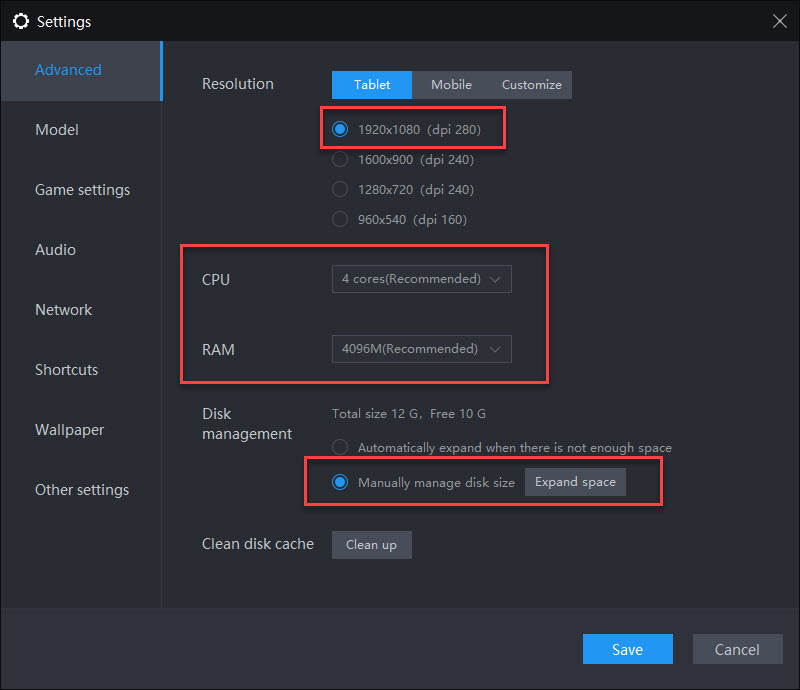 2. Model/Properties settings
After that, navigate to the Model or Properties setting where you can change the IMEI, Model, Manufacturer, and Number for your virtual Android device. There you will see an extra setting developed to help you quickly customize the model settings for specific games. You can set up high frame rate (90/120) model.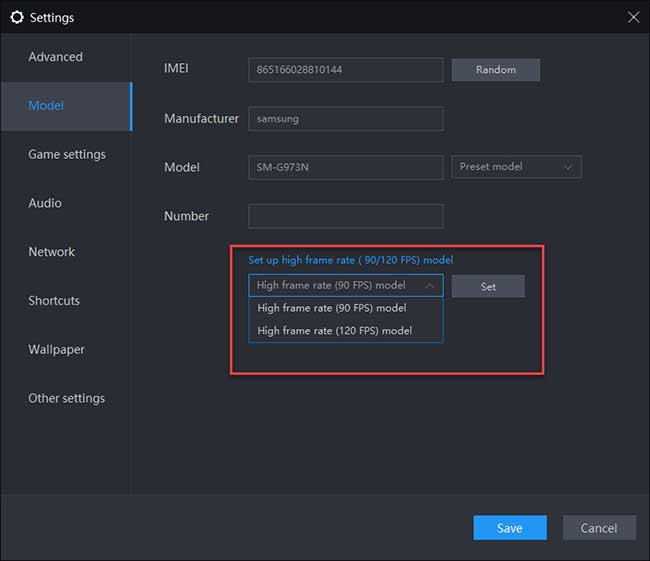 3. Game Settings
According to your Game. Some games are PUBG are given extra support. For Pubg Mobile you select the Game Resolution. Make sure you choose the same as your screen resolution for increase performance on LD Player. Check the settings below: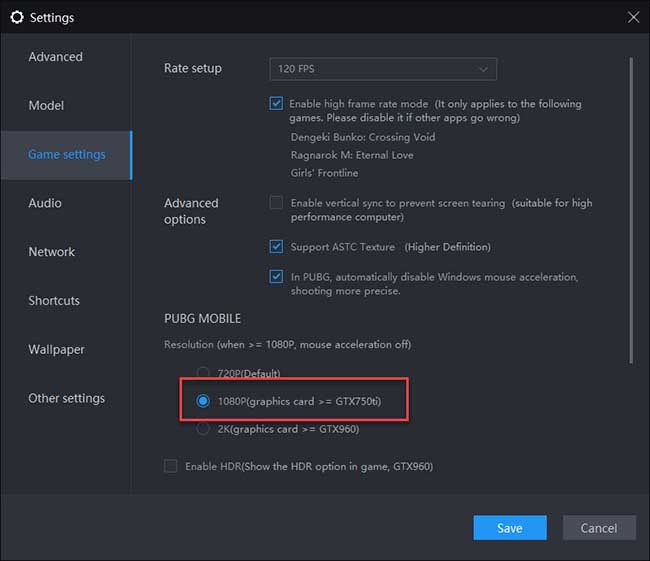 4. LD Player Hidden settings
There are some hidden settings under the left side panel of the LD Player. The Icon is as shown below:
– Click on this and open the Multi LD Player Settings.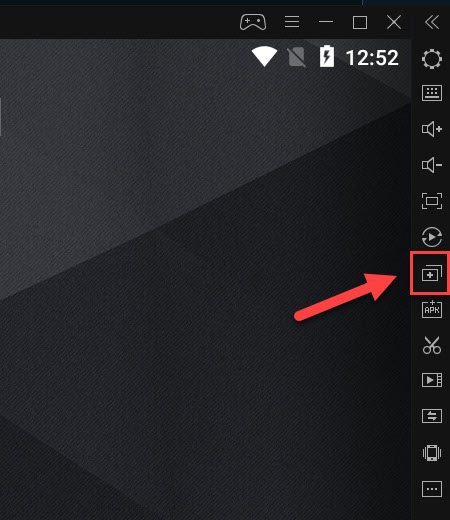 – Select Optimization, as shown above:
– Multiplay Optimization: Set it to 60FPS
– Memory Optimization: Turn it ON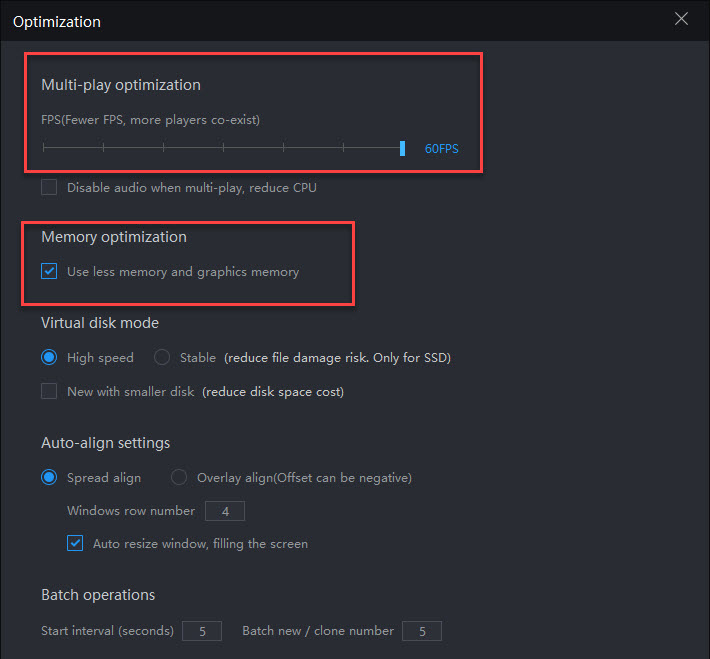 This will make sure that games use Less Graphics memory and thus for low-end PC, it gives a good performance boost.
Method 3. Enable VT (Virtual Technology) on Your Computer
VT (Virtualization Technology) allows a CPU to act as you have several independent computers, in order to enable several operating systems to run at the same time on the same machine.
The Android system on the emulator is run on a virtual "computer". So, enabling the VT will better make use of the resources of the CPU on your computer.
1. To begin, you need to check whether VT is supported or enabled on your computer.
2. Click here to download LeoMoon-CPU-V. LeoMoon CPU-V is the only application on the Internet that will help you to detect if your CPU supports Hardware Virtualization that supports 32-bit and 64-bit Windows. It also detects if Hardware Virtualization is enabled in BIOS and also if Intel Trusted Execution is enabled.
3. If you check out the VT-x Enabled is not enabled but your computer supports VT, follow the below steps to turn on virtual technology:
– Firstly, you should restart your computer. Once your computer shuts down and restarts, press Del or F2 key repeatedly to enter the BIOS setup.
– In the BIOS, VT section is usually named Virtualization, Virtual, VT-X, Intel(R) Virtualization Technology, SVM. You can find it in the "Processor Configuration" of the "Advanced" option.
– Select "Intel(R) Virtualization Technology" and set the setting to Enable.
– Finally, save the setting and exit from BIOS.
Method 4. Change LDplayer to High Priority
When you launch a Game in LDPlayer do the following:
1. Open Task Manager.
2. Switch to the Details tab, find the Process related to LDPlayer. Set its Priority as HIGH.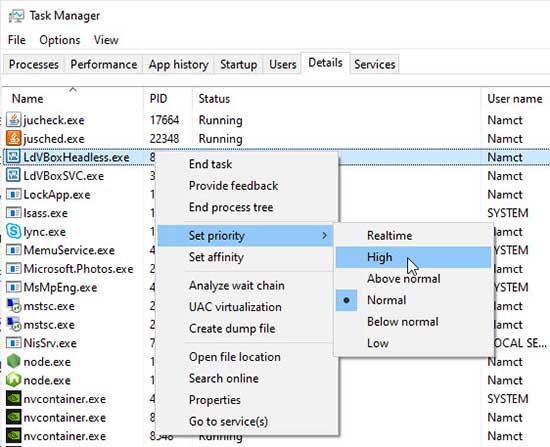 See more: How to set a program to high priority permanently in Windows
Method 5. Increase virtual memory
Your virtual memory should be double your actual RAM. This memory is used when the system runs out of ram, so the more you have, the better.
1. Right-click on "This PC" icon and click on "Properties".
2. In the left sidebar, select "Advanced System Settings".
3. Navigate to the Advanced tab, select on the "Settings" in the Performance section.
4. Navigate to the Advanced tab, under the Virtual memory section, select on "Change …".
5. Uncheck the "Automatically allocated virtual memory" option. After that, select on the "Custom Size" and type the virtual size for your pagination file.
6. Now, set initial size and maximum size to the same.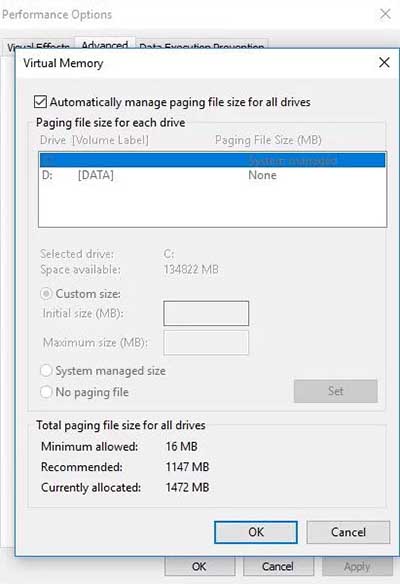 Method 6. Disable Hyper-V and other hypervisors
Since LDPlayer uses virtualization technology, when other hypervisors like Hyper-V, VMWare, VirtualBox are running, it may impair your ability to run optimally. To disable Hyper-V on your Windows PC, follow these steps below:
– Go to Control Panel > Programs > Turn Windows features on or off.
– Uncheck Hyper-V in Windows features.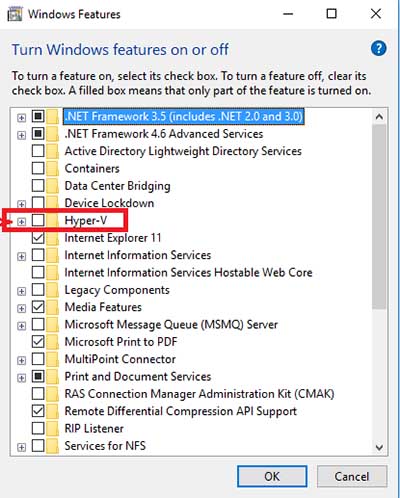 – Click OK and restart your computer.
Method 7. Adjust power plan setting
Adjust your power plan setting to speedup LDPlayer. Here are the steps:
1. Open "Control Panel" and find "Power Plan" in the search box.
2. Choose on the Power Option and change the power plan to "High-Performance" mode.
3. Click Save or click OK changes.
That's about it. If you have any question then you can ask in the comment section below.
Method 8. Turn on discrete graphic
Read this tutorial if you have Intel Integrated Graphics and AMD/ NVIDIA Discrete Graphics at the same time.
For NVIDIA:
1. Install "NVIDIA Control Panel" if you don't have.
See also: How To Fix NVIDIA Control Panel Missing Problem
2. Go to the "Manage 3D Settings" tab, select "NVIDIA Graphics" in Global Settings section.
Or add "dnplayer.exe" to "NVIDIA Graphics" in "Program Settings" if you want LDPlayer to use it only.
For AMD:
1. Install "AMD Catalyst Control Center" if you don't have.
2. Right-click desktop and click "Configure Switchable Graphics".
3. Click "Browse" to add "dnplayer.exe" in All Applications section.
4. Choose "High Performance" if you want LDPlayer to use AMD Graphics.
Method 9. Update your outdated drivers to the latest version
Upgrading your outdated graphics drivers helps to reduce most of the rendering lags in the LDPLayer.
There are so many programs available on the internet which helps to update all your outdated drivers to the latest version by just clicking the Update All button. You can try Driver Easy, which is free and always update their driver's database every week. Here are the steps to update all your outdated drivers:
1. Download and install Driver Easy on your Windows PC.
2. Run Driver Easy and click the Scan Now button. Driver Easy will then scan your PC and checks the outdated drivers.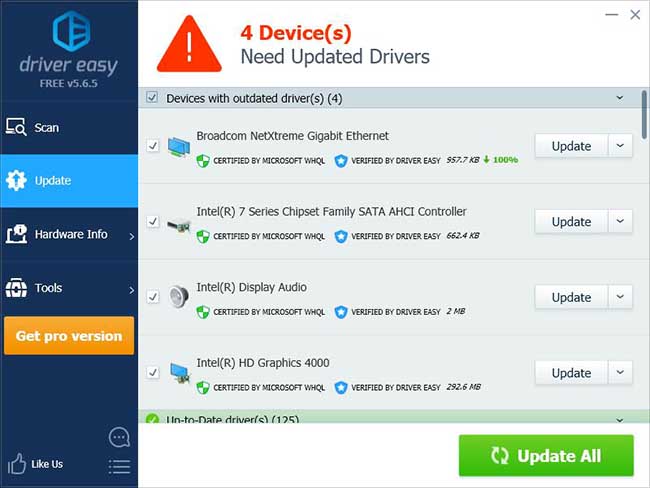 3. Once the scanning is completed, click Update All to automatically download and install the correct version of all the driver that are missing or out of date on your system.
Method 10. Install Advance Gaming Booster
You can download Smart Game Booster and install it on your computer. Scan your computer. Once the scanning finishes, it will enable all the optimization required to run the game smoothly in the LDPlayer.
That's about it. If you have any question then you can ask in the comment section below.
You may also like:
KO Player Optimization Guide for gaming
Nox App Player Optimization Guide for gaming
Mumu Optimization Guide for gaming