In this article, we will show you how to fix lag and boost FPS in Gameloop Emulator. This way will work in most games such as PUBG Mobile, Call Of Duty Mobile, Free Fire.
GameLoop is an Updated Version of Tencent Gaming Buddy that allows you to play Call of Duty Mobile Zombies Mode, PUBG Mobile, Free fire and other Android games on Windows PC. However, the emulator requires some high graphics to play the games smoothly.
If you are a gamer but have a low-spec PC on your hands, then this tutorial will help you tweak settings for Gameloop (Tencent Gaming Buddy) emulator so that you can actually play modern games on your old, crappy machine with no or less lag.
You may also like: Tips and tricks to increase PC performance on Windows 10
How To Fix Lag in Gameloop Android emulator (Tencent Gaming Buddy)
Method 1. Install Latest Version of GameLoop

First, make sure that you have the latest version of Gammeloop installed on your Windows PC. And we recommend using the latest version so that you can get the best performance.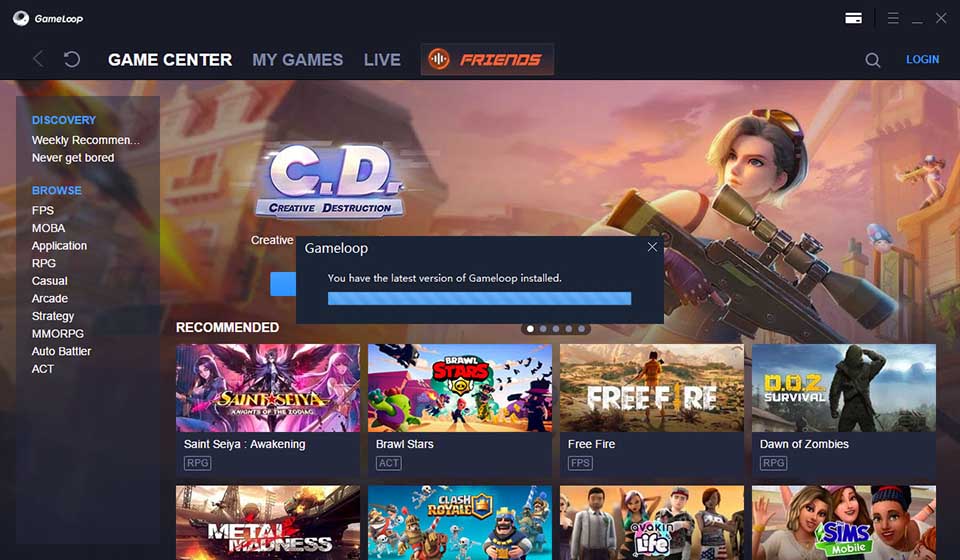 You can also download Gammeloop latest version from this site.
Method 2. Increase the pagination size of your system
There are certain disk spaces and memory that are needed for the system to play the games smoothly. However, the disk space and memory allocated to the system is always less. So, you must increase the size of the pagination files.
Note: Always consider the size of the files around 50% of your RAM size.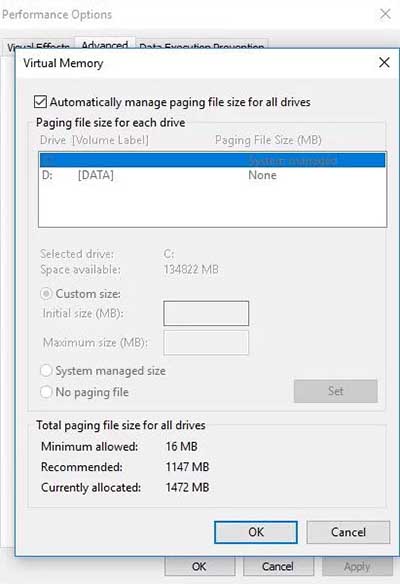 Here are the steps:
Step 1. Right-click on "This PC" icon and select on "Properties".
Step 2. In the left sidebar, click on "Advanced System Settings".
Step 3. Go to the Advanced tab, click on the "Settings" in the Performance section.
Step 4. Go to the Advanced tab, under the Virtual memory section, click on "Change …".
Step 5. Uncheck the "Automatically allocated virtual memory" option. After that, click on the "Custom Size" and enter the virtual size for your pagination file.
Step 6. Now. set initial size and maximum size to the same.
Step 7. Restart your PC.
Method 3. Set your Power Plan Mode to "High-Performance" Mode
A computer is designed in such a method to improve better battery life by reducing the performance of your system. You can change the option to "High-performance" to offer more resources for your system to play the game smoothly.
Here are the steps to enable the "High-Performance" mode:
Step 1. Open the Control Panel (icons view), click on the Power Options icon.
Step 2. In the right of the power plan, click on the "Change plan settings" link.
Step 3. Select your plan mode to "High Performance".
Tips: On the laptop, just click on the battery option in the taskbar and change the mode to maximum performance.
Step 4. Click OK or click Save changes.
If the power plan you want to use isn't available, you can create a custom power plan to increase performance using the "High performance" settings.
Method 4. Change the Priority of Gameloop Emulator in Task Manager
There are so many resources and other applications running in the background of your Windows. You can easily find all these background processes in the Task Manager. So you will have to change the priority of Gameloop to "High" mode which will help the system to give more resources to the Gameloop emulator. It helps a lot to fix lag and boost FPS in Gameloop Emulator.
See more: How to set a program to high priority permanently in Windows

Here are the steps to change the priority of Gameloop in Windows Task:
Note: You must assign the priority of Gameloop every time you launch the application.
Step 1. Launch Gameloop emulator and any desired game in it.
Step 2. Now open your Task Manager
Step 3. Go to the "Detail" tab in Task Manager, and search for AndroidEmulator.exe and AppMarket.exe.
Step 4. Once you find them, right-click on it and navigate to "Priority" and change the priority to "High".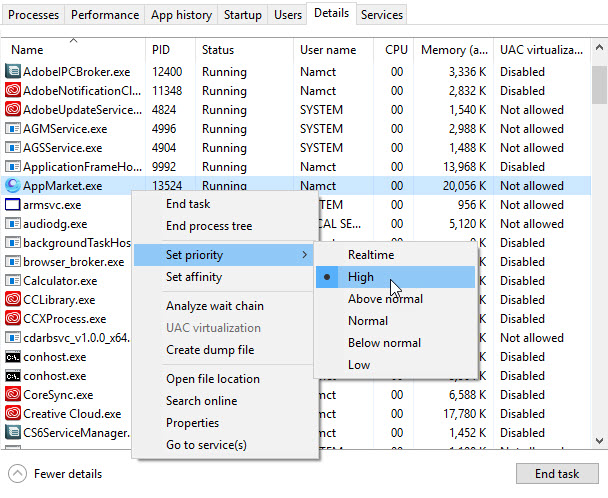 Step 5. Close the Task Manager and you are now all ready to play the game.
Method 5. Uninstall non-essential apps
If your PC is running slow, you should usually consider uninstalling all the apps that you never use to increase system performance. Here are the steps:
Step 1. Click on Start menu button, select Settings.
Step 2. Select on Apps > click on Apps & features.
Step 3. Choose the app you want to remove. Click the Uninstall button.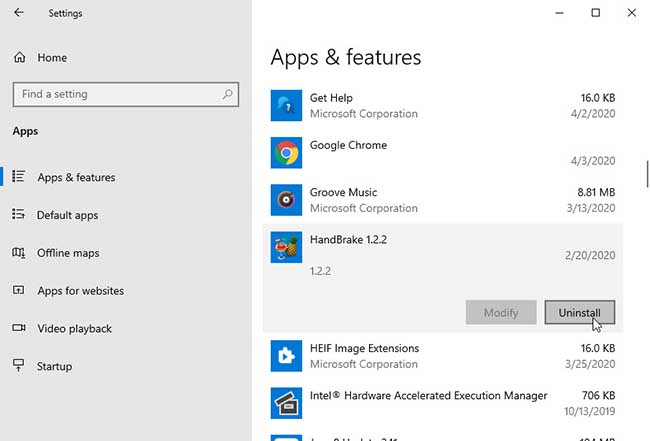 For example, if you're uninstalling a HandBrake app, click on the Uninstall button and then click on the Uninstall button again to confirm.
Method 6. Enable "Virtualization Mode" in your system
Virtualization is one of the best solutions to improve the performance of your system a lot. It depends on your graphics card specification or motherboard.
To enable or check Virtualization mode for your system, follow the steps below:
Step 1. First, download a 3rd-party tool: LeoMoon CPU-V to detect your CPU's capability.
Step 2. Check result it supports virtualization
Step 3. Navigate to BIOS mode to enable virtualization
1. Press a designated key repeatedly (depends on your machine vendor, e.g. Del or F2 works for most Dell) to enter into BIOS setup page when system powers up.
2. Find virtualization technology (aka AMD-V and Intel VT) and enable it.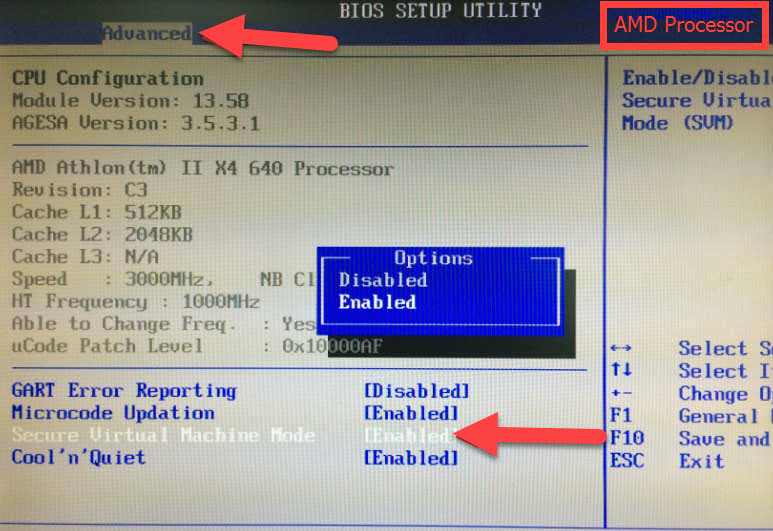 Note: The BIOS settings for AMD-V or Intel VT are usually in the Processor or Chipset menus. The menu names may vary from this tutorial, the virtualization settings may be found in Security Settings or other nonstandard menu names.
3. Save and restart the computer to apply the change.
Method 7. Change Gameloop Emulator Settings
There are certain emulator settings that would help to reduce lag and boost FPS in the game and run it smoothly.
Navigate to Gameloop settings:
1. General Settings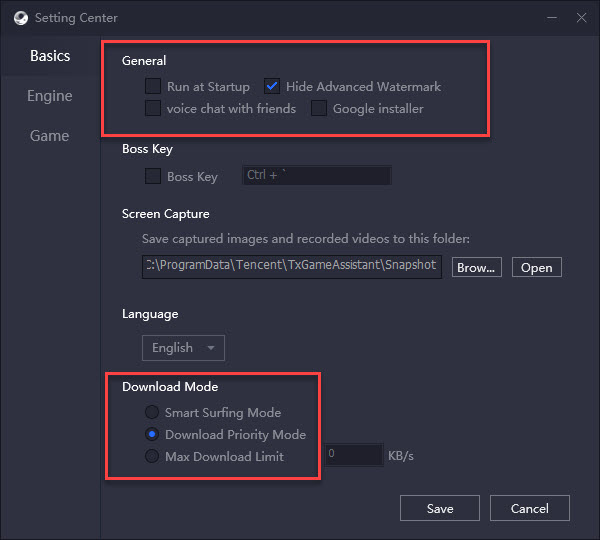 – Disable everything except hide the advanced watermark
– Download Priority Mode
2. Gameloop Engine Settings: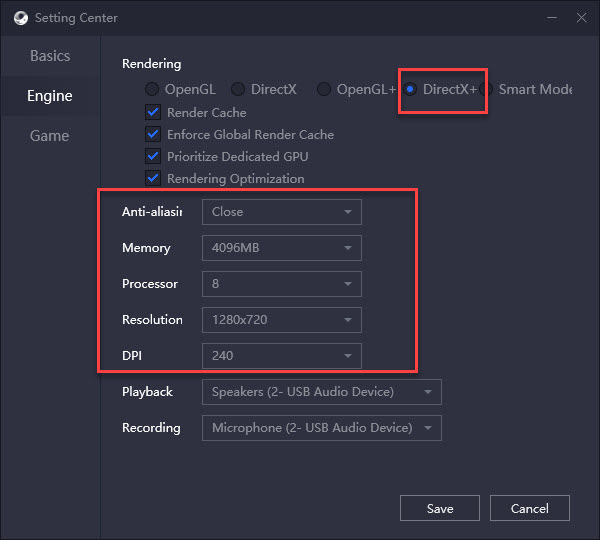 – Rendering: Direct X+ or OpenGL (Update)
– Antialiasing: Disabled/Closed
– Memory: Same as your Ram
– Processor: Same as your System Processors Cores
– Resolution: Your Monitor Resolution
– DPI: 160 or 240
3. Gameloop Game Settings: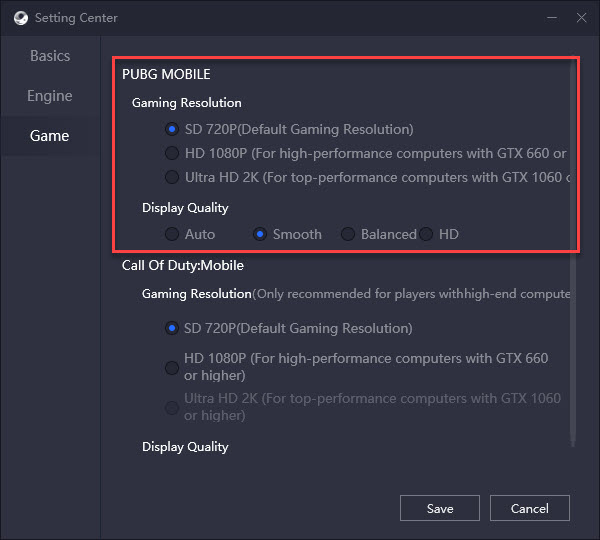 – Gaming Resolution: same as your Monitor Resolution
– Display Quality: Smooth
Method 8. Always Use Turbo AOW Engine to play games in Gameloop emulator
Gameloop emulator has its own engine to run the games smoothly for the low-end PC. This engine is called "Turbo AOW Engine" which is different from the Standard engine mode of the emulator.
To launch the games in the Turbo AOW Engine mode, directly run the games from the Gameloop home-screen. You will see the Turbo AOW Engine mode on the title section of the running game.
Method 9. Install a Gaming Performance Booster Software
Razer Cortex is one of the most comprehensive game boosters for PC. This software increases your PC performance by managing and killing processes and apps you don't need while gaming (like background helpers and business apps). This frees up valuable resources and RAM needed for games, resulting in higher frames per second and smoother gaming performance.
You can download Razer Cortex: Game Booster and install it on your PC. Scan your PC. Once the scanning finishes, it will allow all the optimization required to run the game smoothly in the Gameloop emulator.
Read more: The Best Game Booster Software for Windows 10
Method 10. Update your outdated drivers to the latest version
Make sure you frequently your outdated drivers to the latest version if available. Upgrading your outdated graphics drivers helps to reduce most of the rendering lags in the Gameloop Emulator.
There are so many software available on the internet which helps to update all your outdated drivers to the latest version by just clicking the Update All button. You can try Driver Easy, which is free and always update their driver's database every week.
See also: 11 Best Free Driver Updater Tools
Here are the steps to update all your outdated drivers:
1. Download and install Driver Easy on your PC.
2. After installation, launch Driver Easy and click the Scan Now button. Driver Easy will then scan your computer and checks the outdated drivers.
3. Once the scanning is completed, click Update All to automatically download and install the correct version of all the driver that are missing or out of date on your system.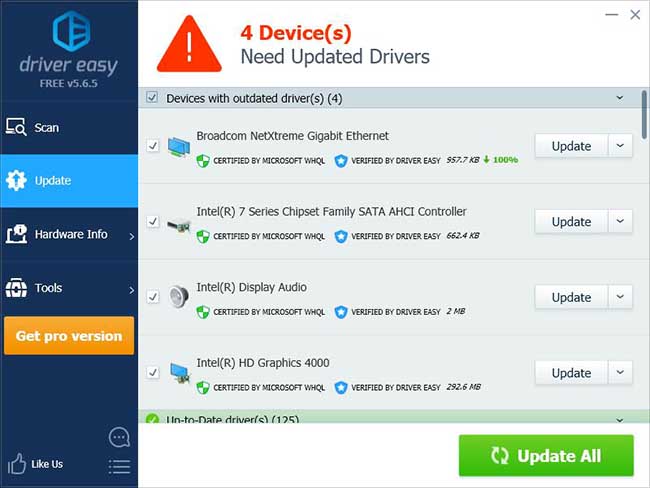 4. Restart your PC after installation and all done.
We have a video tutorial for fixing lag and boost FPS in Gameloop Emulator
Conclusion
We hope you liked this Gameloop Performance tutorial. If the above solutions did not work for you, then you should upgrade your PC a little bit. If you have any questions or suggestions for the Gameloop Settings article do mention them in the comment section.