In this tutorial, learn how to switch from Intel HD graphics to dedicated Nvidia graphics card.
There are two steps you need to follow to change graphics card from Intel to Nvidia; just follow the instructions below:
Step 1. Uninstall, and then reinstall the latest graphics card driver
First, you need to uninstall the NVIDIA graphics driver. After that, you download and install a new NVIDIA graphics driver from Nvidia's official website. To download the correct driver, you need to know what type the graphics card model is and what system version you have, then you can refer the steps below to download a new NVIDIA driver manually.
See more: How To Reinstall the NVIDIA Display Drivers
Step 2. Make sure that your Nvidia graphics card is set as the default graphics card
Here are the steps on how to set it to default.
1. Right-click on your desktop, you can see the "Nvidia Control Panel" and click on it.
2. In the Nvidia Control Panel window, choose "Manage 3D Settings" under 3D Settings.
3. Go to the "Global Settings" tab and select High performance Nvidia processor in the drop-down list.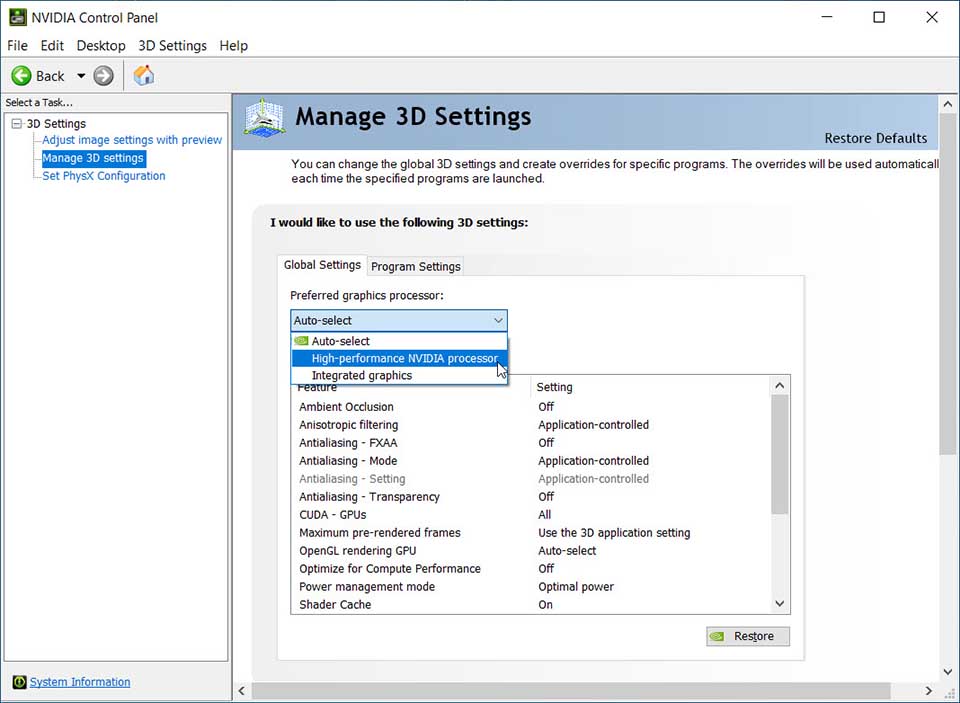 4. Click Apply to save changes
All done.
VIDEO TUTORIAL: How to switch your GPU from Intel HD Graphics to Nvidia Graphics Card in your Laptop

Hope something helps you.