Hamachi VPN status error will make the app unusable, which might compromise your online privacy.
Hamachi is a virtual private network (VPN) application that allows users to connect directly to a different computer across the internet. It creates a virtual LAN between the computers on the Internet. Hence, allowing users to perform a wide range of tasks like sharing data etc
At times, when you launch your Hamachi client, your status icon is red instead of green. This means that you have a problem with your internet due to which the Hamachi cannot connect with its servers. The method for this problem is just to make sure your internet connection is working fine and then reconnect to your internet.
However, in some cases, when you are using Hamachi, your computer's status icon is yellow instead of green. This is an indication of a tunneling error and it means that your computer is not tunneling properly with the other computers of the network.
To restore Hamachi VPN status error, follow the methods we provide below.
You may also like: How To Fix Hamachi Network Adapter Error in Windows 10/8/7
How to Fix Hamachi VPN Status Error
Method 1. Restart the Hamachi Tunneling Engine Service
The Hamachi VPN Status error usually happens when the Hamachi Tunneling service is not operating properly. If the service is not functioning properly then the client which depends on the service will automatically not function and thus it will throw the above error. In order to fix this problem, you will have to restart the service. Here are the steps:
1. Press Windows Key + R then type services.msc in the Run dialog box. Click OK.
2. Now, locate the Hamachi Tunneling Engine service, right-click on it and click Stop.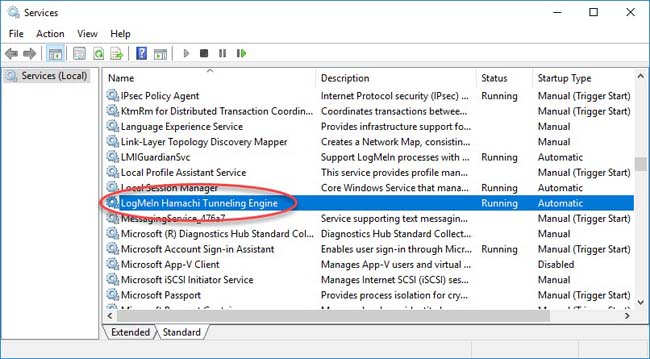 3. Start the service again and check if it works.
Method 2. Disable and Enable Hamachi Virtual Adapter
The second method that you can implement is trying to disable and then enable the Hamachi virtual adapter that is created when you install the application. To do that, follow these steps:
1. Go to the Control Panel > Network and Sharing Center.
2. On the left-hand side, click "Change adapter settings".
3. Right-click the Hamachi Network Adapter and click Disable.
4. Now, enable it again by right-clicking and clicking Enable.
Method 3. Uninstall other VPN applications
At times, the Hamachi VPN Status error can be caused by VPN applications interfering with each other processes, hence we would recommend you uninstall other VPN clients if you don't need them. So, remove any third-party VPN applications that you have installed on your system and then try starting the Hamachi client to check if it resolves the problem.
Method 4. Uninstall and Reinstall Hamachi
Lastly, if you are getting the Hamachi VPN Status error even after trying all of the above methods, you can reinstall Hamachi. Here's how to reinstall the client:
1. Go to Control Panel.
2. Select Uninstall a program located under Programs.
3. Look for the Hamachi client in the list and then uninstall it from your system.
4. After that, visit this link to download Hamachi again , install it and check if it starts working.
See also: How To Fix Hamachi Tunnel Problem in Windows 10
Check out this video to illustrate this tutorial:
Hope something helps you.