If your Asus laptop keyboard is not working, here's how to fix.
Whether you're facing the issue such as some buttons on keyboard not working, keyboard not responding, or even keyboard not detected by your Windows, you can easily solve keyboard problems laptop with the solutions in this post.
See also: 
How To Fix ASUS Laptop Keyboard Not Working in Windows 10
Fix 1. Restart your laptop
Well, restart your ASUS laptop and check if that makes the problem go away.
Fix 2. Check the laptop battery
The battery problem is likely to cause the keyboard not working issue on Asus laptop.
1. Shut down your Asus laptop and then disconnect the power cable.
2. Remove your laptop battery
3. Wait for few minutes, and plug your laptop in the AC Power directly.
4. Turn on your Asus laptop and see if your laptop keyboard works.
FIX 3. Make sure to Turn off Filter Keys
Filter Keys is an accessibility feature that is designed to ignore brief or repeated keystrokes, and according to Asus users, this setting is turned on by default on their laptops, and that's what's causing some keyboard issues. So it's advised to disable it and check if your keyboard works. Follow these steps:
1. Click on the Start button, then select Settings.
2. Click on Ease of Access.
3. In the left pane, click Keyboard, and make sure that Turn on Filter Keys option is not checked.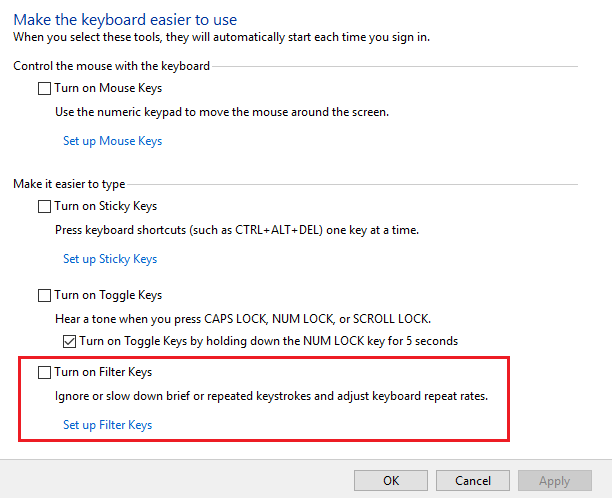 4. Click Apply > OK to save changes.
FIX 4. Reinstall your keyboard driver
If your Asus keyboard isn't working as expected, we would recommend you reinstall your keyboard driver. Follow these steps:"
1. Open Device Manager. Right-click the Start button and select Device Manager from the list.
2. In the Device Manager window, locate the Keyboards section and expand it. Find your keyboard, right click it and select Uninstall device.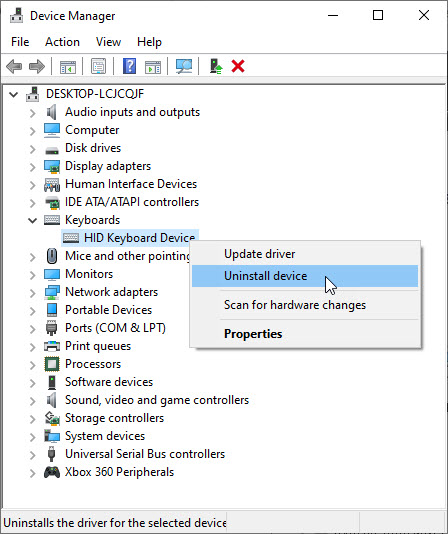 3. When the confirmation window pops up, click OK. Wait for some time, till the uninstallation completes.
4. Restart your laptop.
After restarting your laptop, the default keyboard driver will be installed and your laptop keyboard should start working normally.
FIX 5. Update your keyboard driver
According to Asus users, sometimes your keyboard won't work in Windows 10. Your keyboard drivers might be corrupted or out of date, you need to update them.
To do that, you can use the onscreen keyboard, or you can attach a USB keyboard to your laptop. After that, you download the necessary drivers on a different PC and then transfer them to your laptop.
1. First, you can use the onscreen keyboard, or you can attach a USB keyboard to your laptop.
2. Visit this site to download ASUS keyboard drivers for Windows.
or you can also download the necessary drivers on a different PC and then copy them to your Asus laptop.
3. Install ASUS keyboard drivers on your laptop.
4. Restart your laptop.
If you're not confident playing around with drivers manually, you can do it automatically with Driver Easy. Driver Easy will automatically recognize your system and find the correct drivers for it. You don't need to risk downloading and installing the wrong driver, you don't need to know exactly what system your computer is running, and you don't need to worry about making a mistake when installing.
In this video, we are gonna show you how to fix keyboard not working on Asus laptop

All done! You have read the end of this article how to fix your keyboard not working on Windows 10. Let me know if some of them fixed the issue.
Recommended for you:
How to fix Touchpad not working on ASUS
How to fix HP laptop keyboard not working
How to fix Dell laptop keyboard not working