Is your laptop keyboard not working? If it is not working and you are on the search for a quick fix for your laptop keyboard issue, you have just landed on the right page. Try these solutions to pinpoint and fix the problem before you think of replacing the entire keyboard.
Let's find out the answer to what causes the problem and how to fix the keyboard not working issue on laptop.
You may also like: How To Fix Keyboard Not Working in Windows 10
What causes your laptop keyboard to stop working?
Basically, there are five reasons why your laptop keyboard has stopped working.
Your drivers are missing or outdated: Reinstalling or updating driver can help.
Crumbs and dust: Cleaning up your laptop keyboard can fix.
Wrong regional settings: If your keyboard settings are set to use the wrong language or region, some characters don't work.
Bad connection: In some cases, the keyboard loses connection with the laptop's motherboard, and your laptop keyboard either works intermittently or not at all
Defective Keyboard: There is a chance that the keyboard is defective, you should be able to get it replaced at a service depot.
As the laptop keyboard is not working, you will need to use the On-Screen Keyboard or a USB keyboard for these fixes.
How to Fix Laptop Keyboard Not Working in Windows 10
The following solutions are applied to most of the vendors including Acer, Dell, Lenovo, HP, Asus, and more.
FIX 1. Restart your laptop
This is the first thing you should do. You can just simply restart your laptop and check if your laptop keyboard works. This simple method might come to your rescue.
FIX 2. Disable Filter Keys
The Filter Keys feature has a known bug that causes problems with your laptop keyboard. Follow these steps to disable Filter Keys:
1. Click on the Start button, then click Settings.
2. Select on Ease of Access.
3. In the pane on the left, click Keyboard.
4. Uncheck Turn on Filter Keys and click OK to save changes.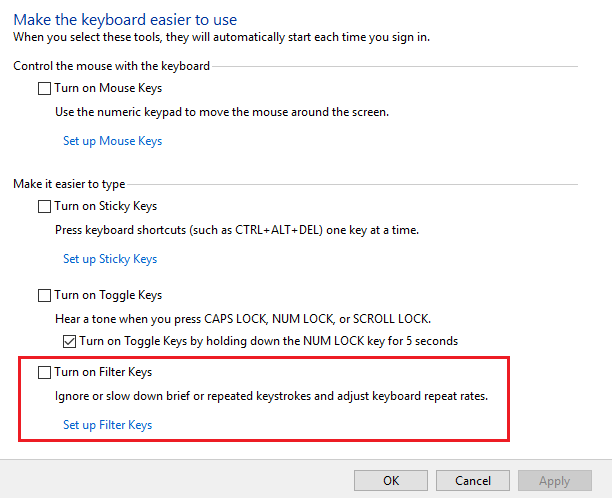 You should be able to check if your laptop keyboard functions as intended now.
FIX 3. Use the Windows 10 Keyboard troubleshooter
If your laptop keyboard isn't working, you can try to run the keyboard troubleshooter to fix the character issues. Here are the steps:
1. Go to Start and select Settings. Go to Update & Security.
2. In the pane on the left, click Troubleshoot.
3. In the Troubleshoot section, go to the Keyboard section, click on Run the troubleshooter. And then follow the on-screen instructions.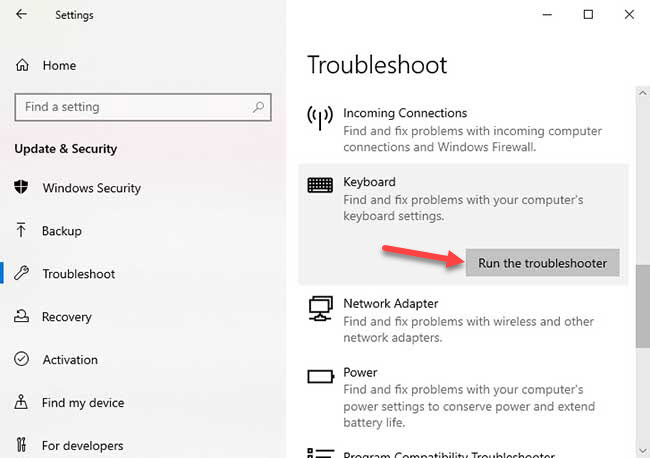 4. Restart your laptop and check to see if your laptop keyboard works.
FIX 4. Scan and Repair Windows
If your laptop keyboard isn't working because of software problem, then the first thing to do is use the System File Checker, which will scan Windows and repair missing or corrupted system files. Hare are the steps:
1. Press the Windows key, then type "cmd" into the Search box. When Command Prompt occurs in the results, right-click it and select Run as administrator.
2. In the command prompt, type the following and press Enter:
sfc /scannow

3. Wait for the process to complete and restart your laptop.
FIX 5. Reinstall keyboard driver
The incorrect or corrupted driver can cause the keyboard issue on your laptop. You can easily reinstall the driver for your keyboard using Device Manager.
1. Right-click the Start button, then select Device Manager.
2. In Device Manager, browse the list of devices until you see Keyboards and expand it.
3. If there's an exclamation mark by the default laptop keyboard (usually Standard PS/2 Keyboard), then Windows has detected a problem. Right-click your keyboard driver and click Uninstall device.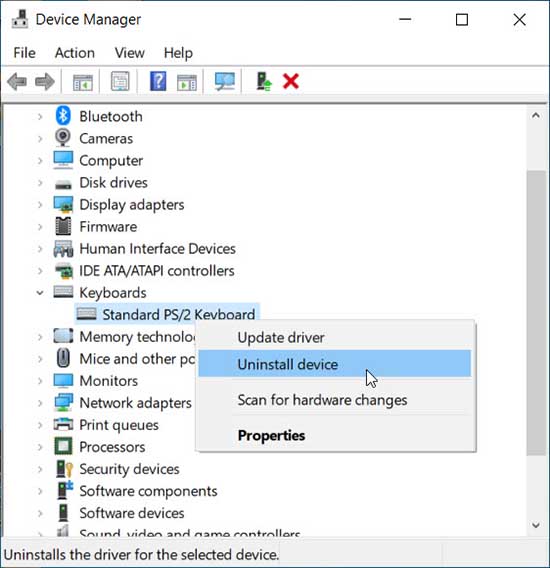 4. Confirm the uninstallation.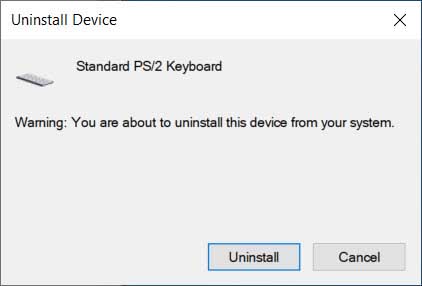 5. Restart your laptop and Windows will reinstall the device driver automatically for you.
The keyboard will be working again on your laptop.
FIX 6. Update Keyboard Drivers
The easiest method to deal with a laptop keyboard that won't work is to update the keyboard driver for your laptop. Here are the steps:
1. Open Device Manager.
2. When Device Manager opens, scroll down and find Keyboards. Expand it and right-click your keyboard driver and click Update driver.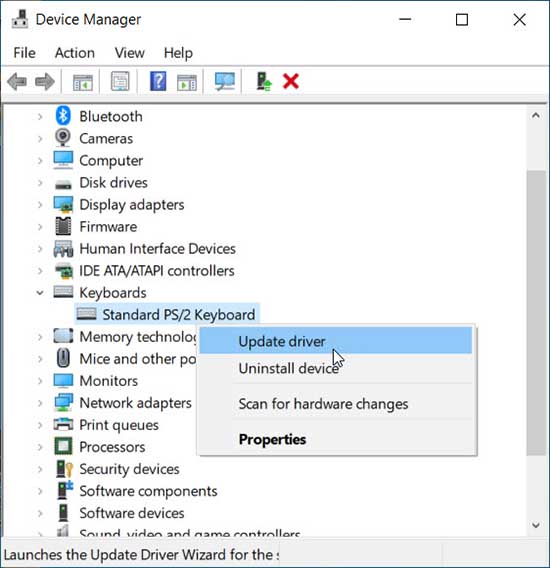 3. On the subsequent prompt, select on "Search automatically for updated driver software". Wait while Windows finds a new driver and installs it.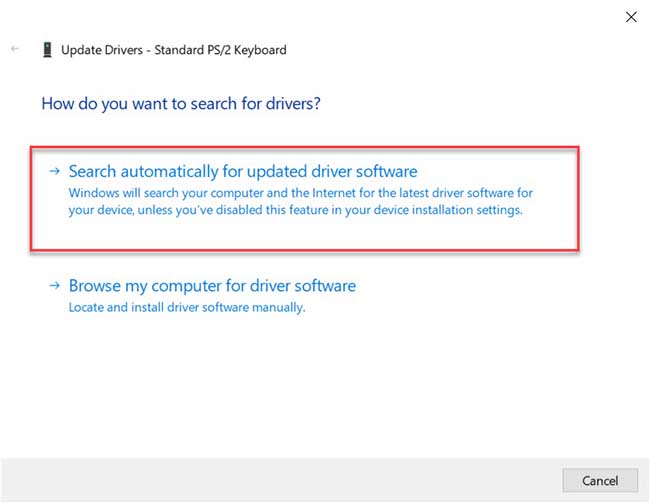 4. Restart your system.
Then check if your keyboard works now.
Further, you can also download keyboard drivers from the manufacturer's website.
HP: https://support.hp.com/us-en/drivers/laptops
Acer: https://www.acer.com/ac/en/EE/content/drivers
Asus: https://www.asus.com/my/support/Download-Center/
Levono: https://pcsupport.lenovo.com
If you're not confident playing around with drivers manually, you can do it automatically with Driver Easy. Driver Easy will automatically recognize your system and find the correct drivers for it. You don't need to risk downloading and installing the wrong driver, you don't need to know exactly what system your computer is running, and you don't need to worry about making a mistake when installing.
In this video, we'll walk you through how to fix laptop keyboard keys not working on Windows 10.

FIX 7. Cleaning a laptop keyboard
Cleaning cannot repair any deep-seated faults, however this will help if dirt is preventing one or more keys from working properly.
You can remove dirt and debris from a laptop keyboard by first shutting the device down, then turning it upside down and gently tapping on the base. After that, you should use a soft-bristled brush to wipe and clean loose debris from between the keys of your laptop. Lastly, wipe across the keys with a lightly-damp microfiber cloth.
Hope something helps you.