Many Acer laptop users can encounter an annoying problem which is that their keyboard can't work properly – all of the keys stops functioning or some of them are not responsive. Problems might happen on a Acer laptop keyboard due to various reasons.
You will not be able to type and even unlock your laptop when the keyboard is not working. Although you can temporarily connect an external keyboard or use the on-screen keyboard to type, you may feel annoyed, irritated, without the laptop's in-built keyboard.
But don't panic! It's an easy problem to fix. Here are four fixes you should try if your Acer laptop keyboard is not working in Windows 10.
See more:
How To Fix Keyboard Not Working on Acer Laptop
Fix 1. Restart your Acer laptop
If your keyboard suddenly cannot work on Acer laptop, rebooting the laptop may fix your problem. Follow these steps:
1. Hold down the Power button of your laptop until the laptop is totally off.
2. Then unplug the power cable and remove the battery from your laptop.
3. Leave your laptop for about 10-15 seconds.
4. After that, plug the battery and the power cable back to your laptop.
5. Power on your laptop.
After your laptop restarts, check to see if this fixes your laptop keyboard.
Fix 2. Disable the Filter Keys
If suddenly you notice a short lag from the time you press a character and a key is displayed on the screen, or if you can't type on your Acer laptop's keyboard, then it is possible that Filter Keys are set due to improper operation. Filter Keys is a feature that allows your keyboard to ignore repeated or brief strokes. But sometimes it causes a laptop keyboard not working issue. If so, you can try turning off the Filter Keys to sort this issue out.
1. Click on the Start button, then select Settings.
2. Select on Ease of Access.
3. In the pane on the left, click Keyboard.
4. Uncheck Turn on Filter Keys and click OK to save changes.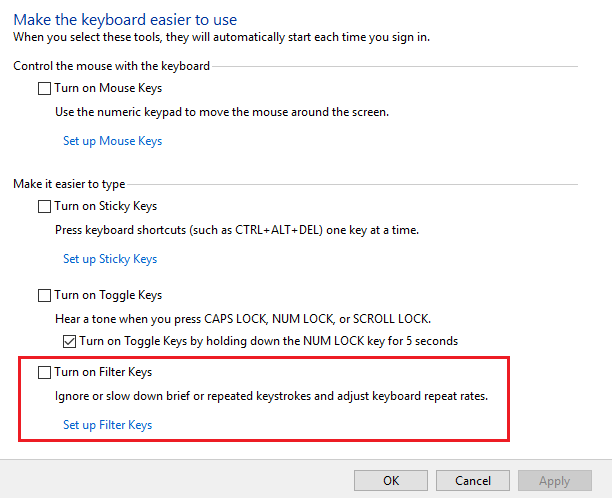 Try to type on your keyboard and check if disabling Filter Keys can restore your keyboard.
Fix 3. Reinstall your keyboard driver
The issue that your Acer laptop keyboard stops working is possibly caused by the wrong keyboard driver or it is out of date. To check it out, you can access the BIOS menu.
Restart or start your Acer laptop and keep pressing the F2 key on your keyboard to enter the BIOS menu. If you are able to access the BIOS menu and use the arrow keys to navigate, then we can assume software is to blame for your keyboard-related problem. After that, it is time to reinstall your keyboard driver on Acer laptop.
Note: You may need to use a USB keyboard or the On-Screen Keyboard for these fixes.
1. Sign in Windows 10, if you haven't done so yet.
2. Right-click the Start button, then select Device Manager.
3. In Device Manager, browse the list of devices until you see Keyboards and expand it.
4. Under Keyboards section, you will see your laptop's keyboard (usually Standard PS/2 Keyboard). Right-click on your keyboard and click Uninstall.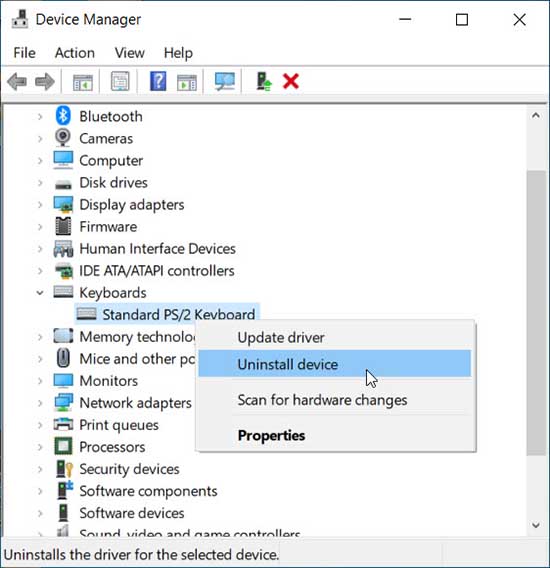 5. After you uninstall the keyboard driver, reboot your laptop. Windows will reinstall the device driver automatically for you.
The keyboard should start working normally.
Fix 4. Update your keyboard driver
If the problem still persists, you will need to update the keyboard driver on Acer laptop. Follow these steps:
1. Go to Device Manager.
2. When Device Manager appears, scroll down and find Keyboards. Expand it and right-click your keyboard driver and click Update driver.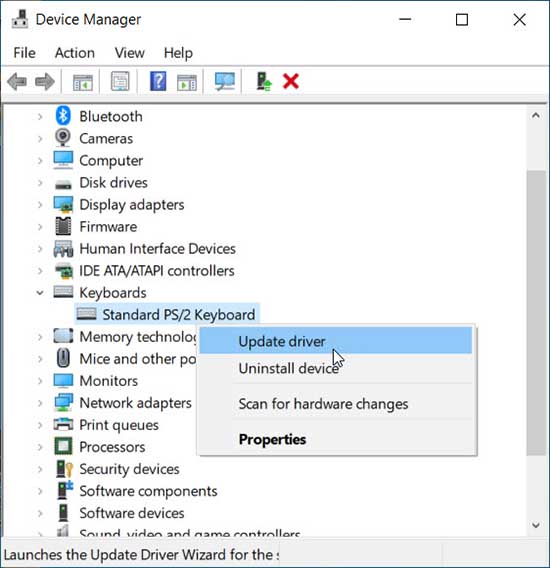 3. On the subsequent prompt, select on "Search automatically for updated driver software". Wait while Windows finds a new driver and installs it.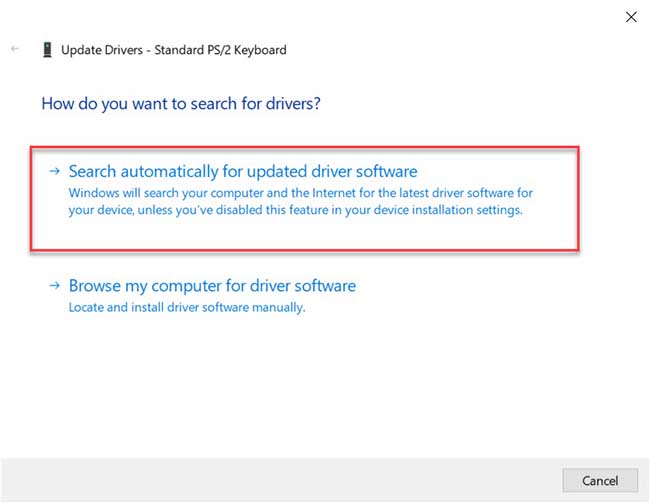 4. Restart your laptop and check if your keyboard works.
Further, you can also download keyboard drivers by going Acer website.
Acer: https://www.acer.com/ac/en/EE/content/drivers
If you're not confident playing around with drivers manually, you can do it automatically with Driver Easy. Driver Easy will automatically recognize your system and find the correct drivers for it. You don't need to risk downloading and installing the wrong driver, you don't need to know exactly what system your computer is running, and you don't need to worry about making a mistake when installing.
FIX 5. Check For Hardware Issues
It's also possible that hardware issues with your Acer laptop keyboard. You can resolve problems of this kind on your own or ask an expert for help. Just remove the cover of your laptop, and adjust the screws in your laptop using a screwdriver.
If you don't have skills to do this well, we would recommended to let an expert come in. If your Acer laptop is still under warranty, you should contact Acer support to have your keyboard repaired or your laptop replaced.
Check out this video to illustrate this tutorial:

Hope something helps you.
Recommended for you:
How to fix HP laptop keyboard not working
How to fix Dell laptop keyboard not working