In this tutorial, learn how to fix Avast Secureline VPN not connecting in Windows 10/8/7.
Avast SecureLine VPN is client software that encrypts your Internet connection at the click of a button for true online privacy.
However, sometimes Avast Secureline VPN does not work properly. A "SecureLine VPN connection failed" error message will appear when Avast Secureline VPN is unable to establish a connection. So, what causes Avast Secureline VPN not connecting?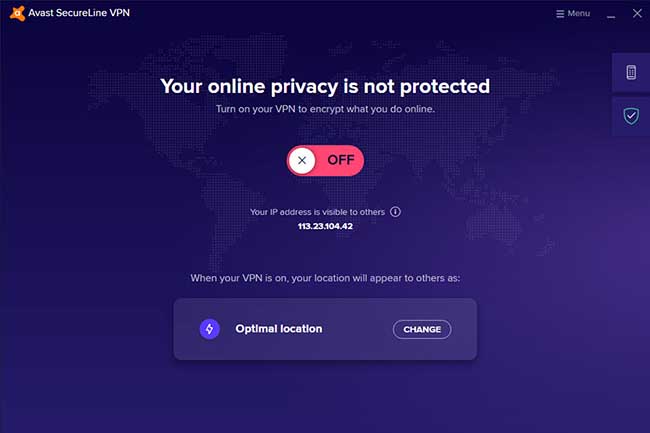 What causes Avast Secureline VPN not Working?
Location problems: Avast Secureline VPN has the option for you to manually choose your location when starting a connection. If your location VPN is full or overloaded, you will not be able to connect to Avast VPN servers. Changing another server location does the trick.
Third-party interference: Many users reported instances that Avast SecureLine VPN connection failed because of interference with third-party Antivirus Software. Hence turning off third-party antivirus software before connecting with Avast Secureline VPN might fix the problem.
Internet problems: Since the VPN needs a proper internet connection; if there are some problems with the network, Avast Secureline VPN won't connect.
Subscription: If your access is revoked, Avast SecureLine won't connect. So you should go to Avast's official account and check if you have subscription enabled.
Problems in Installation: If the application installed was outdated or was corrupt, you also may get several cases where Avast Secureline VPN was not working either.
Before we go to with the methods, make sure that you are logged in as an administrator.
See more: Best VPN For Windows
How To Fix Avast VPN not Connecting in Windows 10/8/7
Method 1. Check Your Internet Connection
If your internet is not working properly, you might also not be able to connect your VPN client. There are a few cases where the ISP itself doesn't let VPN clients running on the network. Also, you should check that none of the proxy servers should be active.
If you do need to fix the general connection, try out the Internet Connections troubleshooter in Windows. That might provide some resolutions for fixing the connection or fix it. To open that Windows Troubleshooter, follow the guidelines below:
1. Click on Start menu and select Settings.
2. Select Update & Security.
3. In the left pane, click on Troubleshoot. Scroll down and locate Internet Connections. Select on it and click Run as administrator to open the troubleshooter's window.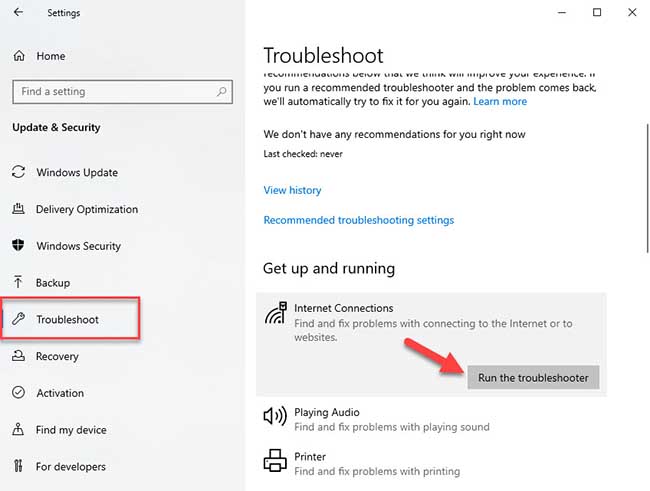 4. Click Advanced and then check Apply repairs automatically.
5. Click Next to initiate the troubleshooter, and choose the Troubleshoot my connection to the internet option.
Method 2. Change an Alternative Server Location
Avast VPN doesn't have many servers, so the server you're trying to connect to might be full or overloaded. This is a very common scenario as most of the users using the application tend to choose the same location. Hence, you can try changing an alternative server location and check to see if it does the method for you. To so that, launch Avast VPN and click the Change Location button on the main Avast window. Then choose another server location to connect to.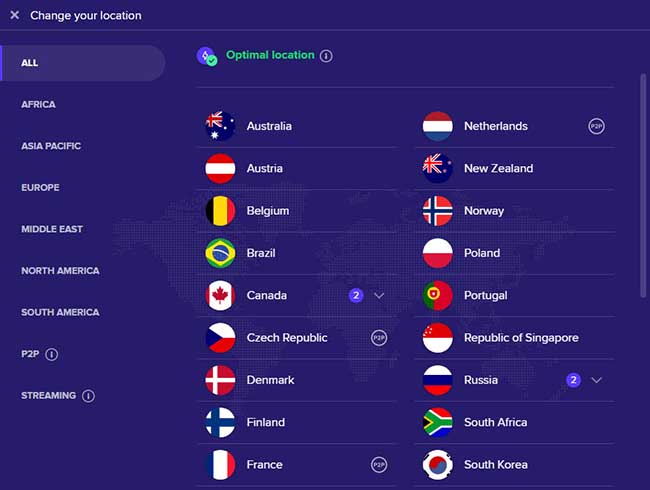 Method 3. Turn off windows firewall
Windows Defender Firewall can get in the way of VPN connections. VPN clients need to be on Windows Defender Firewall's exclusion list. Hence, disabling Windows Defender Firewall might fix Avast SecureLine's connection. To so that:
1. Click Start menu and type "Control Panel" in the search box.
2. Then select Control Panel from the results. In Control Panel, click View by > select Large icons.
3. Select Windows Defender Firewall.
4. In the Customize Settings window, check both the Turn off Windows Defender Firewall options.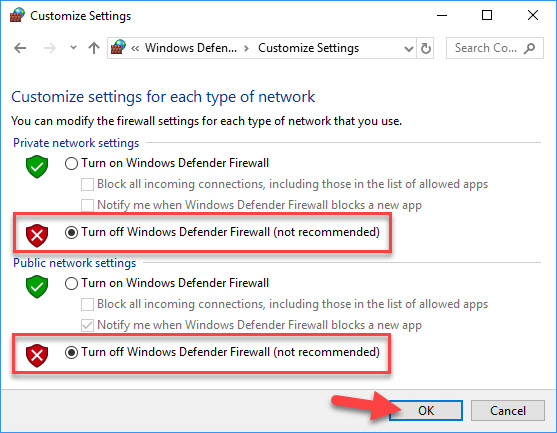 6. Click OK to save changes.
Read more: How To Turn Off Windows Defender Firewall in Windows 10
Method 4. Clean Booting Computer
Avast SecureLine VPN not connecting might be due to other conflicting VPN services running in the background. One method to make sure there are no conflicting applications or services is to clean boot Windows. To do that:
1. Press Windows + R and type "msconfig" in the dialogue box. Click OK.
2. Go to the General tab present at the top of the screen. Check the line which says "Hide all Microsoft services". Once you click this, all Microsoft related services will be disabled leaving behind all the third-party services.
Select on the Selective startup radio button on the General tab.
Uncheck the Load startup items check box. Check the Load System Services and Use original boot configuration options.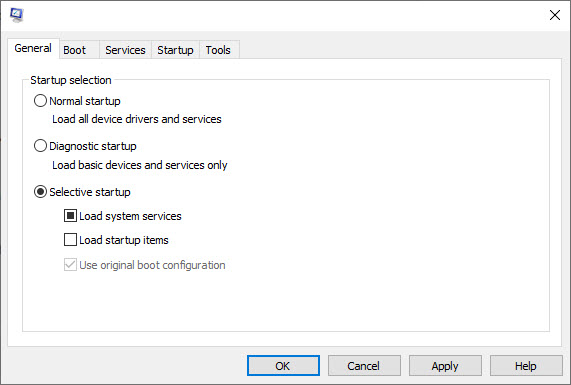 3. Go to the Services tab, check the Hide all Microsoft services option to exclude those services.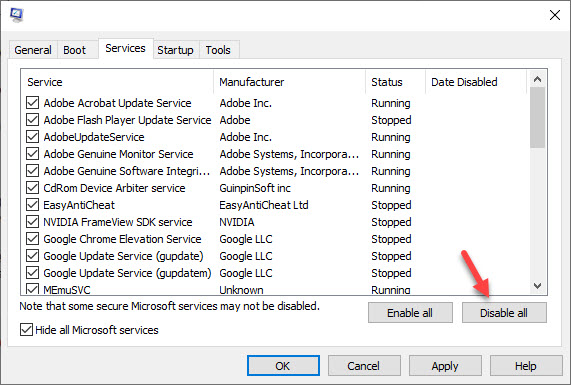 4. Then click on the Disable All button to uncheck the third-party services.
5. Click Apply > OK, and then click Restart to restart your Windows.
Method 5. Check the Avast SecureLine Subscription
Avast SecureLine VPN won't connect for users with expired or invalid subscriptions. So we would recommend you should check your SecureLine subscriptions. To so that, go to Avast's official account and check to see if you have subscription enabled.
Since this application is subscription enabled, it is necessary that you have subscription left in your account for you to use this application. If your access is revoked, you will not be able to use the VPN client. Hence you should navigate to Avast's official account and see if you have subscription enabled.
Method 6. Reinstall Avast SecureLine VPN
Reinstalling the Avast SecureLine VPN software is another effective method for its "Avast VPN not working" error. After that, you can at least be sure that you have the latest version of the Avast SecureLine VPN. In order to reinstall Avast SecureLine, follow the guidelines below:
1. Go to the Control Panel (in Large/Small icons), select Programs and Features to open the Control Panel applet as shown below.
2. Locate Avast SecureLine VPN and click Uninstall.
3. Now restart your Windows PC after uninstalling the software.
4. Go to the Avast SecureLine page, download the latest version of Avast SecureLine VPN and install it. Then launch it and enter your credentials. Now launch the VPN and check if it connects properly without problems.
VIDEO TUTORIAL:
Hope something helps you.