CCleaner is one of the top PC optimization tools on the market. You can use it to keep your Windows device in tip-top condition, as if after a fresh OS install. In this post, we will provide you with the easiest and safest methods to download CCleaner for Windows 10. Also, we will be tracking the latest updates that CCleaner gets.
Here is a comparison of CCleaner products that you can get.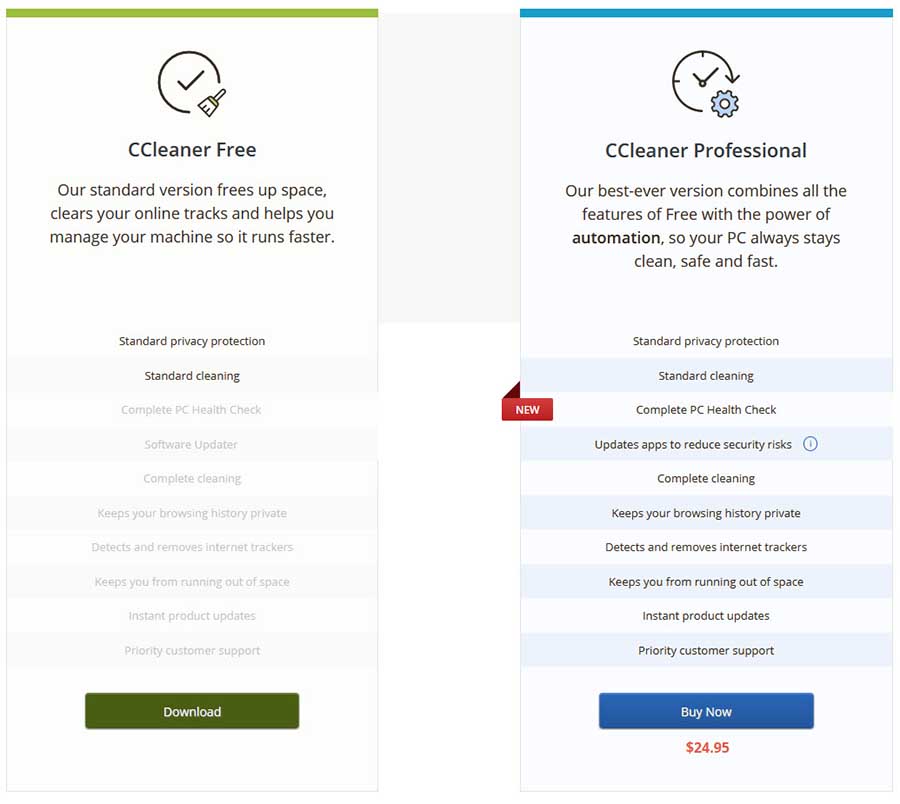 What most users seem to be choosing is the free version of CCleaner which brings them to have the great features: protects your privacy and make a computer faster. The Professional version gets you Real-time Monitoring, Complete Cleaning and Automatic Update.
You may also like: 10 Best Registry Cleaner Tools For Windows 10
How to download the latest version of CCleaner for Windows 10
You can download CCleaner for Windows 10 from this site.
Main features of CCleaner for Windows:
– CCleaner is a system optimization, privacy and cleaning tool.
– CCleaner removes unused files from your system – allowing Windows to run faster and freeing up valuable hard disk space.
– CCleaner solves crashes and system errors and brings a faster computer
– CCleaner also cleans traces of your online activities such as your Internet history
– Additionally it contains a fully featured registry cleaner. But the best part is that it's fast (normally taking less than a second to run) and contains Adware or NO Spyware.
CCleaner v5.72.7994 (23 Sep 2020)
– Fixed Saved Passwords not being cleaned in Firefox v80.
– Greatly improved support for NVDA and JAWS screen readers so that people with visual impairment who use assistive technology can navigate quickly and intuitively through the app.
– Updated color contrast throughout the user interface to make text, icons, and buttons more readable for people with color vision deficiency.
– Fixed certain message boxes not having focus when they appear.
See more: How to clean your Windows 10 computer with CCleaner