With so many several fantastic Android emulators to choose from, this post comes up with a list of the best 5 Android Emulators for Windows 10. Using an Android emulator is an excellent method to play Android games on your PC or Laptop with your keyboard, mouse or game controller.
What Android emulator should you install on your PC?
A lot of Android emulators are free in the market. When you consider any Android emulators, the first option is stability. If your Android emulator usually freezes, lags, it is time to look for an alternative. After that, you must check the Android emulator feature list. For example, a few numbers of Android emulators allow you to install third-party APKs, simulate root capabilities, or allow for third-party controllers.
We're going to present you a list of the top 5 Android emulators for your Windows PC you can find.
What is the best Android emulator for Windows?
1. Bluestacks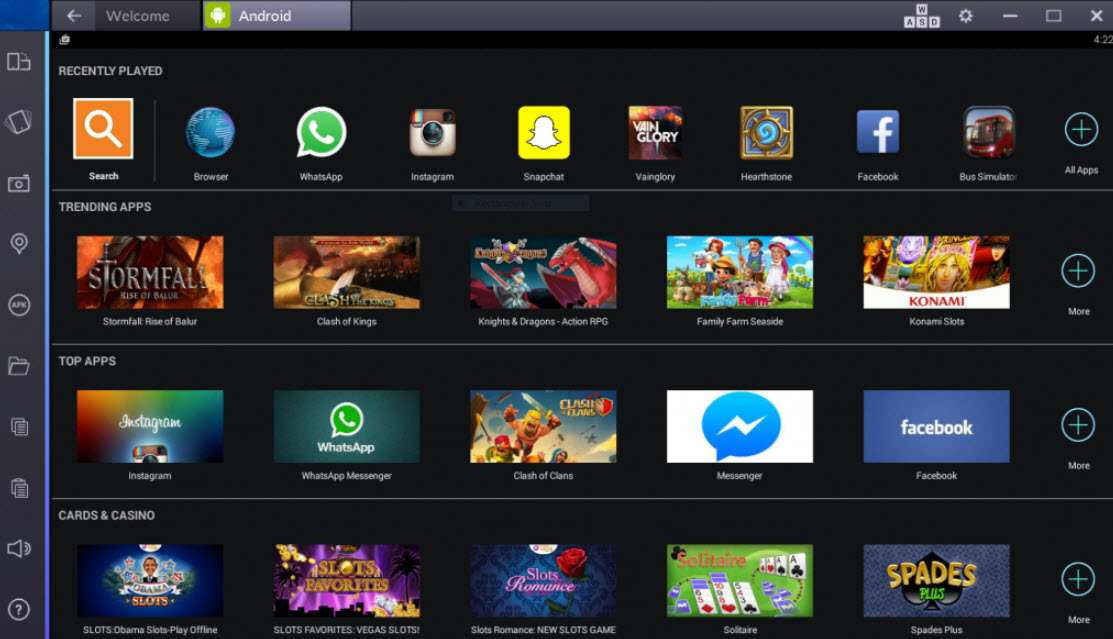 Bluestacks is one of the go-to Android emulators for PC. Feature-full, extremely stable, and widely trusted, Bluestacks is the best Android emulator for Windows 10, Windows 8/8.1 or Windows 7. You can modify and customize the CPU and RAM processing size of the Bluestacks, enabling you to mimic the hardware specifications of individual devices. Bluestacks comes with the Google Play Store pre-installed, which allows you to download and install over 3 million Android apps and games. Also, installing APKs is so quick and easy too. Especially, BlueStacks lets you play multiple Android apps and games simultaneously.
You may also like: How to make Bluestacks faster in Windows 10
BlueStacks is widely used and loved by over two hundred million gamers across the globe. It is totally free, you can download Bluestacks latest version for Windows 10 here.
Notes: Where the Bluestacks get hangs or lag sometimes when running the high graphics games.
2. Nox App Player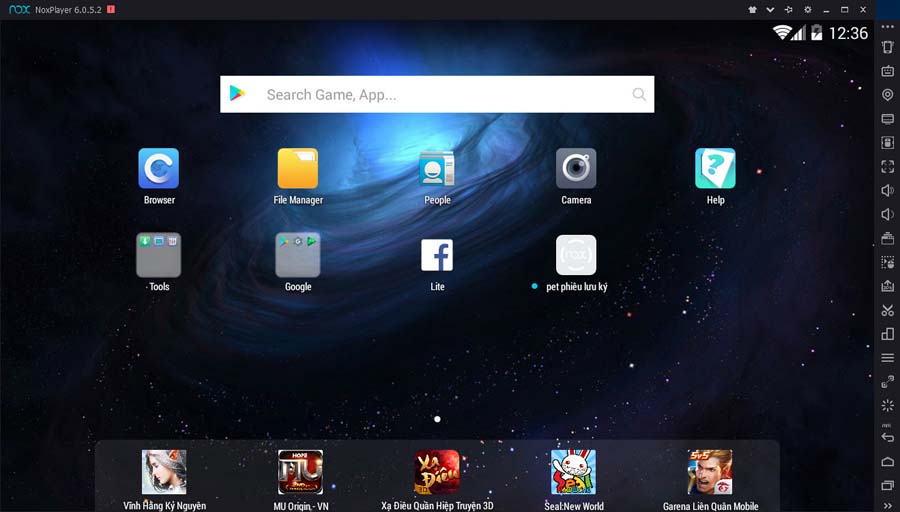 Nox App Player is a powerful Android emulator for playing Android games on your Windows PC. The best thing is that it is fully free and it does not include any premium subscription offer or any advertisements. Unlike Bluestacks, it is a very fast and smooth emulator. Nox App Player also supports one-click APK installation, meaning you can install any APK present on your Windows PC to Nox. Furthermore, Nox has a natural keyboard for gaming controls in the emulator.
You can download Nox App Player from the official website and let us know in the comments section how does it work.
3. MeMu

MEmu is different from the other Android emulators on this list, with an easy installation process and plenty of features. You can run and play almost every apps and game on PC with a superb experience. Here are the main features that you should consider:
– Play multiple games on the same account simultaneously.
– Perfectly support mouse & keyboard or game-pad to play mobile games.
– Sharing files between Windows PC and Android.
– Watch live TV channels and shows.
– Fast APK installation
Download MEmu for Windows For Free.
4. Andy Android Emulator
Andy is the newest Android emulator for Windows PC and the only one that enables you to play multiple games at the same time. This emulator is completely compatible with Windows 10/8/7, so you don't have to worry about that. Thanks to this tool, you can play Android apps and games in multiple windows on your PC, and chat with other gamers at the same time.
The recommended system requirements are the following:
– Windows 10, Windows 8/8.1, or Windows 7 (64-bit)
– Core i3 Core i5 or Core i7
– 4GB RAM
– 16GB Storage
– Enabled Virtualization Technology in BIOS
You can download Andy Android Emulator for free from this source.
5. Koplayer

Koplayer is one of the most popular Android emulators for Windows PC. This emulator uses a brand new x86 Kernel technology that should make it better & faster. It has many advantages in performance, compatibility, stability and more. Here's a breakdown of all its most important features:
– Supports Intel and AMD CPU.
– Drag to install.
– Adaptive resolution.
– Supports gamepad flawlessly.
– Perfectly simulate operation with keyboard and mouse.
– Compatible with all games and APPs of Google Play.
Koplayer is compatible with Windows 10, Windows 8/8.1 and Windows 7. Download Koplayer from this page.
VIDEO TUTORIAL: Top 5 Best Free Android Emulators for PC 2020 for Gaming

This was our list of some of the best Android emulators you can use to play Android games on your Windows PC. Whether you're a casual user looking to play some games or you're a developer looking to test apps, you will definitely find the best emulator for your need.