Learn how to download and install Samsung Notes on your Windows 10 or 11 computer. Usually, the Samsung Notes application is found on the Samsung Store if you look for it on your Windows PC.
What's Samsung Notes?
Samsung Notes is a power tool for creating notes using text, audio recordings, photos with footnotes, and music, editing notes, viewing notes, and syncing notes with other Galaxy devices.
Samsung Notes may be accessed through a computer or an Android device. You may use the S Pen on your laptop to write, draw, and highlight in numerous styles and colors. If your PC model lacks a S Pen but has a touch screen, you can compose your notes using your finger or a stylus. You may also purchase a compatible S Pen separately.
You can take notes fast and anywhere at any time. You don't need to pause your video or turn on the screen; simply pull out the S Pen to begin. Furthermore, you can easily mark up and annotate PDFs – add your own notes and diagrams, underline, strikethrough, and highlight.
You can quickly post your notes to SNS with Samsung Notes for Android, and any memos created earlier with S Note and Memo may be transferred into Samsung Notes. To summarize, Samsung Notes serves as a repository for all of your handwritten notes, drawings, and sketches.
You can sync all of your notes with Samsung Cloud and access them on your tablet, phone, and PC. You may pick up where you left off at any time and from any location. Of course, each device should be registered under a separate Samsung account.
How To Get Samsung Notes For Windows 11/10
Samsung Notes works with Windows 10 and 11. If you need to make some notes, get this program from the Microsoft Store and give it a shot. See the Samsung Notes PC download and installation guide.
Step 1: Go to the Start Menu and select Microsoft Store.
Step 2: To find this software, type Samsung Notes into the search box and hit Enter.
Step 3: Finally, click the Get button to begin the download and installation of Samsung Notes.
Even if your system is compatible with the Samsung Notes app, you may not see the Install or Get option in the store. What steps should you take to get Samsung Notes for PC? You may acquire this software by using Command Prompt and following the steps on Samsung Notes download and installation in CMD:
Step 1: launch Command Prompt with administrative privileges in Windows 11/10.
Step 2: In the CMD window, type winget install "Samsung Notes" and press Enter.
Step 3: Finally, agree to all of the conditions of the source agreement.
Step 4: To agree to further conditions, type Y and click Enter.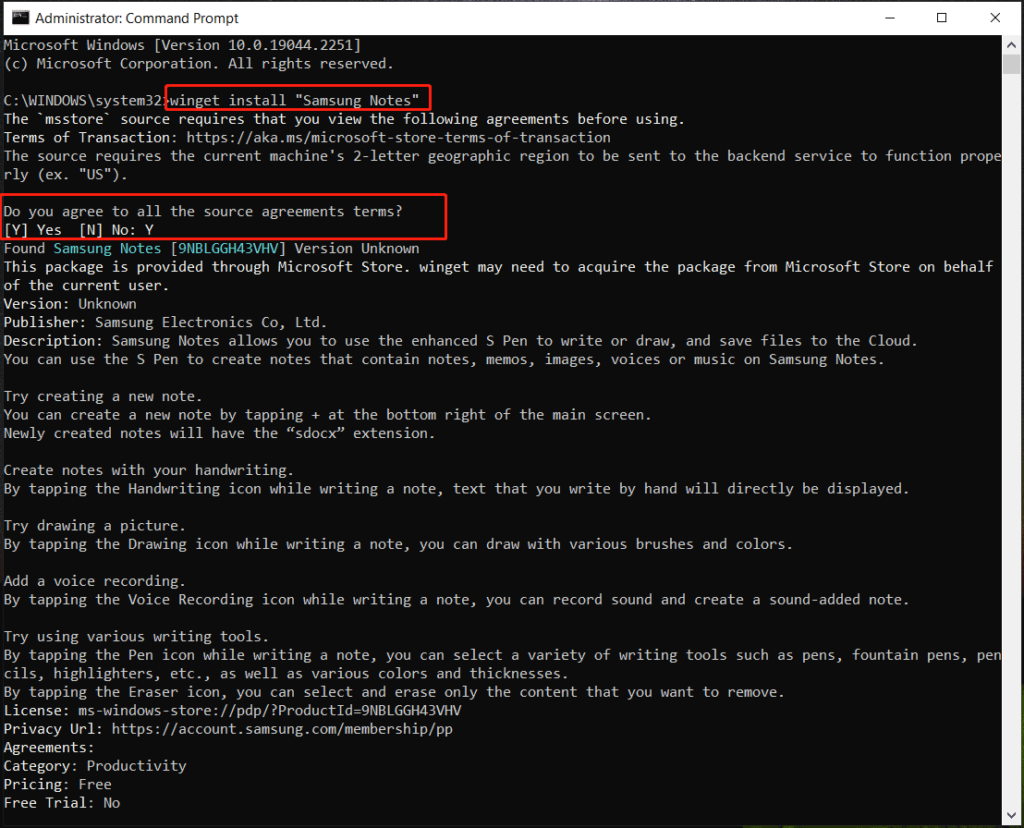 Step 5: After a time, the Samsung Notes program should be successfully installed on your PC. Then you may access it from the Start menu.
In this video, learn how to install Samsung Notes on Windows 11 when the Microsoft Store does not give you the option to "Get" the app. It is very easy!

How to Use Samsung Notes App on Windows 10/11 PC
How do you use Samsung Notes for PC after you've downloaded it? It is simple, and you can find some basic information here.
Launch this program on your computer, then click Sign in to complete the login process using your Samsung account. Create a new account if you don't already have one.
Then, at the right bottom, click the New note icon (it looks like a pencil) to open a new note. Then, select a writing option to begin. To sync notes, go to Settings > Sync with Samsung Cloud and activate Sync immediately in the app on your PC, as well as configure the phone/tablet to sync in Samsung Notes Settings.
That's everything there is to know about the Samsung Notes app, including how to download and install it for Windows 10/11, as well as how to use it. Get this tool only if you need it to create notes.