Apex Legends not launching / won't launch on your Windows PC? Don't panic, this issue can be fixed easily.
Apex Legends launch error is very common for the Apex Legends users. A lot of players have reported that they can't run Apex Legends on their Windows PC. Here are some possible ways to solve this issue.
Apex Leg­ends Won't Launch/Not Launching on Windows PC: Here's the Fix!
FIX 1. Run Apex Legends as administrator
If you can't run Apex Legends as normal, you will need administrator rights to run Apex Legends on your Windows PC. Right-click on the Apex Legends icon and select Run as administrator.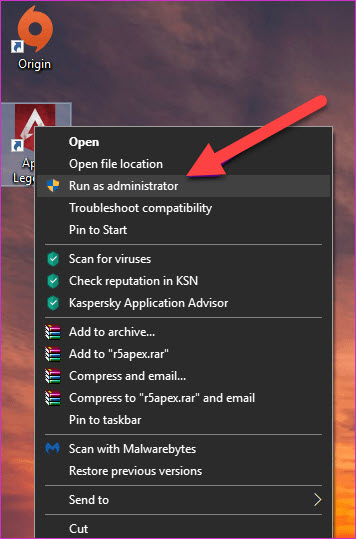 If this works, you need to make a change so that Apex Legends always runs with admin rights. To do that, right-click the Apex Legends icon and select Properties. Under the Compatibility tab, check the box next to Run this program as an administrator. Click Apply > OK.
By doing so, you can run Apex Legends as an administrator every time you launch on your Windows PC. Now launch Apex Legends and see if it launch properly.
See also: How To Fix Apex Legends Crashing on PC
FIX 2. Change Language
We know this is a weird method but it worked for some players. One player accidentally discovered that changing the game language from English to French and back again launched Apex Legends for him. To do that, open Origin, right-click on Apex Legends' icon and select Game Properties.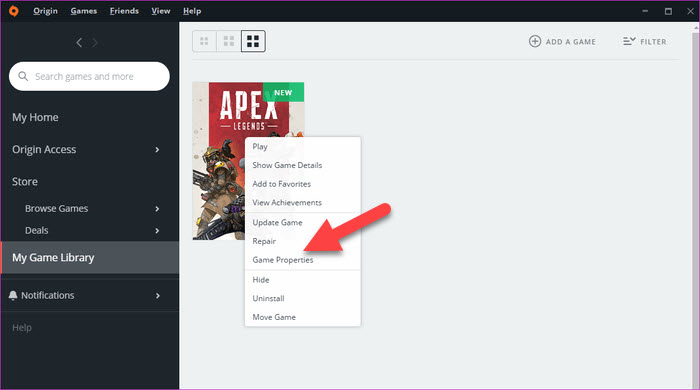 Go to Advanced Launch Options.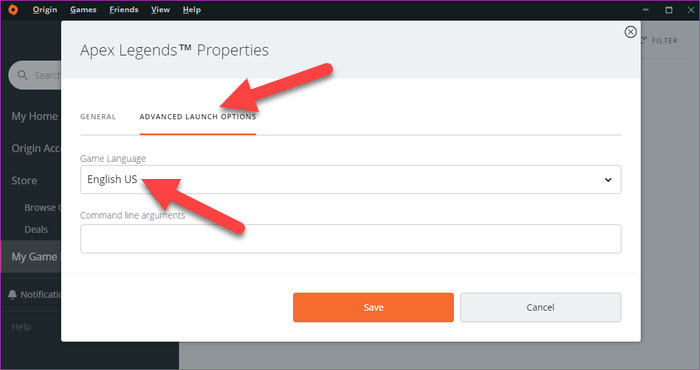 This is where you will change your game language from English to French. Save changes. Relaunch Apex Legends and close it. Lastly, change the language back to English to see if it launch properly.
FIX 3. Disable Fullscreen Optimization
Fullscreen Optimization can cause all sorts of issues such as crashes and lags while playing Apex Legends on Windows 10 PC. Windows 10 introduced Borderless Display Mode that can be preventing Apex Legends to launch normally.
You may also like: How to Dis­able Fullscreen Opti­miza­tion on Win­dows 10
FIX 4. Allow connections through Windows Firewall
The Windows Firewall protects users against all sorts of virus, malware, ransomware, adware, etc. However, the firewall can also block a perfectly good game such as Apex Legends, and that's why Apex Legends won't open normally. We highly recommend you check and make sure Apex Legends connections are allowed through Windows Firewall. To do that, follow these below steps:
1. Go to Control Panel > Windows Defender Firewall (or Windows Firewall).
2. Click Advanced settings.
3. Under the Inbound Rules column, scroll down and see if Apex Legends and Origin is there.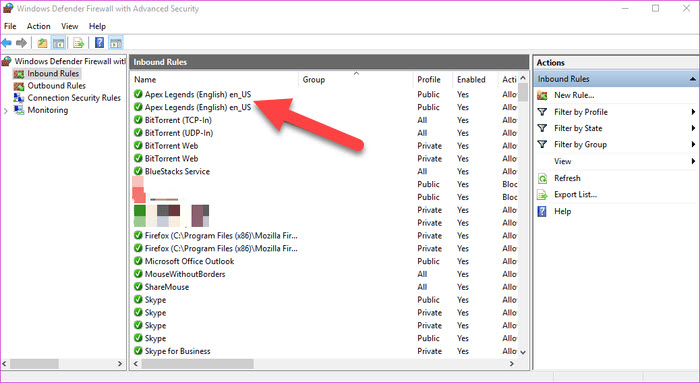 4. Many players found that adding a rule to allow Apex Legends and Origin at the firewall helped. To do so, select Inbound Rules in the left column, click on Action > New Rule…

5. Tick Program and click on Next.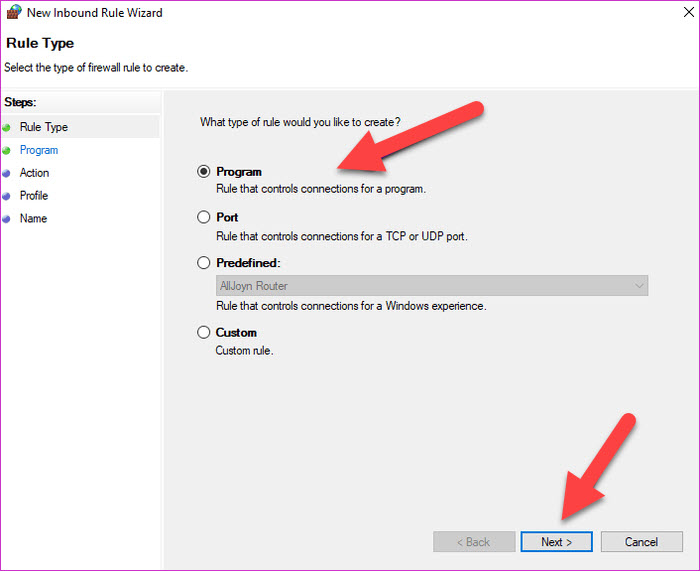 6. Tick "This program path" to locate the Apex Legends launcher file in the folder where you've installed the game. When you're ready to proceed, click on Next.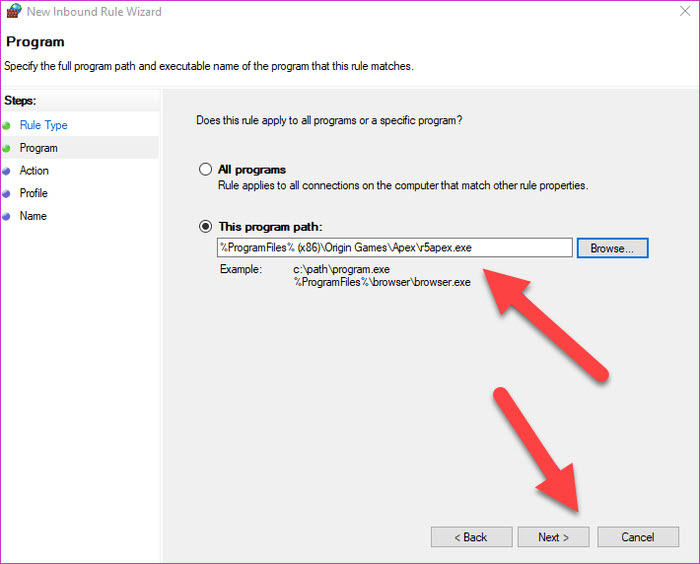 7. Tick "Allow the connection" in the next screen and click on Next.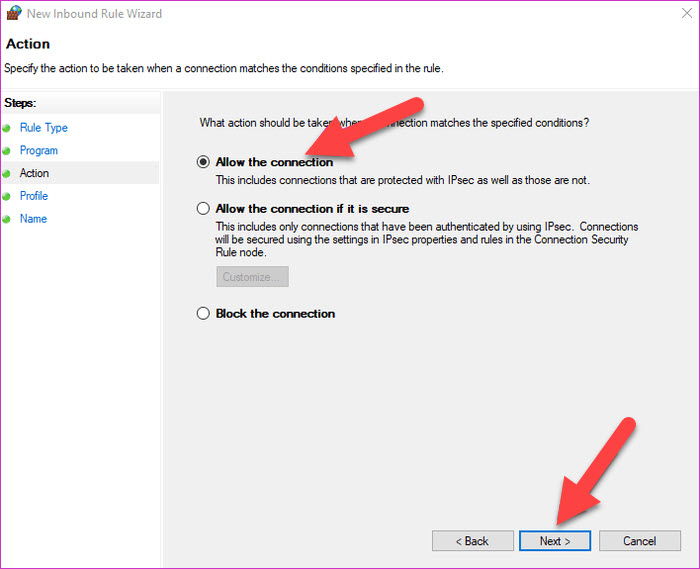 8. Check the box of Domain, Private, and Public. Click on Next.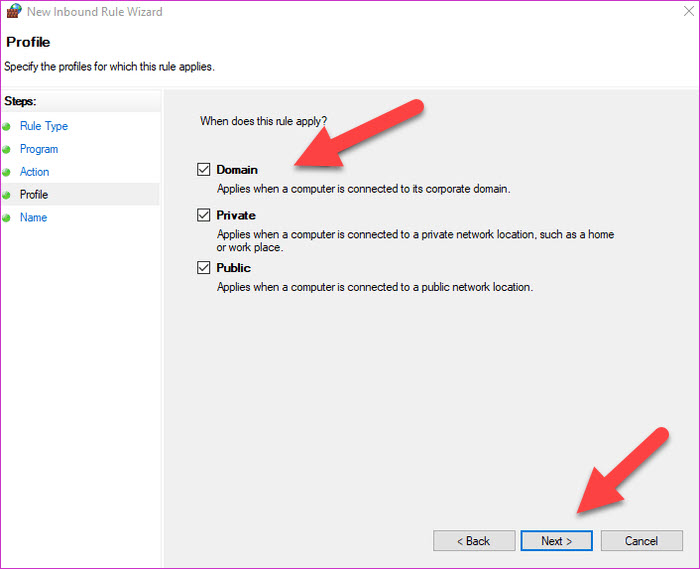 9. Enter any name to this rule, but we would recommend assign it as Apex Legends so that it is easy to remember. Click on Finish.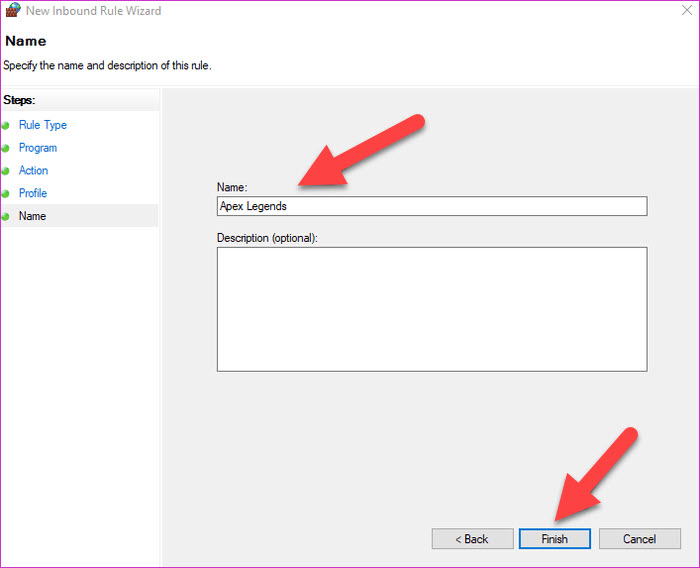 Repeat the same process but this time for Origin.
FIX 5. Try Repair/Update Game in Origin
If Apex Legends won't launch in your Windows PC, you can repair your game problem by the Repair Game feature in Origin. To do so, follow these steps:
1. Open your Origin client and go to My Game Library.
2. Navigate to Apex Legends and right-click on it. Select Repair.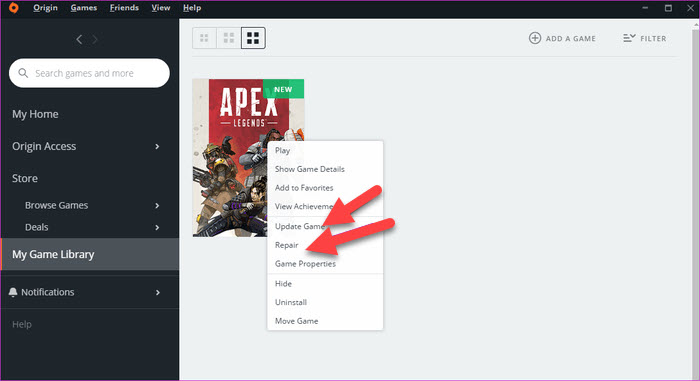 3. Now wait for the repair process to complete, then restart your Windows PC.
Also, there is an option to Update Game. Game developers often keep releasing updates to fix some bugs and improve the experience, thus you should check for updates of your game from the official website or in Origin. This can fix some problems such as Apex Legends not launching.
Launch Apex Legends again and check to see if this fixes your not launching problem.
FIX 6. Reinstall Apex Legends and Origin
Maybe Apex Legends and Origin got installed incorrectly, you should try uninstalling Apex Legends and the Origin app and re-installing them.
There are few ways to do that, but the most effective one is to use an uninstaller software such as Your Uninstaller. Your Uninstaller is a special application that can remove any application, including all its files and registry entries.
After that, you need to download Origin and Apex Legends from the Origin Store or your game library from this source.
Re-install Origin and Apex Legends.
VIDEO TUTORIAL: How do I fix Apex Leg­ends not opening?

Hope something helps you.