In this post, learn what is Trustedinstaller.exe? Is trustedinstaller.exe a virus? And can you disable TrustedInstaller.exe in Windows 10/8/7? These are a few questions I will attempt to answer in this article
What is TrustedInstaller.exe in Windows 10/8/7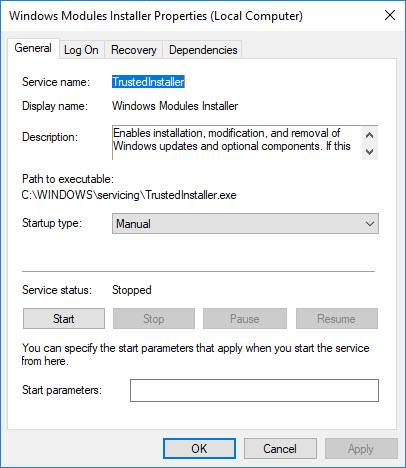 Basically, TrustedInstaller.exe is a process of Windows Modules Installer service in Windows 10/8/7/Vista. Its main purpose is to allow installation, modification, and removal of Windows Updates and optional system components.
TrustedInstaller.exe is located in the C:\Windows\servicing\ and it is set to run in manual mode, and it runs under the Local System Account. It has no dependencies.
But sometimes, TrustedInstaller.exe has been corrupted, it runs steadily and continuously uses more memory. And due to that, it will slow down your system. In such a case using the System File Checker (SFC) may help. But at times, even Windows Resource Protection service, which runs sfc /scannow is affected. In such a case if you try to run the system file checker, you may receive the "Windows Resource Protection could not start the repair service" error message.
This tutorial will show you how to fix "Windows Resource Protection could not start the repair service" error in Windows 10.
High memory and CPU usage by TrustedInstalle
After you have downloaded and installed Windows Updates, on restart you may find TrustedInstaller.exe in your Task Manager consuming a lot of resources. That is normal. Just let it run its course.
Can you disable TrustedInstaller.exe
You can, but I highly recommend you don't disable TrustedInstaller.exe as it is protected system service. Because if you disable this service, you cannot download and install Windows updates and also remove apps on your Windows computer.
Read more: How to fix "You need permission from TrustedInstaller to make changes to this folder" error in Windows 10
Hope something helps you.