In this article, learn how to fix Unexpected Store Exception BSoD on Windows 10.
After the Windows 10 anniversary update, many Windows 10 users have reported that their computer is usually crashing or freezing with an error message of an Unexpected Store Exception. In most cases, this error comes with a Blue Screen of Death followed by a restart. The Unexpected Store Exception bug check has a value of 0x00000154. The complete error message in this case is as follows:
Your PC ran into a problem and needs to restart. We'll restart for you.
Stop Code: UNEXPECTED_STORE_EXCEPTION
Causes of Unexpected_Store_Exception (Stop Code 0x00000154)
This error is occurred due to some specific reasons like:
Third-party software and programs.
Driver issues.
Hardware issues.
If you're also victim of the Unexpected Store Exption error on Windows 10, here is how to fix it:
Windows 10 BSoD "UNEXPECTED STORE EXCEPTION" How to Fix it?
First Thing First
If your computer is unable to boot into Windows 10 as normal, you can try to start Windows in Safe Mode, then try our solutions. To boot into Safe Mode on Windows 10, follow these steps below:
Step 1. Shut down your computer by pressing the power button.
Step 2. After 3-5 minutes, turn your computer back on. Then press the F8 key as your computer is booting up, before the appearance of the Windows logo.
In Windows 10, you were able to press Shift key 5 times again and again on startup.
Step 3. Use the arrow keys to select Safe Mode and press Enter.
Method 1. Uninstall or Update Antivirus Software
According to reports, BSOD Unexpected Store Exception on Windows 10 can be caused by Antivirus program. And so far, many users have confirmed that the McAfee Antivirus program could be caused the Unexpected Store Exception error in the Windows 10 Anniversary Update. So, if you install any third-party antivirus program, like McAfee, Avast, Norton etc… I highly recommend you should reinstall it to get the latest version or completely uninstall it on Windows 10 computer.
Method 2. Run System File Checker
Sometimes the corrupted system files can cause the BSOD Unexpected Store Exception error, in such case, I suggest you run the built-in System File Checker utility to repair corrupt files on your computer. To do so, follow the steps:
Step 1. Click Start menu and type "cmd". Then right click on Command Prompt in the result and click Run as administrator.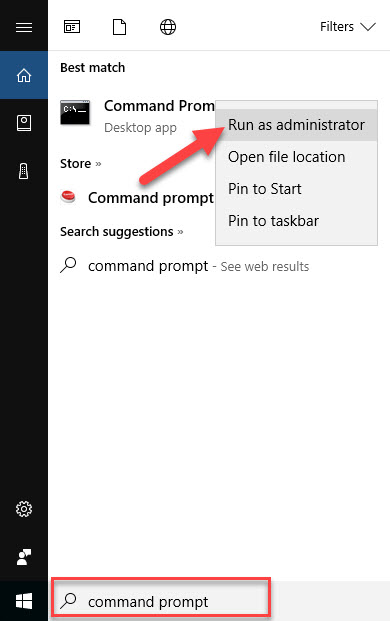 Step 2. When the Command Prompt window opens, type sfc /scannow and press Enter.

The System File Checker tool will scan out the corrupt files and then repair corrupt files on your computer
Step 3. Once it completes, restart your computer and then check if the problem has resolved.
Method 3. Update your drivers
A BSOD Unexpected_Store_Exception might be caused by the outdated or incompatible device drivers with Windows 10. Thus, once blue screen error occurs, you should check for driver problems on your Windows 10. To detect the correct driver causing the problem, you should run the Driver Verifier.
If you don't computer skills to update your drivers manually, you could also use the Driver Talent tool. Driver Talent will then analyze your computer and then list your outdated, corrupt or damaged drivers.
Step 1. Download and install Driver Talent.
Step 2. Run Driver Talent and click Scan button.
Step 3. Click the Download button next to the flagged the faulty driver. Then click the Install button to automatically download and install the best-matched drivers for the Windows 10 Anniversary Update.
Step 4. Reboot your computer to apply the hardware driver updates correctly.
After restarting your computer, the error is gone.
Method 4. Check for Windows Updates
Make sure that you've installed all the new Windows 10 updates to keep your Windows 10 stable, healthy and away from Blue Screen of Death error.
Step 1. Click Start, type "Windows Update" then click Check for updates on the top result.
Step 2. On the right pane of pop-up window, click Check for updates.
Step 3. Just follow the on-screen instructions to install the updates.
If all methods above don't work, perform the in-place upgrade or Refresh.
See also: How To Reinstall Windows 10 Without Affecting Personal Files
We hope after the following advice, you would be able to easy to fix Unexpected Store Exception error in Windows 10. Let us know via comments if you still have the problem!