PST (Personal Storage Table) is a file format used by Microsoft programs such as Windows Messaging and Microsoft Outlook to save files to the local storage on your Windows computers, such as calendar events, contacts, and email messages. However, if you're having problems with your PST file, read our Stellar Repair for Outlook – Best in Class PST Repair Tool review.
It's usually a good practice to retain a backup of PST format files on your computer from the mail server, as well as keep Outlook up to date. However, it is not without flaws, and one of the most serious problems with PST files is that they can get corrupted at any time. That means that, regardless of how important the PST file is, even a minor error can cause it to become corrupted and inaccessible.
As a result, users have to maintain their data safe and accessible at all times by fixing corrupted PST files. Therefore, Stellar Repair for Outlook (Outlook PST Repair Tool) is considered to be in top powerful and user-friendly repair software for Windows that repairs/restore corrupted PST documents and reconstructs them to their default original condition with ease. This program is compatible with Outlook 2019, 2016, 2013, and previous versions, and its accuracy is perfect.
Stellar Repair for Outlook – Best in class PST Repair Tool
Keep in mind that Microsoft Outlook provides a free PST repair application named 'Inbox Repair Tool,' also known as Scanpst.exe, but it doesn't operate perfectly and can't fix all of your PST files errors. Whereas, the Stellar Repair for Outlook tool is famous for its helpfulness as it instantly repairs any corrupted PST files.
Look no further, if you hope to learn more about this amazing tool, our review is here to show you how to use it. So, without further ado, let's get this party started.
Stellar Repair for Outlook Features
Shall we spare a glance at these popular features of this app, which are often looked for?
1. Fixing of Outlook PST File Under Damage or Corruption
Because of its deep integration and exact nature, this program can quickly restore massively corrupted or damaged Outlook PST files. It quickly repairs big PST files, which is preferable to scanpst.exe because Outlook's default mending tool frequently freezes or corrupts the data in the repaired Outlook Mailbox. The Stellar repair tool, on the other hand, runs without any limitations or technical concerns.
2. Post-Repair Outlook Mailbox Data Preview
After the PST file has been fixed, the software displays a preview of the corrected Outlook PST data file, including all of its contents, in a preview window so that you can properly inspect them before saving them. From the preview mode, you may examine all things, including email body content, contacts, calendar events, hyperlinks, and so on.
3. Recovery of Deleted Emails & Outlook Mailbox items
This tool searches the PST file for data that was previously deleted and allows you to 'Restore Deleted emails & other Outlook Mailbox'. Its power is so much that can even retrieve emails that were erased before the PST file was corrupted. After the restoration process is completed, the software offers a glimpse of the deleted Outlook mailbox items.
4. Repairing the PST File When It's Convenient
After the scanning procedure is over, the utility will assist you in repairing the PST file by simply selecting the 'Repair' option. The program quickly restores a corrupted PST file and allows you to save the scanned data in DAT format. You can then load the DAT file into the software and try to restore and recover the PST file without having to re-scan it. It will also aid in the completion of jobs in two parts during various periods.
5. Splitting & Compacting Outlook PST File [Technician Edition]
If you have the Technician Edition of the software, you may use the Stellar Repair for Outlook application to divide and condense Outlook PST files in addition to repairing them. Splitting and compressing Outlook PST files improves Outlook performance, increases manageability, and decreases the risk of corruption.
6. Exporting PST to Office 365 [Technician Edition]
The software's Technician Edition is able to effortlessly export the PST file to Office 365. In case cloud email is being used and exporting mail items from your PST file to Office 365 is needed, this is another helpful application.
System Languages:
The app brings forward a handful of language options namely English, German, French, Italian, Spanish, and more for users.
Requirements for the System:
To install the software on your computer, you'll need an Intel-compatible (x86, x64) processor running Windows 10, 8.1, 8, 7, and at least 4GB of RAM and 250MB of storage. So, when it comes to system requirements, this application is quite light and does not require configuration any further.
How To Install and Use Stellar Repair for Outlook
Simply get the tool for free from the Stellarinfo website and install it on your Windows computer. Depending on your needs and preferences, you can purchase the Professional, Technician, or Toolkit bundle. Undoubtedly, the commercial plans offer a greater number of PST file repairs, no file size limitations, free daily technical support for six days per week, etc.
Therefore, when you've downloaded the app, simply double-click it > If UAC prompts you, select Yes to run it as an administrator > Then, just as with any other Windows program, do as told by the steps on-screens to finish the installation. It's quite simple to set up and does not require any further configuration.
1. After you have managed to set up the Stellar Repair for Outlook tool on your Windows PC, it's time you launched it.
2. Use the Find option to navigate & choose the PST file that is needed to fix or you can click on Browse
3. Where the PST file exists will be detected by the app when you have opened it in the default location.
4. Click on Repair button and remain there until the tool has entirely repaired the chosen PST file under damage or corruption. [The volume of time needed to restore a corrupted PST file relys on the size of the file and the number of emails it contains.]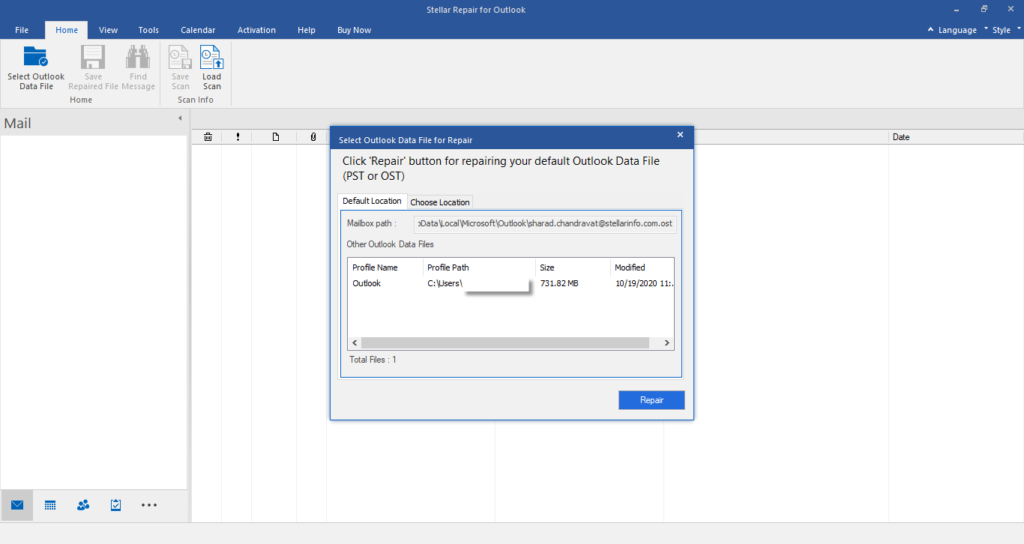 5. The PST file will display on the dashboard once it has been repaired. To see a preview of any file, make your choice here.
6. After that, it is optional to click Save Repaired File button to ensure that has been saved on your computer. Remember to select another location to save it.
Note: NEVER pick the same location for the fixed file as the previously corrupted file. In some cases, it may overwrite the preceding file.
You are able to have a look at the contents of the saved fixed PST file after importing it into Outlook.
Welcome your result!
Visit the User Manual Guide here to find out more about installing or utilizing this app.
Pricing
You can acquire the Stellar Repair for Outlook solution for a discounted price at the time of writing this post. The Professional version will set you back $99, while the Technician version will set you back $249. The Toolkit version will set you back $299, and all three plans come with a lifetime license.
In this video, we are gonna show you how to use Stellar Repair for Outlook:

Conclusion
If you're frequently using Outlook when working on your business or specialized career, or even when working with your clients, and you're having trouble with corrupted or damaged PST files, don't miss out on Stellar Repair for Outlook (Outlook PST Repair) – the best tool for this task. If you have the Technician or Toolkit plan, it will not only fix PST files but also separate and condense them. Meanwhile, if you want to try it out first, the free trial version is also advisable.