The list of problems that can occur with Windows 10 is really vast. Although there are a lot of them, the vast majority are pretty uncommon, and you're unlikely to witness any of them.
The "System detected an overrun of a stack-based buffer in this application" issue is unusual, but it can prevent your PC from booting after a BSOD.
But don't worry, with a little effort, you can solve the problem. The steps outlined below should suffice.
Fix 'System detected an overrun of a stack-based buffer in this application' error
Solution 1 – Scan for malware
The full warning prompt is "The system detected an overrun of a stack-based buffer in this application.  This overrun could potentially allow a malicious user to gain control of this application." as you're already aware. 
As you've seen, Windows suggests that a specific program supports code manipulation (stack smashing), which permits malicious code to be injected into your program.
That's why we recommend doing a malware scan. Of course, if you can't get Windows to boot, you can use Safe mode and run a Windows Defender Offline scan to remove any dangers.
Here's what you need to do:
1. To go to the Advanced recovery menu, restart your computer three times.
2. Select Troubleshoot.
3. Choose Advanced Options and then Startup Settings from the drop-down menu.
4. Hit Restart.
5. Select the Safe Mode option (or Safe Mode with Networking).
6. Open Windows Defender from the taskbar's notification area once the PC has booted up.
7. Virus & threat protection should be selected.
8. Scan options should be selected.
9. Toggle Windows Defender Offline scan on, and then click Scan Now.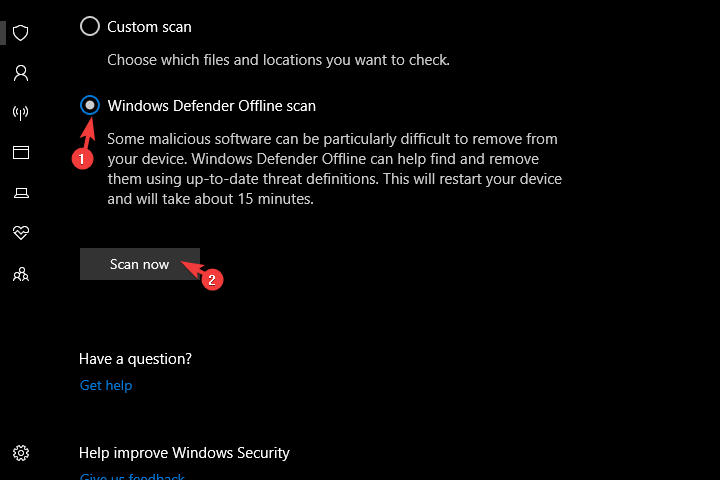 While in Safe mode, try removing all suspicious applications from Control Panel.
Solution 2 – Run SFC/DISM
Because the Deployment Image Servicing and Management application need a connection to the internet, you'll require Safe Mode with Networking for this step.
Despite the fact that System File Checker does not, we'll need to use both tools to address any potential system damage. They perform best when used together, which is why we'll run them in order.
To run SFC and DISM, follow these steps:
1. Select Safe Mode with Networking.
2. As an administrator, open Command Prompt.
3. Copy and paste the following lines into the command line, pressing Enter after each:
sfc /scannow

DISM /online /Cleanup-Image / ScanHealth
DISM /Online /Cleanup-Image /RestoreHealth
4. Restart your computer after it's finished.
Solution 3 – Perform a clean boot sequence
A clean boot is another option for resolving troubles caused by a rogue program. The "System detected an overrun of a stack-based buffer…" error is clearly caused by one of the programs that starts with the system being damaged.
As a result, we'll have to stop all third-party apps from starting with the system. Even better if you can boot into the machine without any problems. If you can't, Safe Mode will have to suffice.
Expert Tip: Some PC issues, such as corrupted repositories or missing Windows files, are difficult to resolve. If you're having problems repairing a mistake, it's possible that your system is partially broken. Restoro is a tool that will scan your machine and determine the source of the problem. To download and begin mending, go click here 
To prevent all background apps and services from beginning with the system, follow these steps:
1. Open System Configuration by searching for msconfig in the Windows Search bar.
2. Check the "Hide all Microsoft services" box under the Services tab.
3. "Disable all" should be selected.
4. Go to Task Manager and pick the Startup tab.
5. Stop all programs from starting up with the system and double-check your adjustments.
6. Restart your computer.
Solution 4 – Repair with system resources
Besides, if you can't enter into Safe Mode, you can try using the system recovery options. Of course, System Restore is the greatest option, but the question is whether you've created a restore point.
Another option is to attempt to fix the startup. We can't guarantee that these will work, but you may always give them a shot.
This is what you must do:
1. Select Troubleshoot from the Advanced Recovery option.
2. Select the Advanced options.
3. You can choose between System Restore and Startup Repair from this menu.
4. If you try one after the other, you should be able to boot.
Solution 5 – Repair with a bootable drive
If you can't boot at all, you'll need a bootable media drive for this and the next step. To download Media Creation Tool and make a bootable drive, you'll obviously need another PC.
Once you've done that, you can use the bootable drive to repair the current system image.
To fix a corrupt Windows 10 installation using a bootable media drive, follow these steps:
1. Remove all peripherals from your computer except the mouse and keyboard.
2. Add the bootable media drive (USB or DVD) and start the computer from there.
3. Select "Repair your computer" once the drive has booted up.
4. Select Troubleshoot.
5. Choose the Advanced options.
6. Select Startup Repair.
Solution 6 -Reinstall Windows 10
Finally, if none of the above actions were successful in resolving the issue, we recommend backing up your data and reinstalling Windows 10.
We're most likely dealing with a large-scale issue, and while reinstallation can be a pain, it's the only way to fix it.
It's not as time-consuming as earlier versions; the bulk of drivers have been installed automatically, and you only need to reinstall the software.
Check this video for more help:

Also, please let us know whether or not you found these methods to be useful. Also, please provide any alternate alternatives you may have. Just below is a space where you can leave your thoughts.