If your laptop speakers not working, try these following simple methods.
Why are my laptop speakers not working? Here are some common problems that many Windows 10 users reported on their laptop:
– Laptop speakers not working, but headphones work fine: This problem can appear if your speakers aren't properly configured.
– Sound not working on laptop: This problem is usually caused by your audio driver, so be sure to reinstall or update them and see if that solves the issue.
– Laptop speakers not working HP, Lenovo, Dell, Acer, Sony Vaio, Toshiba, Samsung: Problem with speakers can happen on almost any brand of laptop, but you can fix this problem using one of my methods.
– Laptop speakers not recognized, showing in playback devices: Sometimes this issue can occur if your speakers are disabled or if you don't have the proper drivers.
Read more: How To Fix Mac sound not working
How To Fix Speakers Not Working on Laptop
Method 1. Make sure that your laptop sound isn't muted and all of the settings are correct
If speakers on laptop are not working, it might be possible that the sound isn't muted on your laptop. To check if your laptop sound is muted, try the following simple steps:
Step 1. To begin, reboot your Windows PC.
Step 2. To check if your sound is muted, go to the bottom right corner of your desktop, click the volume icon and then set your volume to maximum. Test by playing any multimedia file. You can do that by using your multimedia player to play a local multimedia file or by playing a YouTube video.

Step 3. If that doesn't work, we advised checking your audio mixer. To see if your audio mixer is the problem, do the following:
– Play a music or video on your laptop.
– While the music or video is playing in the background, right-click the Volume icon and select Open Volume Mixer from the menu.
– Now, a new window will pop up. Make sure that all options are on and turned up.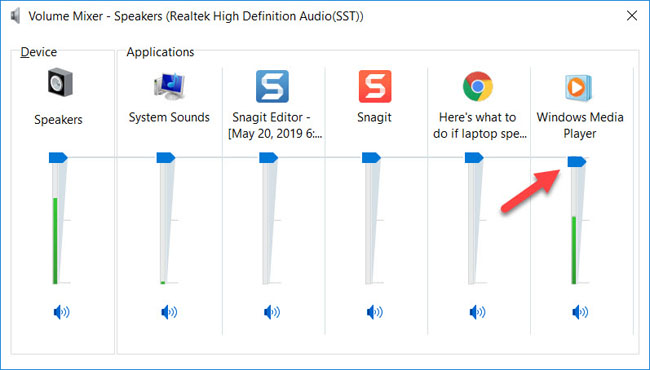 Lastly, see if the problem with audio is still there.
Method 2. Plug in and unplug your headphone
Your laptop has a small switch inside the headphone input jack. If you plug in your headphone, the small switch would turn off the speakers. And when you take out your headphone, the speakers should be turned on again.
So to fix your problem easily, you can try to plug in and take out your headphone
Step 1. Play a video or music on your laptop. This is for telling if this way works or not.
Step 2. Plug your headphone in laptop and unplug it rather quickly.
Step 3. After doing that, check if the sound comes from your speakers.
If your laptop speakers still not working by this point, you may have an old, corrupted or missing driver for your audio controller.
VIDEO TUTORIAL:
Method 3. Update your audio driver
If your laptop speakers are not working, the problem might be your audio drivers. Sometimes an old, corrupted or missing driver related your speakers can also cause this issue, such as a sound card driver or a Bluetooth driver (if you're using a Bluetooth speakers). And in order to fix the error, we would recommend you update your audio driver.
Step 1. Visit your laptop manufacturer's website.
Asus: https://www.asus.com/support/Download-Center/
HP: https://support.hp.com/us-en/drivers/laptops
Dell: https://www.dell.com/support/home/us/en/04
Toshiba: https://support.toshiba.com/drivers
Lenovo: https://support.lenovo.com/us/en/
Acer: https://www.acer.com/ac/en/US/content/drivers
Samsung: https://www.samsung.com/us/support/computing/windows-laptops
Step 2. Go to the Drivers section and search for your laptop model.
Step 3. Now look for and download the latest audio drivers for your laptop.
Step 4. Once the audio drivers are downloaded, run the setup file to install them.
If you don't know how to find and where to download the drivers, you can do it automatically with Driver Talent or Driver Easy. This tool will automatically recognize your system and search for the correct drivers for your laptop, and your variant of Windows system, and it will download and install them correctly.
In this video, we are gonna show you how to fix laptop speakers not working but headphones work on Windows 10.

Hope something helps you, please comment on this tutorial.
See more:
Fix: Asus laptop speakers not working
Fix: HP laptop speakers not working
Fix: Dell laptop speakers not working
Fix: Toshiba laptop speakers not working
Fix: Lenovo laptop speakers not working
Fix: Acer laptop speakers not working