In this article, learn how to install DirectPlay in Windows 10 to play old games?
Let me explain first what is DirectPlay?
DirectPlay is an antiquated API library that was a component of earlier DirectX versions. Because DirectPlay is outdate, it's no longer required for update Windows games. However, DirectPlay is still more essential to play games that predate 2008 in Windows 10. Hence, some older apps and games don't launch without DirectPlay. If an app or game needs DirectPlay, the following error appears: "An app on your PC needs the following Windows feature DirectPlay." DirectPlay can however be enabled if you need it.
Note: You must be signed in as an administrator to be able to turn it on.
Install DirectPlay For Windows 10
Step 1. Using Windows Search, search Windows features. From results, select "Turn Windows Features On or Off".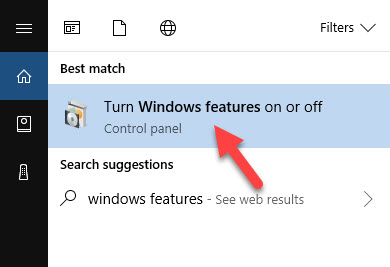 Step 2. In Turn Windows Features On or Off window, scroll down and locate Legacy Components. Double-click Legacy Components to expand it and then tick the DirectPlay check box. Click OK.
Step 3. After installing DirectPlay, reboot your PC.
Following video illustrates this tutorial:

However, many Windows 10 users have stated that they face an error code 0x80073701 when attempting to install DirectPlay. So, they can't install DirectPlay in Windows 10. If you are a victim of this problem, I highly recommend you temporarily disable or remove your anti-virus software.
Hope something helps you.