When you launch Microsoft Teams, you see a start-up screen that shows "Loading Microsoft Teams" at the bottom left. It pops up for a few seconds before you either see the login screen, or you're taken to the Microsoft Teams interface if you're already signed in.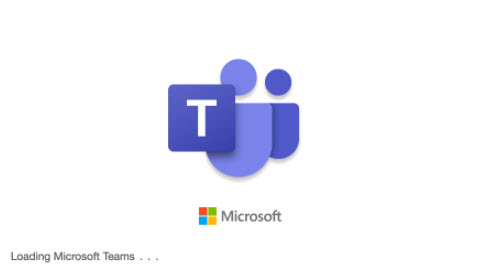 Microsoft Teams may remains stuck on the loading screen for a long time. This may be because your system is slow, or because the app is trying to connect to Microsoft's servers, verifying your sign in information.
Don't forget to check out my in-depth Microsoft Teams topic for more useful tutorials.
How to fix Microsoft Teams stuck on loading in Windows 11/10
If Microsoft Teams is stuck on the loading screen for more than 2-3 minutes, you've likely run into an issue. The reason might be anything: the cache might be corrupt, your password might not be correct, there may be a problem with Microsoft's servers, or there may be a problem with the installation.
Fix 1. Check your password
It is possible you're typing the wrong password to your Microsoft Teams account. Basically, it should timeout and allow you to type the password again but if it doesn't, check your password.
1. Open your browser, go to Microsoft Teams page.
2. Sign in with your account.
3. If the password is correct, exit the Microsoft Teams app.
4. Launch the app again and login.
Fix 2. Remove password and login again
Microsoft Teams stores the password to your account in the Windows Credentials Manager. It connects with it without problem but there are always exceptions.
1. Open Control Panel.
2. Select Accounts.
3. Click Manage > Windows Credentials.
4. Find anything related to Microsoft Teams.
5. Expand it and then click on Remove.
6. Close Microsoft Teams and launch the app again.
7. Login Microsoft teams with your account.
Fix 3. Clear Teams Cache
Many of Microsoft Teams' problems stem from a corrupted cache. Deleting it will often fix the problem. Here are the steps:
1. Fully close Microsoft Teams and ensure it's not still running in the toolbar at the bottom right of Windows.
2. Press Windows + R, then type in "%appdata%\Microsoft\teams". Click OK.
3. Delete the contents of these folders:
blob_storage
Cache
databases
GPUCache
IndexedDB
Local Storage
tmp
4. Launch Microsoft Teams and wait for it to download required files.
Fix 4. Reinstall Microsoft Teams
If rebuilding the Cache didn't work, reinstalling Microsoft Teams is the next method.
1. Open Control Panel.
2. Navigate to Program > Uninstall a program.
3. Find Microsoft Teams and uninstall it.
4. Delete the Microsoft Teams' cache (see Method 3).
5. Go to this source to download Microsoft Teams. And then install it again.
Fix 5. Install Microsoft Teams client via meeting invite
This solution has worked for quite a many users. Here are the steps:
1. Ask anyone to schedule a meeting in Microsoft Teams and send you an invite to it. The meeting should start shortly.
2. Next, uninstall Microsoft Teams on your computer.
3. Open the invitation to the meeting and select Join Now.
4. Dismiss the prompt to launch Microsoft Teams.
5. Click the option to download the Microsoft Teams client.
6. Then download and install Microsoft Teams.
7. Open Microsoft Teams client and you'll be able to login.
In this video, we are gonna show you how to fix Microsoft Teams stuck while loading in Windows 10:

That's about it.