Halo Infinite is crashing and won't launch – This article will show you how to fix Halo Infinite PC's crashing and startup issues.
A lot of PC users are encountering crashes every time they are making an attempt to Launch Halo Infinite
Halo Infinite's final version is now available. The campaign is now live, and the multiplayer is no longer in beta. So far, everything in the game is going swimmingly. At the present, the game has around 100,000 reviews on Steam. And the vast majority of them are positive. 
Although Halo Infinite's gameplay is in perfect condition, there are several technical flaws that need to be solved. I'm referring to the problems with launching and crashing.
The game is crashing for a lot of PC users every time they start it up. This is comprehensible for gamers who are attempting to run the game on a computer that does not satisfy the game's basic requirements. This is not the case, however. This is something that folks with Ryzen 7 5800xs and RTX 3080s are complaining about. 
Therefore, in this guide, I have compiled a list of all the fixes that have been certified to function by the Halo Community.
Read more: How To Fix Halo Infinite FPS Drop, Stutter, and Lagging Issue
How To Fix Halo Infinite Not Opening On PC
Stability can be enhanced by a few methods, whose efficiency is not confirmed:
Fix #1 – Use the GPU Drivers complimented by the developers
The Nvidia and AMD drivers that are best suited for Halo Infinite have previously been recommended by 343. What they have to say is as follows:
Hello there, Friends!

Halo Infinite should be played on a computer with the most up-to-date graphics drivers. Visit the manufacturer's support site to download the most recent drivers:

AMD

Halo Game Ready Beta Driver is a recommended driver.

The AMD Halo Game Ready Beta Driver improves performance greatly. Please update to this driver for the best experience.

NVIDIA

Recommended driver: 496.49 or later 

Intel

Intel graphics hardware is not supported at this time.

Cheers,

Postums
Doing this would also fix any DirectX or Direct3D errors in Halo Infinite.
Fix #2 – Turn off Full-Screen Effects
Many gamers have begun to notice that Halo Infinite crashes frequently when they are respawning or when their shield breaks. This is when the fix appeared. Some users got to the conclusion that the 'Full-Screen Effects' are to blame. Turning it off '0' also eliminates the crashes.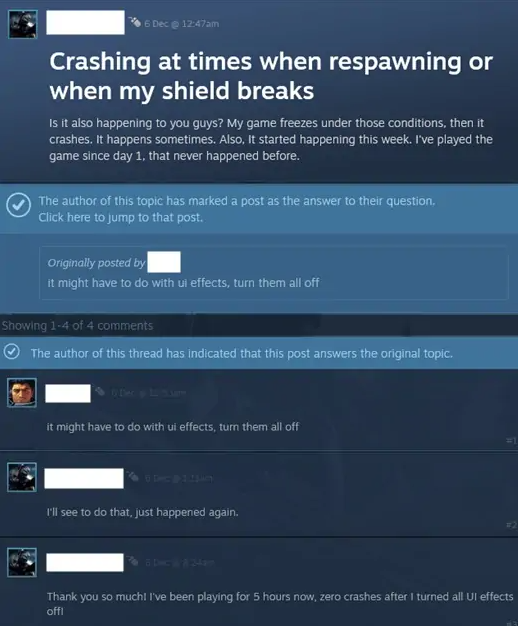 All you have to do now is go to your Video Settings and turn off Full Screen Effects. While you're at it, consider the following:
Reduce the quality of the effect.
Speed Lines should be disabled.
Disable Chromatic Aberration, Bloom, and Parallax under the UI tab.
Fix #3 – Disable High-res textures
By default, Halo includes a Multiplayer High-Res Textures pack when you install the game. The pack is around 7.7 GB in size, and it has an impact on the graphics of maps in multiplayer mode. You most likely have it installed right now without even realizing it. Here's how to get rid of it:
If you are using Steam, then select your Library.

Right-click on Halo Infinite.

Choose Properties.

Go to 'DLC'.

Remove the tick from the box next to 'Multiplayer High-Res Textures'.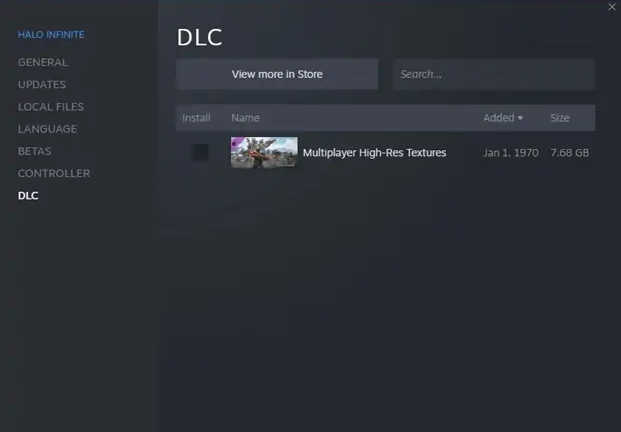 If Halo Infinite is available on the Xbox app, then try this:
Access the Halo Infinite store on your Xbox app.

Click these 'three dots', and choose Manage Game.

After that, remove the tick from the box next to High-res Textures.

Apply the changes.

Reboot the Tool.
Fix #4 – Reduce reflections quality to Low in-game
Many of the crashes appear to be happening on the Streets map for some users, where the use of reflections is extremely high.
Reflection settings, which are particularly taxing on high-end GPUs, have been reported to cause instability and crashes by certain users.
Fix #5 – Turn off Async Compute
In case you're an Nvidia GPU user, I'd recommend turning off Async Compute. For Nvidia GPU users, this setting has proven to be "Hit or Miss." For some, it causes crashes, while for others, it eliminates the problem. Users of AMD processors are less prone to this issue.
Select Settings > Video, then turn off Async Compute. Reboot the game after that.
Fix #6 – Make sure of the Minimum Frame Rate and Maximum Frame Rate options
Set your in-game maximum frame rate to match your monitor's default refresh rate. That is, if you have a 144Hz display, set the maximum frame rate to 144. Set your minimum frame rate to something that is playable in your opinion.
The game employs dynamic resolution scaling based on the minimum frame rate you select, so it will try to scale your resolution down to whatever is required to keep that minimum frame rate. This will prevent the GPU and CPU from being overworked, and it may also solve the crashing problem.
Fix #7 – Verify the Halo Infinite game files on Steam (For Steam users)
If you own Halo Infinite on Steam and are unable to play it, please contact us. I recommend that you use Steam to check the Halo Infinite game files:
Reboot your PC and set up Steam

Then, right-click on Halo Infinite in your Library

Go to Properties from the drop-down menu

Turn on the Local Files tab and hit the Verify integrity of game files

The game's files will be verified – you may have to spend a while on this process
Fix #8 – Repairing Halo Infinite might help with the launch issues (For Xbox app users)
If you are a Windows 10 PC user with Halo Infinite on the Xbox app, it's possible for you to fix the game. This will fix the game if there are any sorts of missing or broken files. Here is how to do it:
1. Open your Windows Settings.
2. Go to Apps & features, locate Halo Infinite from the app menu.
3, Click Halo Infinite (Basically, use sort by: size), and select from Advanced options.
4. Press Repair.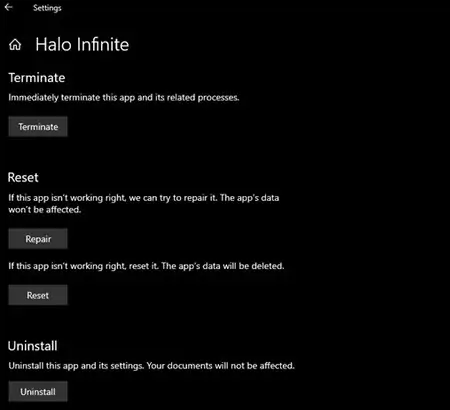 5. Wait a moment for the process to be finished.
6. Reboot the Xbox feature.
Fix #9 – Restart your machine after manually updating Microsoft Visual C++ Redistributables
It's a good idea to update your Visual C++ redistributable, as it's possible it wasn't installed successfully. This will resolve issues such as "vcruntime140 1.dll is missing" or "MSVCP140.dll was not found".
Fix #10 – Make sure Microsoft Gaming Services is up to date
This cause is one of the most common ones triggering crashes in games on the Xbox app for PC. Users of Forza Horizon 5 experienced the same issue. In the Microsoft Store's Downloads area, look for updates to Microsoft Gaming Services.
Update – 12/17/2021
If, instead of launching, Halo Infinite directs you to the Microsoft Store's "Gaming Services" page after pressing the Play button on the Xbox App. Here's what you should do.
Select Manage Installation from the three dots next to the game. Then click 'choose what I want to install' and untick/tick high texture pack. Then choose which modules you want to install (It is up to you whether you want to keep the HD textures or not). This should complete the task. This basically confirms the installation.
Fix #11 – Halo Infinite aren't compatible with some Overlays
Disable Steam Overlay, and other unnecessary overlays and apps (Afterburner, etc.)
Fix #12 – Check your antivirus settings
There's a good probability your antivirus is preventing Halo Infinite from starting. It could be returning a 'False-positive' result. Make sure the game isn't being banned by your antivirus software. Add Halo Infinite to any antivirus program's whitelist feature.
Fix #13 – Using the Windows 10 System File Checker
In Windows, run the system file checker. Here's how you can do it:
1. Press the Windows key, then type "cmd" without the quotations, then right-click the command prompt and choose "Run as Administrator."
2. In the command prompt, type "sfc /scannow" without the quotes and press enter.
3. Wait till the process is done
4. If any problems were discovered, repeat the process two more times or until no errors were discovered
5. After that, write "DISM /Online /Cleanup-Image /CheckHealth" without quotes in the same command terminal and push enter
6. Wait until the procedure is finished
If any missing or corrupt dlls are causing system instability, this will ensure file integrity on your system 
If none of the solutions listed above work for you, you can look for error or crash reports in your Event Viewer. Even if no fault is visible on the screen, there will always be one. Custom Views > Administrative Events and/or Windows Logs > Application are where you'll find it. If the error is caused by kernelbase.dll, open a command prompt and type "regsvr32 KERNELBASE.dll" without quotes. After that, reboot your computer.
That concludes our discussion of how to address Halo Infinite's launch and crash difficulties. Nothing described in this post is a guaranteed remedy, as finding one that works for every single Halo Infinite player on the planet is impossible. If none of the above ways work for you, you can submit a ticket directly to Halo Support by following the steps mentioned here. 
You may actually see my Halo Infinite performance video if it's your wish. The game is being played on an RTX 3060 Ti with a Ryzen 5 5600x processor: 
In this video, we are gonna show you how to fix Halo Infinite that won't open on steam:

Please let us know if you've found this article useful in the comments area below. Keep tabs on Frondtech for more Halo Infinite instructions.