On some Windows 10 or Windows 11 systems, you may be unable to locate your Bluetooth options in the settings or control panel. Bluetooth is a terrific way to wirelessly transmit files between devices and connect items like speakers.
Many users have had this problem, so we've come up with some solutions to assist you to reclaim your Bluetooth settings.
Method 1 – Restart Bluetooth services
Bluetooth services are programs that check whether Bluetooth is working properly on any device. Bluetooth may not work if Bluetooth services have been disabled. This problem can be simply resolved by manually restarting services. To restart Bluetooth services, follow these procedures.
Step 1] Press Windows + R simultaneously, then type service.msc and press Enter. It'll start up Windows services.
Step 2] In the services list, find Bluetooth support services and right-click on it to select the restart option.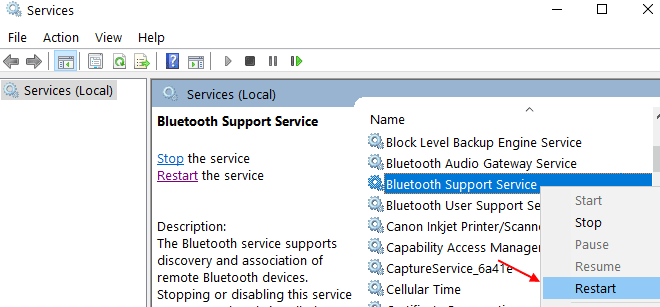 Step 3] Double-click the service to open its properties when it has been restarted. The startup type should be set to Automatic, and then click OK.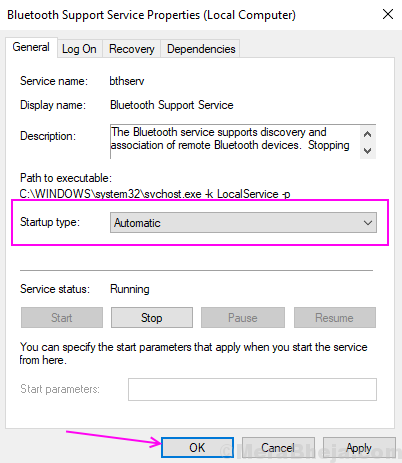 Step 4] Repeat steps 3 and 4 for each Bluetooth-related service listed in the list, such as Bluetooth audio gateway and Bluetooth user assistance.
Check to see whether Bluetooth settings have appeared again in Device Settings.
Method 2 – Disable and then Enable Bluetooth Device
For many people, basic approaches such as disabling and enabling devices work. To disable and re-enable the Bluetooth device, follow the steps below.
Step 1] In the Windows search bar, type Device Manager.
Step 2] From the search results, select Device Manager.
Step 3] Next, double-click Bluetooth to expand the list and find your main bluetooth device. Right-click on the Bluetooth Device and choose Disable Device from the menu. To confirm Disabling, click Yes.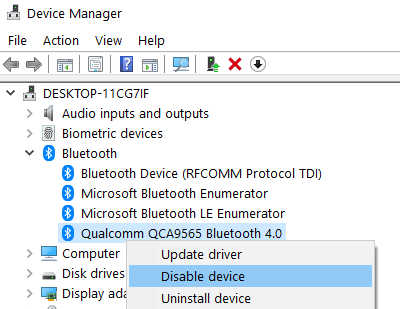 Step 4] After some time has passed, right-click on the Bluetooth device again and select Enable Device.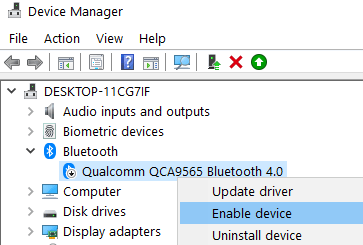 Exit the Device Manager window and look in Options for Bluetooth settings.
Method 3 – Reinstall Bluetooth Device
If none of the steps above have worked, your device drivers may be broken or corrupted, and you will need to reinstall them to fix the problem.
Step 1] Open Device Manager by searching for it in Windows search and then clicking on it.
Step 2] Find the Bluetooth device, right-click it, and choose Uninstall Device from the menu that appears.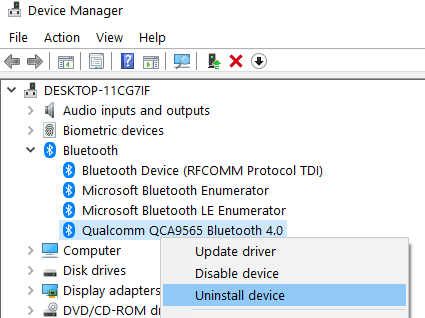 Step 3] To confirm, click Uninstall.
Restart your computer after the uninstalling process is completed. It will reinstall the default driver and, most likely, the Bluetooth settings will appear.
If the problem persists, your Bluetooth device drivers may be outdated and need to be updated. To update them, go to the PC manufacturer's website and download the installer, then follow the installation instructions.
Method 4 – Show hidden devices
Step 1] Open Device Manager by searching for it in Windows search and then clicking on it.
Step 2] – Next, go to View and select Show Hidden Devices.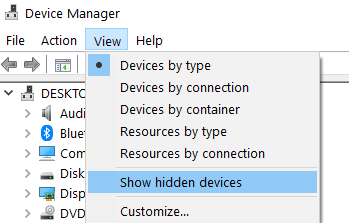 Method 5 – Buy an external USB Bluetooth stick
If everything else doesn't work, consider purchasing an external USB stick from Amazon and connect it to your USB port, and everything will be OK. This method works when all other methods have failed and there is a good likelihood that your Bluetooth adapter has been broken.
Method 6 – Update BIOS
Some people claim that changing their BIOS to the most latest version resolved the bluetooth issue. Simply google your BIOS and the name of the laptop maker, and download, install and update the BIOS.
Method 7 – Check Bluetooth devices and drivers in Device Manager
 If Bluetooth settings are not visible in settings, it is due to a device driver issue or a lack of device drivers. You may check whether or not the devices are working properly in the Device Manager.
Step 1] Open Device Manager by searching for it in Windows search and then clicking on it.
Step 2] Open Bluetooth and make sure at least one device is connected. Double-click to launch the properties window, then check that it is running.
Step 3] Look for the Bluetooth adapter under Network Adapters. If it is present, double-click it to ensure that it is operational.
In this video, we are gonna show you how to fix Bluetooth missing from Device Manager in Windows 11:

That's about it.