In this beginner's guide, learn how to fix "Your connection is not private" problem when trying to open the webpage with the Google Chrome browser.
Read more: How To Fix Your DNS Server Might Be Unavailable
When you access a website with an SSL secure method (or https), an error message appears as below:
Your connection is not private

Attackers might be trying to steal your information from www.example.com (for example, passwords, messages, bank information or credit cards).

NET::ERR_CERT_DATE_INVALID
First things first, let me explains What is this error and why does it happen on your Google Chrome browser when trying to open HTTPS websites?
Typically, "Your connection is not private" or "Net::ERR_CERT_DATE_INVALID" error shows up on screen because there is a problem with the SSL connection. SSL (secure sockets layer) is used by Windows10freeapps and other websites to keep all the information you enter on their pages secure and private.
If you are facing the SSL error Net::ERR_CERT_DATE_INVALID on Google chrome browser, it means your Internet connection to this site is not private and secure. In such case, please carefully check the website address again and make sure it's correct.
Here are several reasons that could lead to the SSL error:
Wrong date and time.
Firewall and Antivirus block SSL Connection.
Invalid Google chrome Cache and Cookies files.
Expired SSL certificate.
Google Chrome Browser error.
You may also like: Top 10 Best Free VPN Extensions For Google Chrome
How To Fix Your Connection Is Not Private Error In Google Chrome
Method 1. Change a computer's date and time
If your computer is displaying the wrong time, the SSL error message will appear. This is the actual reason that prevents the Google Chrome browser to verify the SSL certificate
Step 1. In the bottom right corner of the screen, you right-click on the date and time in the Windows Notification Area.
Step 2. Then select Adjust date/time.
Step 3. Make sure your Date and Time zone is set properly if your computer is displaying the wrong time.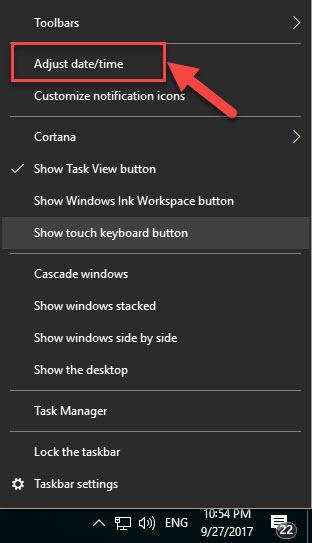 Method 2. Disable SSL Error Warnings
This solution is just a temporary method to bypass the SSL connection error. You can't fix this problem permanently, but this will make you don't see all warnings that related to SSL errors in Google Chrome browser. To do that, you need to start Chrome with the parameter –ignore-certificate-errors.
Step 1. On your desktop, you right-click on the Google Chrome shortcut and choose Properties.
Step 2. In Target box, you add this after quotes -ignore-certificate-errors
It's look like this: "C:\Program Files (x86)\Google\Chrome\Application\chrome.exe" –ignore-certificate-errors
Step 3. Click OK to apply changes.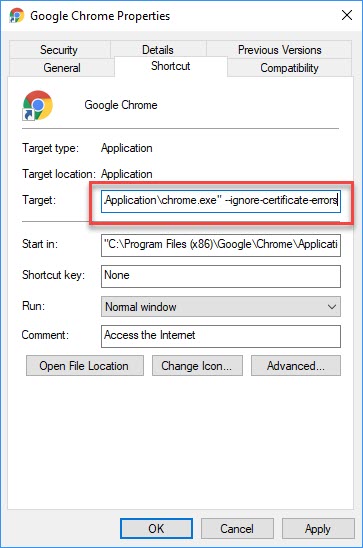 And now the error will be ignored all time.
Method 3. Access the webpage in Incognito mode (computer only)
Step 1. Open Goole Chrome browser on your computer.
Step 2. Press Ctrl + Shift + N to open an Incognito window. Then you access the webpage you were visiting in an incognito window.
Step 3. If the webpage works, a Chrome extension is causing the error. In order to fix the error, turn off the extension. You can visit this post to learn how to turn off Chrome extensions.
Method 4. Turn off Your Firewall or Antivirus Software
Some users Windows reported that the Firewall or Antivirus Software can block strange SSL certificates or connections as well. If you have installed and are using antivirus software that provides "HTTPS scanning" or "HTTPS protection", you will see this error. In order to fix the problem, I would recommend you disable your firewall or antivirus software. If the problem is gone after turning off the software, turn off them when you access secure sites.
Method 5. Process To The Website With An Insecure Connection
If all methods above can't fix this error because it's a website error. In case you can't fix this error because it's a website error. If you are sure the website you try to open is safe, you can use this method.
Step 1. First, you click the Advanced link.
Step 2. Then tap on "Proceed to <website address> (unsafe)".
Here's the video to help you more on this tutorial:

Hope something helps you. If you have any other Google Chrome errors you can see for the solution on Windows 10 tricks.