If you're getting "Windows Hello isn't available on this device." in the Windows 10 system, here's how to fix.
Many Windows 10 users are currently reporting this issue as well, so that's why in this post we will be trying to find an easy fix.
Let me explain first what is Windows Hello?
Microsoft offers a new way to sign in to Windows 10 devices that's only more secure, but much it's more personal, it's called Windows Hello. Windows Hello is a great feature that allows you to login into your system by recognizing your face or your iris (like Surface) or your fingerprint rather than using a password or a pin code, provided that you have a finger scanner and a webcam that work.
With Windows 10 Anniversary Update, you can use the Windows Hello feature to apps, online services, and networks – thus, you can complete different sign-in processes easily regardless of what websites you are attempting to access.
See more: How To Fix We Couldn't Find a Camera Compatible with Windows Hello Face in Windows 10
How To Fix "Windows Hello isn't available on this device" error in Windows 10
FIX 1. Update Your PC To the Latest Version Available
First and foremost, make sure your device is running the latest Windows updates. Basically, the latest update released by Microsoft resolves these issues and it's quite easy to get it working again after you install the latest Windows 10 build. Follow these steps:\
1. Click on the Start menu button and select Settings.
2. Select on Update & Security.
3. In the Windows Update tab, click on the Check for updates button under the Update status in order to check whether there is a new version of Windows available. Install available updates found.

4. Restart your system and check if the Windows Hello feature was restored.
FIX 2. Enable the Allow the use of biometric option
1. Press Windows + R and type gpedit.msc in the dialogue box. Click OK.
2. Go to the following path:
Computer Configuration > Administrative Templates > Windows Components > Biometrics

3. On the right side of the main pane, find the Allow the use of biometrics feature. Double-click on it.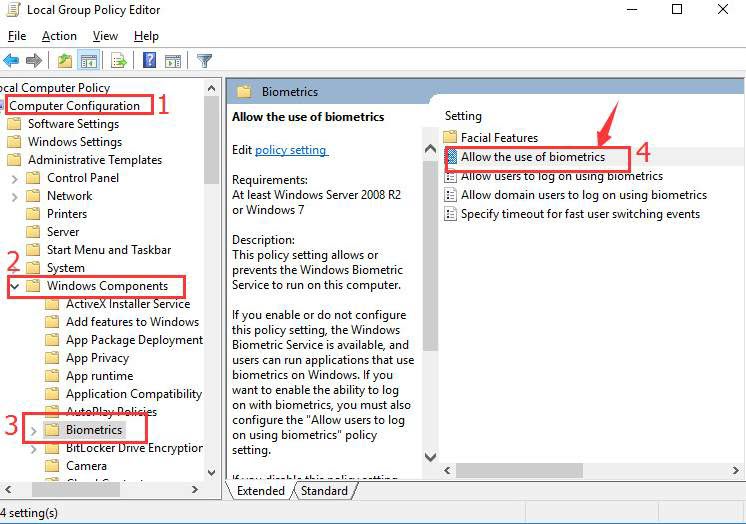 4. Select Enabled and then click Apply> OK.
5. Restart your system.
FIX 3. Update Your Fingerprint Device Driver
If your fingerprint device driver is outdated or faulty, you're not likely to use Windows Hello on your PC. You can update the fingerprint scanner driver to fix it. Here are the steps:
1. Open Device Manager. To do that, right-click the Start button, then select Device Manager.
2. In Device Manager, browse the list of devices until you see the Biometric devices option and expand it.
3. Right-click the fingerprint sensor device that you are using and click Update Driver.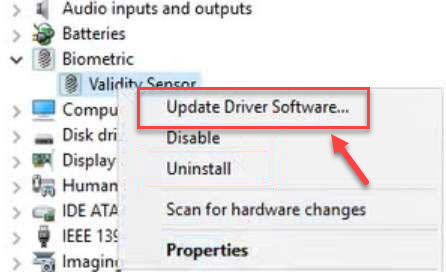 Alternatively, you can also try to delete the driver and install it again.
Automatically update drivers
Installing the drivers manually involves a risk to damage your system by downloading and installing the wrong driver version. So we suggest updating your drivers automatically with a dedicated tool.
We highly recommend Driver Easy, as it is currently the best tool for this task. Follow the steps to update your drivers automatically:
1. First, download and install Driver Easy: Get Driver Easy Now
2. Run Driver Easy and it will automatically recognize your system and find the correct drivers for it.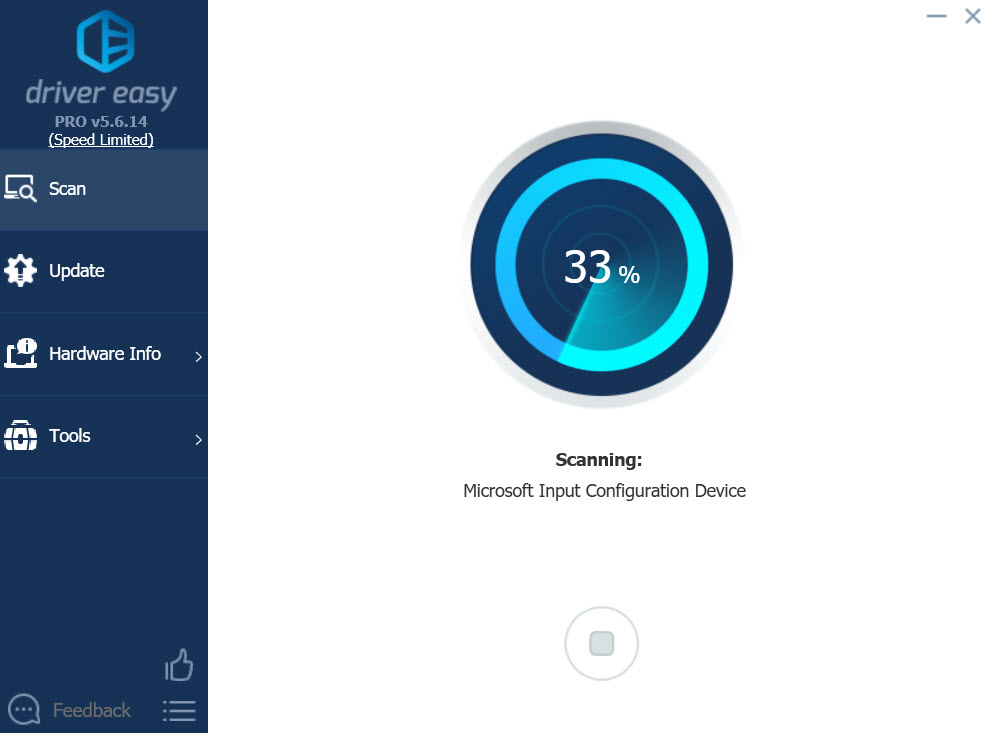 3. After that, you just need to choose which drivers you want to install or update. Or just press the Update All button. It's very easy.
This solution is so simple that it almost looks too good to be true but it worked for so many users that it would be a shame not to try it.
Check out this video to illustrate this tutorial:

That's about it.