In this article, learn how to deal with "The referenced account is currently locked out and may not be logged on to" error when trying to sign-in to Windows 10.
Consider a scenario, while entering the Windows 10 system, if you mistakenly type the wrong password for several times, the following message may pop up on your computer screen:
Under this case, Windows locked your account and won't allow you to login for specified duration. This appears if you have typed in the wrong password a particular number of times and result in the system blocking your account for sign in.
If you're also victim of this problem, below mentioned methods will help you to fix it.
How To Fix The Referenced Account Is Currently Locked Out And May Not Be Logged On To Windows 10
Method 1. Wait Until the Lockout is Reset
If you have set the account lockout threshold and type in wrong password several times in a row, there is not much else you can do but to turn off the PC and wait for the lockout until it is time to try to repeat the signing process with the correct credentials.
However, if you don't want to wait and need of accessing your account immediately, I suggest you change the time and date settings of your computer before it even boots. To do so, follow these steps:
Step 1. Restart your computer and wait for the boot screen to show up.
Step 2. Text on the bottom of the screen should see "Press X to run Setup". You simply press the key indicated before the BIOS screen goes away.
Step 3. Go to the Main tab and change the system date to any future date.
Step 4. Now, you have to save changes. Press Save and Exit setup.
Step 5. Try typing your password carefully and only once. If the problem still remains, go to other methods.
Method 2. Change the Account Lockout Threshold Policy
These steps are only applicable to Windows 10 Pro and Windows 10 Enterprise editions.
After logging in successfully, check the following settings by using Local Security Policy Editor in Windows 10 system:
Step 1. Press Windows Key + R and type secpol.msc in Run dialog box and click OK.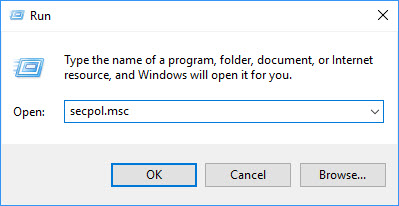 Step 2. When the Local Security Policy window opens, go here:
Security Settings > Account Policies > Account Lockout Policy
Step 3. In the right pane of above shown window, right-click on Account lockout threshold policy and select Properties.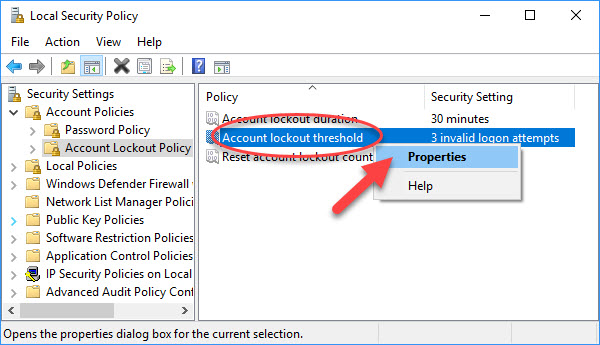 Step 4. In the setting configuration window, go to the Local Security Setting tab and under "Account will not lock out" heading, set the preset value to 0. Click Apply > OK to save changes.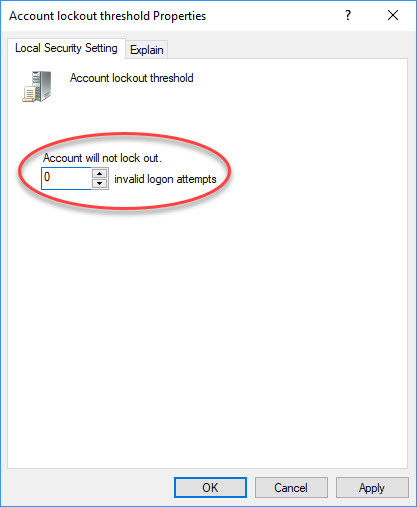 Step 5. You can now close the Local Security Policy snap-in and then restart your computer.
Here is the video to illustrate this:

Method 3. Using third-party password recovery tools
Also, you can use some third-party free password recovery tools, as like Windows Password Key. You don't need to access to Windows to be able to recover your lost passwords. This tool is designed to unlock locked domain administrator, local account or Microsoft account password in Windows 10/8.1/8/7 computer by using a CD/DVD/USB.
Step 1. Download Windows Password Key Professional/Enterprise from another computer.
Step 2. Install and run it.
Step 3. Use a USB drive to burn the program by clicking Burn button.
Step 4. Then you need to change BIOS settings to boot from USB.
Step 5. Finally, you will see the main interface of this software, just choose your locked admin account, click the target option and follow the instruction to reset it.
Hope something helps you.