If you're attempting to launch your game on Windows PC but it fails, and you're getting this error telling "The program can't start because physxloader.dll is missing from your computer", this tutorial is useful for you.
Let me explain first What is physxloader.dll?
The physxloader.dll file is a part of "Nvidia Ageia PhysX" driver software. The file is associated with the PhysX physics engine from NVIDIA, and is normally stored in the program's \NVIDIA Corporation\PhysX\Common\ folder. This particular DLL file is mainly used by games, and is not a vital part of the "Microsoft Windows" operating system.
Physxloader.dll error messages might pop up when Windows starts/shuts down or while installing/launching certain programs. Here are a few common physxloader.dll errors:
– This program can't continue because physxloader.dll is missing from your computer
– Physxloader.dll Not Found
– This application failed to start because physxloader.dll was not found. Re-installing the application may fix this problem.
– Cannot find [PATH]\physxloader.dll
– The file physxloader.dll is missing.
– Cannot start [APPLICATION]. A required component is missing: physxloader.dll. Please install [APPLICATION] again.
If you're also getting this problem, try below-mentioned fix and see if it helps you.
You can refer how to fix missing DLL files in Windows 10 from this tutorial.
How To Fix Program Cannot Start Because PhysXloader.dll is missing
Method 1. Download & Install a new NVIDIA PhysX
This issue is probably caused by a corrupted or missing NVIDIA PhysX. Download and install a new PhysX software on your PC. To do that, follow these steps below:
1. First, visit this source to download a new NVIDIA PhysX.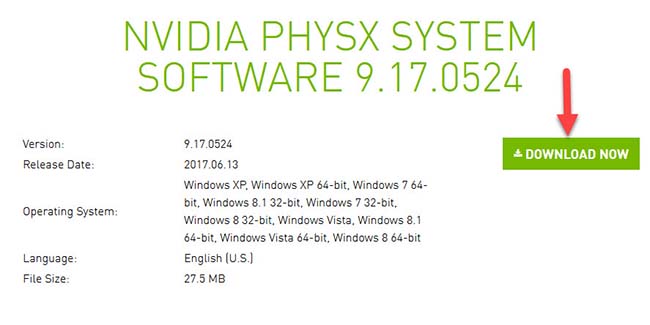 2. Install it on your computer.
3. Run PhysX and launch your game again to check if it works.
VIDEO TUTORIAL: (Solved) physxloader.dll is missing Game Start Error

Other method: Copy the physxloader.dll file
If the Physxloader.dll file is missing or not found, then downloading the missing Physxloader.dll file from the internet. You can try that solution:
1. Go to this site to download the Physxloader.dll file.
2. Download the Physxloader.dll file according to your Windows PC:

– For Windows 32-Bit -> select 32-Bit File
– For Windows 64-Bit -> select 64 Bit File
3. Extract the Physxloader.dll file from the downloaded Zip-File/s.
4. Copy/Paste the file/s into the designated folder:
– For 32-Bit Version -> C:\Windows\System32
– For 64-Bit Version -> C:\Windows\System32
5. Restart your computer.
Hope something helps you.