In this tutorial, learn how to fix the ERR_SPDY_PROTOCOL_ERROR while you are browsing different websites through Google Chrome.
The first thing, let me explain first what is ERR_SPDY_PROTOCOL_ERROR?
The SPDY was Chrome's protocol which was designed for manipulating HTPP traffic, improve web security, and enhance the web page loading speed. However, later in 2015, Google has stopped its support for the SPDY protocol. Hence, ERR_SPDY_PROTOCOL_ERROR only affects users who use Google Chrome as their Internet web browser. When you are browsing specific Google-related websites like YouTube, Facebook, Blogger, Tumblr or Wikipedia, you get an error like err_spdy_protocol_error. Depending upon the website you are on you might experience errors like err_spdy_protocol_error Tumblr, err_spdy_protocol_error Reddit, err_spdy_protocol_error Chrome, or err_spdy_protocol_error Facebook.
What causes Chrome Error: "ERR_SPDY_PROTOCOL_ERROR"
There are some reasons which lead to such error:
Firewall or Antivirus Blocking.
Outdated Google Chrome Browser.
If you're facing this issue, in this tutorial, I'll share you the methods to fix it.
You may also like: Top 10 Best Free VPN Extensions For Google Chrome
How To Fix Error "This webpage is not available with error code: ERR_SPDY_PROTOCOL_ERROR" in Google Chrome
Method 1. Flush DNS Cache
If you receive the "This Webpage is not available Err_Spdy_Protocol_Error" message while browsing different websites through Google Chrome, you should flush the DNS cache from your computers.
Step 1. Open Command Prompt as administrator. If you are working on a Linux OS PC, open Terminal.
Step 2. Then type the following command in the Command Prompt window or Terminal and press Enter.
For Windows Users:
ipconfig/release
ipconfig/renew
For Mac Users:
dscacheuti –flushcache; sudo killal –HUPmDNSResponder
For For Linux Users:
nscd -I hosts
Step 3. Wait until the process is completed then restart the machine.
After restarting your computer, you can try to access the website showing net::ERR_SPDY_PROTOCOL_ERROR in Google Chrome.
Method 2. Flush Socket Cache in Chrome
One of the methods that you can opt is flushing socket in Google Chrome.
Step 1. Open your Chrome browser.
Step 2. Type this URL in the address box and press Enter:
chrome://net-internals/#sockets
Step 3. Now, you will see a screen like below. Press the "Flush Socket Pools" button.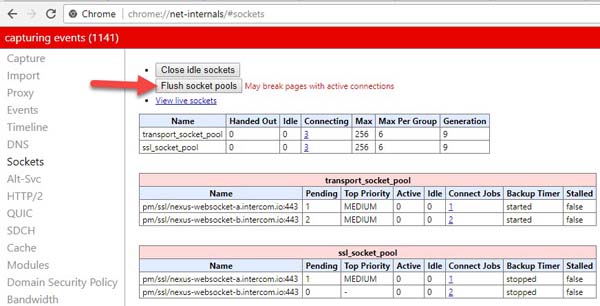 Step 4. You can now return to the website you were attempting to access. If it's working correctly, then stop at this step.
Step 5. If not, then type the given URL in the address box and press Enter:
chrome://net-internals/#events&q=type:SPDY_SESSION%20is:active
Step 6. Press the "Flush Socket Pools" and again reopen the website to check if it is working properly.
Method 3. Clear Cookies and Cache
The ERR_SPDY_PROTOCOL_ERROR bug might be happening because of the recent files saved within your browser. Hence, a good solution to fix the problem will be in clearing your web browser's cache and cookies. Here are the steps for clearing your history and cache in Google Chrome, but you can similarly clear cookies and cache on any other web browser software.
Step 1. Open Chrome.
Step 2. On the top right corner, you click on Menu

 button > More Tools > Clear browsing data… A box will pop up.
You can also hold CTRL + Shift + Delete keys in Windows or Linux, or Command + Shift + Delete keys on MacOS.
Step 3. From the drop-down menu, choose the beginning of time. Then select the check boxes for the two options Cookies and Other site data and Cached Images and Files. And click on Clear browsing data button.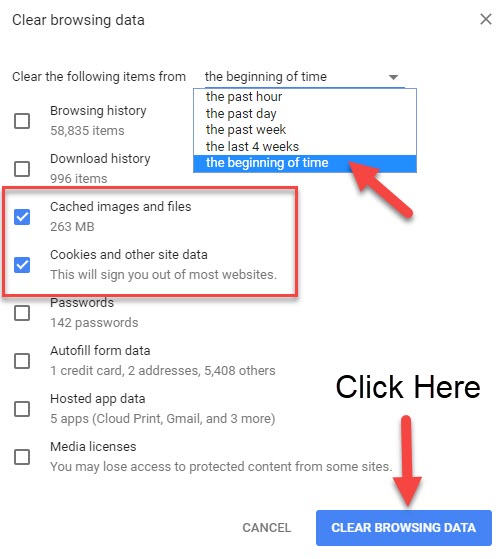 Method 4. Update the browser
One of the reasons for this site cannot be reached, or err_spdy_protocol_error is that you might be using an outdated browser. Google now doesn't support the SPDY protocol and hence this issue might come due to the existence of the SPDY protocol in your Google Chrome version. In order to fix this error, I would recommend you update your browser before trying anything else.
Again, here are the steps for Google Chrome, though you can quickly complete this operation for all the other web browser apps
Step 1. Open your Chrome browser.
Step 2. Click on the Menu

 button > Help > About Google Chrome.
Step 3. Click on About Google Chrome button. If you see a message here that tells "Google Chrome is up to date", you're on the latest version.
Step 4. Now, you just follow on-screen prompts then wait while all the patches are installed.
You can also download latest version Chrome for Windows 7/8/10 at this link.
Method 5. Disable Your Anti-virus, Firewall And Anti-malware Programs
The last suggestion, I would recommend you temporary disable your Firewall completely and check to see if the problem is fixed. Also, if you are using Avast Security Software or any other product of Avast possibility on your system, it might also be causing the err_spdy_protocol_error. To get rid of the issue, you need to disable the HTTPS Scanning feature of Web Shield in Avast Antivirus.
Step 1. Open the Avast user interface, and go to Settings > Components.
Step 2. Click Customize next to WebShield.
Step 3. Uncheck the box next to Enable HTTPS scanning to turn the feature off.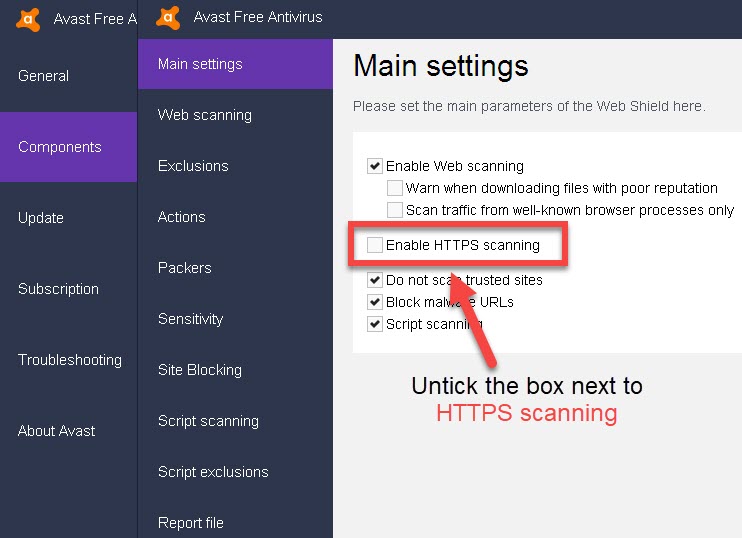 See also: How To Disable Avast Antivirus Temporarily
Method 6. Use the Incognito Mode of Chrome
You should be able to fix this error by opening the website in incognito mode. To start Incognito session in a new window in Google Chrome, you just press Ctrl+Shift+N.
A new window pops up, you can now visit different websites and you can get the err_spdy_protocol_error fix.
If the error is gone, I am sure that one of your extensions is giving err_spdy_protocol_error chrome. You can download the Chrome cleanup utility from this source and run this utility to cleanup Chrome for the extension which are causing problems.
These are the troubleshooting methods that can be applied when the ERR_SPDY_PROTOCOL_ERROR error occurs on Google Chrome.
VIDEO TUTORIAL: How To Fix "Err_Spdy_Protocol_Error" in Google Chrome

Hope something helps you. If you have any problems with Chrome browser you can see for the solution on Windows 10 tips.