In this article, learn how to fix Err_Connection_Refused error on Google Chrome for Windows 10/8/7.
You are trying to visit some websites (youtube, facebook…) but it seems Google Chrome prevent you to access it. Instead, you will see an error message: Err_Connection_Refused on Chrome browser.
See also:
Here are several reasons that could lead to this error connection refused:
Firewall blocks specific websites.
Proxy server issues.
DNS issues.
Expired browser caches.
In this tutorial, I will show you about the six best methods that can help you to resolve the Err_Connection_Refused error on Google Chrome browser.
How To Fix Err_Connection_Refused Error On Google Chrome
Method 1. Disable Your Firewall or Antivirus Software
First things first, I highly recommended you temporarily disable your built-in firewall or antivirus program. Because sometimes they block unsafe websites and will not let you access to your favorite sites and cause Err_Connection_Refused error to appear. To turn off or disable Windows Firewall, follow these steps:
Step 1. Go to Control Panel (icons view).
Step 2. Then click on the Turn Windows Firewall on or off link on the left side.
Step 3. Select Turn off Windows Firewall for each network profile (ex: public, private, or domain) you want, and click OK to apply changes.
Method 2. Restart DNS Client
Some Windows 10 users reported that the Domain Name System (DNS) client computer does not have a valid IP configuration for the network and cause Err_Connection_Refused error to appear. To fix this problem you need to restart DNS Client Service by following these steps:
Step 1. Press Windows Key + R then type services.msc in Run dialog box and click OK. This will open the Services Manager.
Step 2. Then, locate the DNS Client service and right-click it and select Restart.
Step 3. After the process is completed, restart your system and check if the problem is resolved.
Method 3. Change IPV4 DNS Address
Users reported that you can easily fix the Err_Connection_Refused error on your Google Chrome browser by changing IPV4 DNS Address. To do that, follow these steps below:
Step 1. Open the Control Panel (icons view).
Step 2. Then you select Network and Sharing Center.
Step 3. In the Tasks pane, you click Change adapter settings to open the Network Connections folder. Here you can view available connections.
Step 4. In the Network Connections window, you locate your network adapter, then right-click it and click Properties.
Step 5. Next, in the network adapter's property sheet, you click on Internet Protocol Version 4 (TCP/IPv4). Click Properties.
Step 6. Under the General tab, make sure that Obtain an IP address automatically is checked. And you click the radio button for Use the following DNS server address:
Preferred DNS server: type 8.8.8.8
Alternate Alternate DNS server: type 8.8.4.4
Step 7. Click OK to save the changes.
Method 4. Reset TCP/IP
According to users, you can fix this problem simply by resetting TCP/IP, so you might want to consider that.
Step 1. Press Windows Key + X and select Command Prompt (Admin) to open Command Prompt program as Administrator.
Step 2. In the Command Prompt window, you type the following lines:
ipconfig /release
ipconfig /all
ipconfig /flushdns
ipconfig /renew
netsh int ip set dns
netsh winsock reset
After typing each command, press Enter to execute the command.
Step 3. After the command is successfully executed, you can close Command Prompt and restart your system. The problem will disappear.
Method 5. Check Your Proxy Server Settings
Sometimes proxy can interfere with Google Chrome browser and create the Err_Connection_Refused error. Hence you try to disable proxy.
Step 1. Open Control Panel (icons view), and select the Internet Options.
Step 2. When Internet Options window occurs, go to Connections tab then click LAN settings button. Here you need to make sure the Use a proxy server for your LAN (These settings will not apply to dial-up or VPN connections) is unchecked.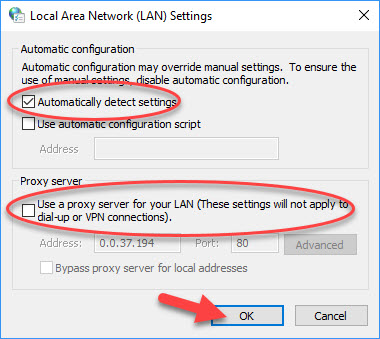 Step 3. Click OK to apply changes.
Method 6. Remove All Caches On Your Google Chrome Browser
Expired caches on your Google Chrome browser could prevent you from accessing some websites. That's the reason why the Err_Connection_Refused error occurs on Google Chrome. To deal this connection refused error, you will have to clear your Google Chrome browser cache.
To do so, open Google Chrome browser. Then you copy and paste "chrome://settings/clearBrowserData" on the address bar of the Google Chrome browser, and tap Enter.
Choose two options two options Cached Images and Files and Cookies and Other site data. And click the Clear browsing data button.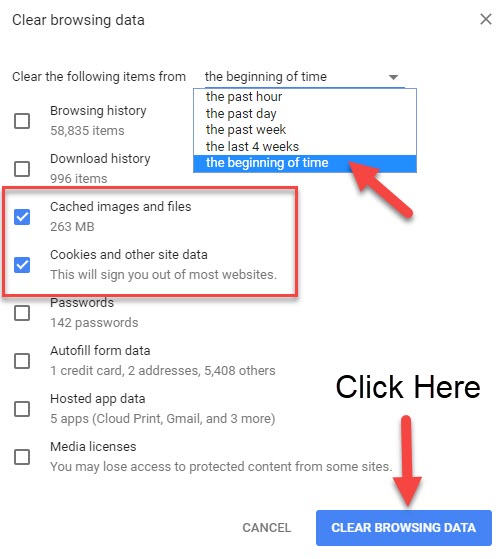 Check following video for live demo:
Hope something helps you. If you have any other Windows related problems you can see for the solution on Windows 10 tips.
Save