In this post, we go over the best Playstation 1 (PS1) Emulator for PC. ePSXe is one of the best PlayStation emulators. In my site, we have shared ePSXe 2.0.5 download link.
ePSXe (enhanced PSX emulator) is a PlayStation video game console emulator for x86-based PC hardware with Microsoft Windows or Linux, as well as devices running Android. It was written by three authors, using the aliases calb, _Demo_ and Galtor. ePSXe is closed source with the exception of the application programming interface (API) for its plug-ins.
Download ePSXe – PSX Emulator For Windows 10/8/7
You can download ePSXe 2.0.5 for Windows for free from this source.
There is no installation process for ePSXe. You extract the files from the archive and then run ePSXe from the same folder. To do that, right-click the ePSXe download, select your ZIP program, and extract. When you launch ePSXe for the first time, you may receive a dialog box asking you to extract additional files. Extract them, then fire up ePSXe.
What's new in ePSXe 2.0.5:
– Updated the x86 recompiler to use the same recompiler than in the rest of versions (Android, Linux x64, Mac …). Now it should be easier to fix problems in all versions.
– Ported the local netplay from Android (Experimental). This version is compatible using local netplay with the rest of ePSXe versions from the version 2.0.5 (MacOSX, Linux x86, Linux x64 and Android – version 2.0.6). (Additional info the epsxe docs)
– Ported the GPUCORE threading mode from the Android version. The PC CPUs are faster than Android CPUs, so it will improve less FPS. (This option is better when the CPU is slower).
– Added new threading modes to the Pete OpenGL2 Core Plugin. It includes a basic 2-thread mode, and 2 extra modes adding soft/hardware effects. (It could improve some effects, for example the burning photo on the start of Castlevania)
– In the INPUTCORE plugin, swapped the vibration actuators when using the Xinput mode (to match to real PSX Left/Right). Besides when using a gamepad in digital mode, now you can use the left stick as the dpad.
– Fixed the >2GB PBP roms support. Now it should be able to run the PSX2PSP isos bigger than 2GB as Final Fantasy VIII PSP pack.
– Fixed the cheat codes support when running on the interpreter mode.
– Added a new option in the cheat codes window to download cheat codes from the ePSXe version (Thanks to psxdatacenter.com)
– Fixes to the core which made more games playable or better working. (WING COMMANDER IV, MONKEY HERO)
How To Setup ePSXe
1. First, you need to download the PlayStation 1 BIOS. Click here to download ePSXe bios.
Notes: ePSXe won't run without a proper PS1 BIOS. Also, the PlayStation 1 BIOS dictates which games you can play, depending on its geographical region (such as North America, Europe, Japan, etc).
2. Copy and paste the archive into the BIOS directory. You'll find the BIOS directory in the ePSXe folder. The location of your ePSXe BIOS folder depends on where you extracted the emulator.
For example, our ePSXe BIOS folder is C:\Users\Namct\Downloads\ePSXe\ePSXe205\bios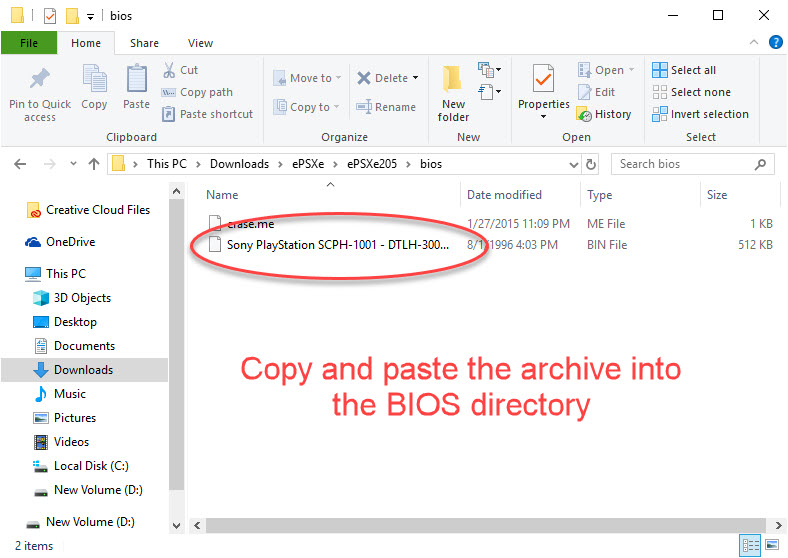 3. Once you paste the BIOS archive into the correct folder, extract the contents.
4. Once the BIOS is in place, you can launch ePSXe.
ePSXe supports a few controllers out of the box. You can select between a keyboard, keyboard and mouse, XInput, and Direct Input. If you're using an Xbox One or Xbox 360 controller, choose XInput.
Now that ePSXe is ready, you can select your favorite PS1 games and play them on PC.
We have a video tutorial for playing Playstation 1 games on your PC using ePSXe for Windows

System requirements
Processor: Minimum Pentium 200 MHz
RAM: Minimum 256 MB RAM
Graphics card: 3D graphics card supporting DirectX or OpenGL
Operating system: Windows 10/8/7
Hope somethings help you.