In this post, we will show you how to get the Google Docs Desktop program for Windows 11/10. Google Docs is an online word processor. However, you may install Google Docs in Windows and open the software with a single click. Google Chrome and Microsoft Edge browsers include a function that allows you to install Google Docs as an app on your Windows 11/10 PC.
We recently discussed how to quickly create desktop shortcuts to open webpages in several browsers (Chrome, Edge, and Firefox). Similar to the previous functionality, you will establish a Google Docs app shortcut that will eventually allow you to launch the app in its own browser window.
Ezoic
Before we get into the specifics of installing Google Docs on Windows, it's important noting that the approach will not alter the software's default functionality. That implies you can't use the Google Docs app while offline. To use this online word processor, you must have an active internet connection.
Download Google Docs Desktop app for Windows 11/10
1. Install the Google Docs desktop app using Google Chrome
Go to the Google Docs website in the Chrome browser.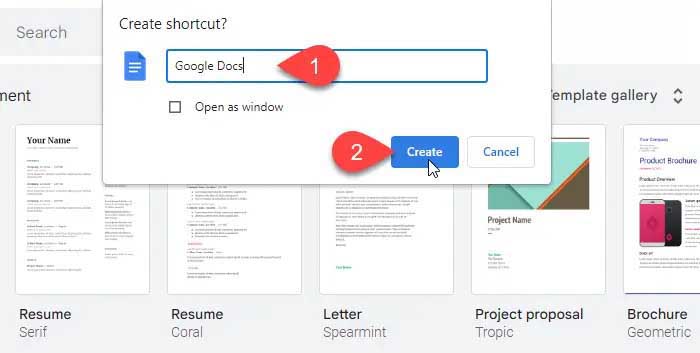 Sign in with your Google account to Google Docs.
Click on the three vertical dots icon in the top-right corner of the page (If you have many tabs open in Chrome, stay on the Google Docs tab only).
Click on More tools > Create shortcut.
In this video, learn how to create Google Docs desktop shortcut on Windows 11:

2. Install the Google Docs desktop app using Microsoft Edge
Open Microsoft Edge and go to the Google Docs website.
Sign in with your Google account. The Google Docs page will appear. Stay on the website and click the three horizontal dots in the top-right corner next to your profile icon. A menu will display.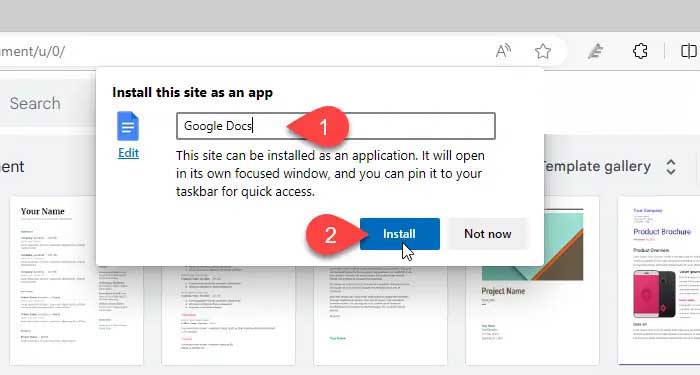 Select Apps > Install this site as an app. A popup will display. Enter a good name for the Google Docs desktop software and press the Install button.
Google Docs will be installed on your Windows 11/10 PC and open in a new browser window a few seconds later. A notice popup will also appear, asking for your permission to allow the app to be pinned to the taskbar and Start menu. You may also choose to create a desktop shortcut for Google Docs or have it start automatically when you log in to your device. To submit your preferences, pick or deselect desired options and click the Allow button.
When you launch the Google Docs app again, it will open in its own focused window in Edge.
3. Uninstall the Google Docs desktop app
Select Settings from the Start button icon.
In the left side, select Apps. Then, in the right panel, click on Installed programs. In the top Search bar, type 'documents'. Google Docs will be listed among the search results. Select the three-dots symbol to the far right of the app's name. Choose Uninstall from the dropdown menu. Click Uninstall once more to confirm your action.
This is how you install Google Docs as a Windows program. I hope you find this information beneficial.
How do I install Google Docs on Windows 11?
In Windows 11, you can install Google Docs using Microsoft Edge. The browser supports installing the Google Docs website as a Progressive Web App (PWA) for faster access. Once installed, the app will operate in a standalone Edge window with no usual browser UI, providing you a comparable experience to a standard Windows app.
Can I download Google Docs to my desktop?
Google has not produced a desktop version of the Google Docs software, but you may install Google Docs as an app on Windows using the Microsoft Edge and Google Chrome browsers. Once installed, you may use Google Docs by just launching the app – no need to open the browser.