In this tutorial, learn how to download and install Brawlhalla for free in Windows PC or laptop.
Brawlhalla is a free 2D platform fighting game that supports up to 8 local or online players with full cross-play for PC, PS5, PS4, Xbox Series X|S, Xbox One, Nintendo Switch, iOS and Android!
Main Features of Brawlhalla PC:
Online Ranked 1v1 – Climb the ranked ladder from Tin up to Platinum and beyond! Matches you against players near your skill level.
Online Ranked 2v2 – Climb the ranked ladder with a friend! Matches you and a partner against teams near you skill level. Your friend can be online or right next to you.
4 Player Online Free for All – Casual matches where four fighters enter, but only one can win.
Cross-play Custom Rooms – Invite up to 8 friends on PC, PS5, PS4, Xbox Series X|S, Xbox One, Nintendo Switch, iOS, Android, or Locally to a huge variety of custom matches: 4v4s, 1v3, 2v2, FFA, and much more.
Many Game Modes – Mix things up with Brawlball, Bombsketball, Capture the Flag, Kung-Foot, and many more fun party game modes.
The Training Room – Practice combos and setups inside the Training Room! Look at detailed frame data, hitboxes, hurtboxes, and sharpen your skills.
How To Download and Install Brawlhalla on Steam
Step 1. First, download and install Steam on your Windows PC. Steam is an online platform from game developer Valve where you can play, create, buy and discuss PC games.
You may also like: How To Download and Install Steam in Windows 10
Step 2. Launch the Steam client and then login with your Steam account
Notes: If you don't have a Steam account yet, you need to create it. The account is required for storing your games, downloading additional content, communication with the local community and more.
Step 3. Now install Brawlhalla on Steam.
In the Steam client, navigate to Store. Type "Brawlhalla" in Store Search field. Find the game in the right click menu.

Scroll down and click PLAY GAME near the Buy Brawlhalla button on the display.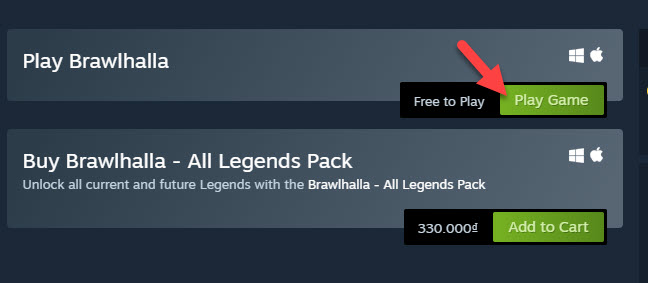 Change the installation path and installation settings. Click Next.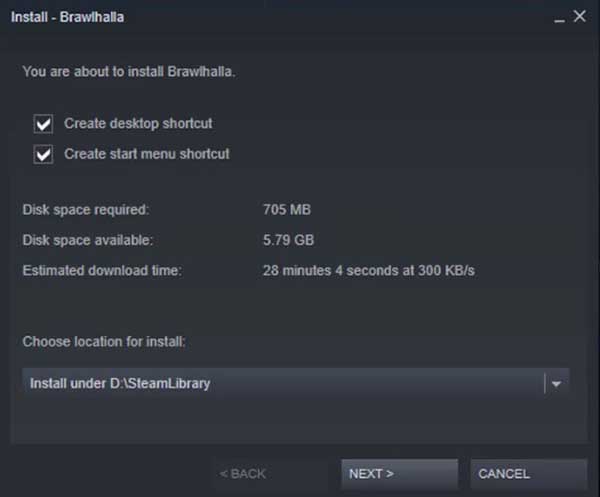 Install the game.
You have successfully installed Brawlhalla on Steam.
Step 4. In the Library, choose Brawlhalla. Click the PLAY blue button.
In this video, we will show you how to download Brawlhalla for PC on Steam for free.

Recommended Requirements:
Memory: 2 GB RAM.
Network: Broadband Internet connection.
Storage: 350 MB available space.
That's about it.