In this tutorial, we will introduce Plop Boot Manager, an extremely useful tool that enables you to boot the computer from USB even if the BIOS does not support it.

Let me explain first what is Plop Boot Manager?
The Plop Boot Manager is a small program to boot different operating systems. The boot manager has a built-in ide CDrom and USB driver to access that hardware without the need/help of a BIOS. You can boot the operating systems from floppy, hard disk, CD/DVD or from USB. You can start the boot manager from CD, floppy, network and there are many more ways to start the boot manager. You can install the boot manager on your hard disk. There is no extra partition required for the boot manager.
Key Features of Plop Boot Manager:
– USB boot without BIOS support (UHCI, OHCI and EHCI).
– CD/DVD boot without BIOS support (IDE).
– PCMCIA CardBus support to enable boot from USB PC-Cards.
– Different profiles for operating systems.
– Define up to 16 partitions.
– Hide partitions.
– Password protection for the computer and the boot manager setup.
– Backup of partition table data.
– MBR partition table edit.
– Start of the boot manager from hard disk, floppy, USB, CD, DVD.
– Starting from Windows boot menu.
– Access the whole USB hard disk (up to 2TB) even when the bios has a 128 GiB limit.
Download Plop Boot Manager from here.
Plop can boot a variety of operating systems such as Linux and Windows from USB or from floppy, hard disk, CD/DVD. There are probably 2 key situations where you would like to use Plop; firstly when you have no operating system currently loaded and maybe would like to install one using a USB drive. Another way is able to boot a USB device when you already have Windows installed, perhaps loading a Live Linux or an antivirus/rescue disc, and more.
This post will guide you both ways to install the Plop boot manager, one using the Windows Boot Menu and one from a bootable CD.
Adding Plop to the Windows Boot Menu
The simplest method to set up Plop to boot your USB flash drive is by adding it to the Windows boot menu. Hence when you have the option to select a Windows installation on boot, you will have an entry to launch a USB boot and load the Plop Boot Manager. To do that, follow these steps below:
1. Download Plop Boot Manager, then extract it to the folder of your choice.
2. Go to the plpbt-[version]\Windows folder. Run the InstallToBootMenu.bat file as Administrator.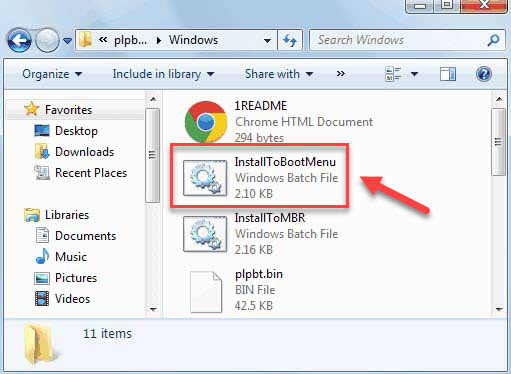 3. When asked if you want to continue, type Y and Enter. The boot entry added to the menu and the necessary files will be copied.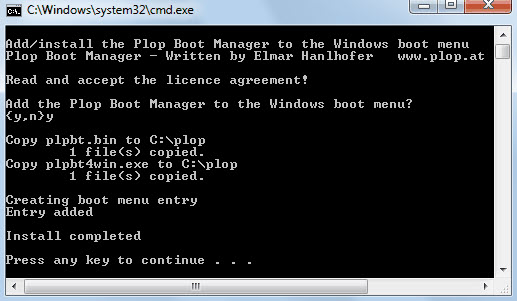 When you boot your computer, you will get to the Plop Boot Manager entry and now you can choose it and boot from a USB flash drive.

Removing the entry from the Boot Menu
1. This is quick whether you have Windows 7 or Windows XP/Vista and you just need to run the C:\plop\plpbt4win tool or run plpbt4win from the Windows folder in the Zip you extracted in the previous step 1.

2. Give L and press Enter. You will get to the current entries of the boot menu, note down the ID number for the Plop Boot Manager entry.
3. To remove the boot menu entry, type R [ID] to match the ID.
Installing Plop Boot Manager if you don't have Windows installed
If you have no Windows installed and want to boot your computer from USB, then you're probably looking to install Windows via a USB flash drive. Here are the steps:
1. Download the Plop Boot Manager Zip file, then extract it to a folder.
2. Go to the extracted Plop main folder and locate the plpbt.iso file, it's the disc image file around 550KB if you have shown the file extensions in Explorer.
3. Moving on, burn the ISO file to a CD and then boot from it. To make a bit more use of the leftover space on the CD, this next method could be helpful…
A repair or rescue CD, we would recommend you Hiren's Boot CD. This disc has so many useful functions, there are very few things it doesn't do when you need to recovery operations or perform a number of fixes. Another one of its included features is the Plop Boot Manager which can be loaded straight from the main Hiren menu.
4. Now, download Hiren's Boot CD and then burn the ISO to a CD.
5. Lastly, boot your computer using the CD and the main Hiren boot menu will appear. Navigate to the "PLoP Boot Manager" option by using the arrows keys and press Enter.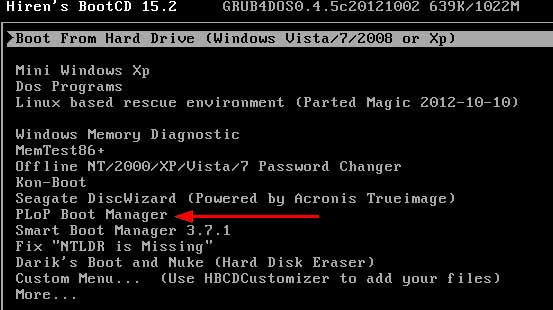 A new menu will appear and you can now boot from USB.
Using Plop Boot Manager
After you have either used the Windows boot menu or booted from a CD and selected "Plop Boot Manager", you will get the standard Plop boot options.
If you want to boot your computer from USB, you need to insert the flash drive and use the arrow keys to choose the USB option and press Enter.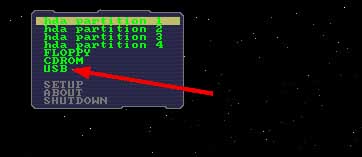 If your computer is old enough to not even have a boot from CD-ROM option, a floppy version of Plop can be downloaded from the page and it can be used to boot a CD in a similar method. When you tried Plop on a laptop that couldn't boot from USB, it was able to boot up a Windows 8 or Windows 7 setup via USB and install the operating system with no issues at all.
VIDEO TUTORIAL: How to Create a PLoP Boot Manager From USB or CDROM
Hope something helps you.