In this article, i show you guys the best Fortnite settings that will give you the most fps, less ping, less input, and so much more.
Fortnite Battle Royale is one of the most played games at the moment and more people are joining the battle bus each month. While the default settings provide a good starting point, but there are still many things you can do to increase the performance by huge margins.
Here is our Fortnite optimization guide! We hope this guide will help you with this as well.
FORTNITE SYSTEM REQUIREMENTS – MINIMUM & RECOMMENDED PC SPECS
These are the minimum system requirements for Fortnite as well as the recommended minimum PC specs. Please note that on the minimum requirements, you will only be able to play on a very low resolution with all settings on low.
| Component | Minimum | Recommended |
| --- | --- | --- |
| CPU | Core i3 2.4 GHz | Core i5 2.8 GHz |
| RAM | 4GB | 8GB |
| Graphics | Intel HD 4000 | Nvidia GTX 660 or AMD Radeon HD 7870 equivalent DX11 GPU |
| VRAM | | 2 GB |
| OS | Windows 7/8/10 64-bit or Mac OSX Sierra | Windows 7/8/10 64-bit |
| Storage | 15GB | 20GB |
BEST FORTNITE IN-GAME SETTINGS
1. Open Fortnite and click on Battle Royale.
2. Click on the three lines at the top right corner of the screen and then the gear icon. Select the Settings menu.
3. Change Window Mode to Fullscreen.
4. Change the Frame Rate Limit to Unlimited.
5. Ensure 3D Resolution is 100.0%.
6. Change View Distance to Epic.
7. Change Shadows to Off.
8. Change Anti-Aliasing to Off.
9. Change Textures to Medium and adjust according to your liking. If you have good FPS, then you can increase this setting and vice versa.
10. Change Effects to Low.
11. Change Post Processing to Low.
12. Change Vsync to Off.
13. Change Motion Blur to Off.
14. Click on Apply to save the settings and exit Fortnite.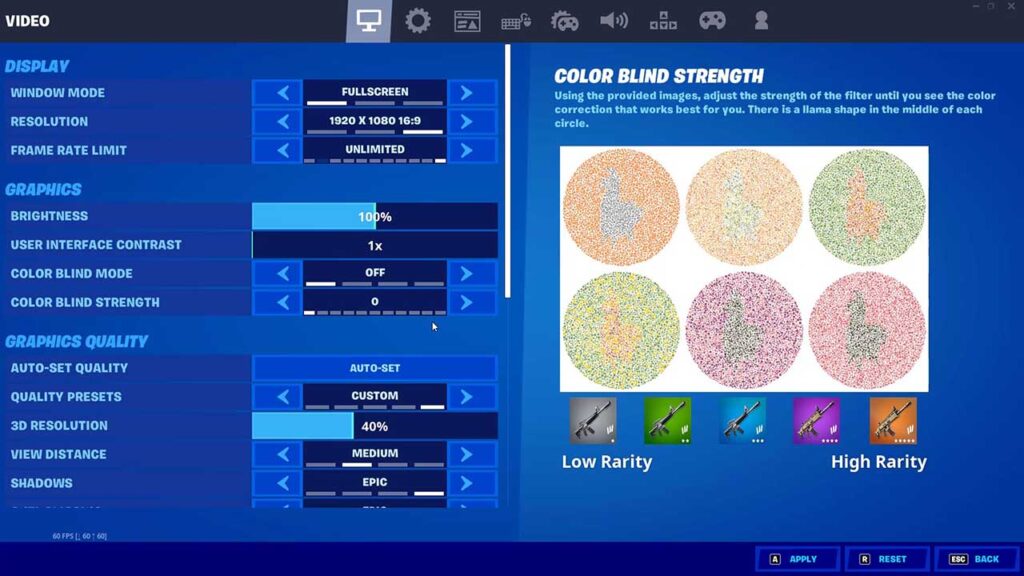 OPTIMIZE YOUR PC SETTINGS FOR FORTNITE
As we also mentioned in Windows 10 optimization guide, you need to optimize your PC a bit before you play around with the game settings.
FIX 1. Update Graphics Drivers
Make sure that you have the latest Windows version as well as the latest GPU drivers.
If you don't have the time, patience or computer skills to update Graphics drivers manually, you can, instead, do it automatically with Driver Easy. Driver Easy will automatically recognize your system and find the correct drivers for it, and your variant of Windows 10, and it will download and install it correctly:
Do you have a GPU from NVIDIA? Then follow these steps below.
1. Open the NVIDIA Control Panel and navigate to Manage 3D Settings
2 Go to the Program Settings tab and locate Fortnite. If you have trouble finding it, click on Add button and search for it there (try launching the game first and close it down again before doing this)
3. Change Maximum pre-rendered frames to 1.
4. Change Preferred refresh rate to "Highest available".
5. Change Power Management Mode to "Prefer maximum performance".
6. Change Threaded optimization to ON.
7. Change Vertical sync to OFF.
8. Click Apply and you can now close the control panel again.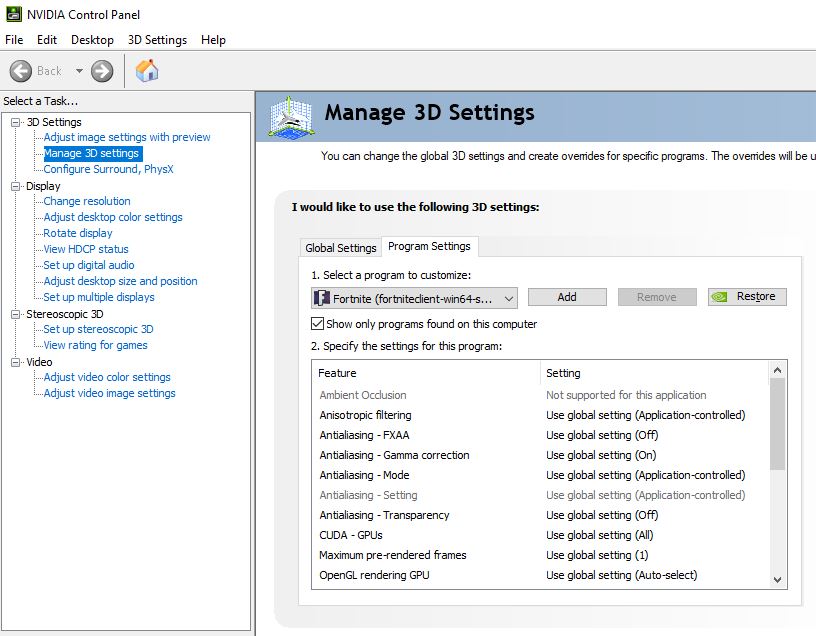 Read also: How To Fix NVIDIA Control Panel Missing In Windows 10
Fix 2. Disable Windows Update Delivery Optimization
Now it's time to disable Windows Update Delivery Optimization. Here's how to do it:
1. Click on the start menu, and then select Settings.
3. Go to Update & Security > Windows Update > Advanced options.
3. Click Delivery Optimization.
4. Make sure Allow downloads from other PCs is turned Off.
FIX 3. Clean Your Temporary Files
1. Press Windows Key + R then type in %localappdata% in the Run dialog box. Click OK.
2. Open the Temp folder
3. Select all files in the folder by pressing CTRL + A.
4. Press the Delete button on your keyboard to delete these temporary files (skip the ones it won't delete).
5. Empty your recycle bin
FIX 4. Laptop Power Optimiztions
If you are playing on a laptop, you should make sure that you are not running in Power saving mode, but rather in Ultimate performance mode. To do that, follow these steps:
1. Open Command Prompt as Administrator.
2. In Command Prompt window, type in "powercfg -duplicatescheme e9a42b02-d5df-448d-aa00-03f14749eb61" and press Enter.
3. Open your Control Panel and search "Power Plan" in the search box.
4. Click on the Power Option.
5. Change the power plan to "Ultimate performance" mode.
6. Click on Apply > OK to make the changes.
In this video, we are gonna show you how to reduce lag and delay in Fortnite Chapter 3 Season 7:

That's about it.
P/W: windows10freeapps