Looking to download 7-Zip for PC/Laptop? In our website, we have shared 7-Zip for Windows 10, Windows 8/8.1, Windows 7 (32 & 64bit).
What is 7zip? 7-Zip is a free and open-source file archiver, a utility used to place groups of files within compressed containers known as "archives". You can use 7-Zip on any PC or Laptop. 7-Zip is totally free, you don't need to register or pay for 7-Zip.
Key Features of 7-Zip For Windows:
– High compression ratio in 7z format with LZMA and LZMA2 compression
– Supported formats:
Packing / unpacking: XZ, 7z, TAR, GZIP, BZIP2, ZIP and WIM
Unpacking only: ISO, ARJ, AR, CAB, CHM, CPIO, CramFS, DMG, EXT, FAT, GPT, HFS, IHEX, LZH, LZMA, MBR, MSI, NSIS, NTFS, QCOW2, RAR, RPM, SquashFS, UDF, UEFI, VDI, VHD, VMDK, WIM, XAR and Z.
– For ZIP and GZIP formats, 7-Zip provides a compression ratio that is 2-10 % better than the ratio provided by PKZip and WinZip.
– Strong AES-256 encryption in 7z and ZIP formats.
– Self-extracting capability for 7z format.
– Integration with Windows Shell.
– Powerful File Manager.
– Powerful command line version.
– Plugin for FAR Manager.
– Localizations for 87 languages.
Download 7-Zip for Windows 10/8/7:
For Windows 32-bit x86 click here.
For Windows 64-bit x64 click here.
Instructions – Install 7-Zip on PC
Step 1. Download 7-Zip for Windows 10/8/7.
Step 2. Once your download's finished, run 7-Zip Installer to install 7-Zip for your Windows PC.
Step 3. Select the folder for installation. Then click Install.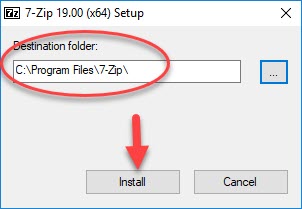 Step 4. Wait until the installation completes, click Close and you are finished.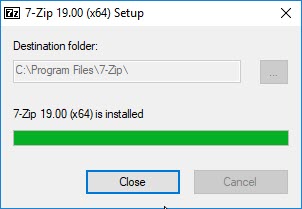 Now we will show you how to compress a file or folder using 7-Zip:
1. Open the 7-Zip File Manager.
2. Select on the file or folder you want to compress then click Add.
3. The Add to Archive window will pop up, make sure the Archive format is set to zip, and click OK to proceed.
The file will be compressed into a zip file located in the same place as the original file.
VIDEO TUTORIAL: How to Compress a File or Folder Using 7-Zip

Hope something helps you.