In this tutorial, learn how to download Microsoft Office 2013 ISO by using a free third-party tool.
Microsoft Office 2013 (codenamed Office 15) is a version of Microsoft Office, a productivity suite for Microsoft Windows. It is the successor to Microsoft Office 2010 and the predecessor to Microsoft Office 2016. It includes extended file format support, user interface updates and support for touch among its new features. Office 2013 is suitable for IA-32 and x64 systems and requires Windows 7, Windows Server 2008 R2 or a later version of either. A version of Office 2013 comes included on Windows RT devices. Mainstream support ended on April 10, 2018. Extended support ends on April 11, 2023
How To Download Microsoft Office 2013 ISO by using a free third-party tool
1. To begin, you download tool is developed by heidoc.net try this link.
This tool allows an easy and comfortable way to download genuine Windows 7, Windows 8.1 and Windows 10 disk images (ISO) directly from Microsoft's servers, as well as Office 2010, Office 2013, Office 2016, Office 2019, Expression Studio and Office for Mac.
2. You run this file you download and select Office > Office 2013.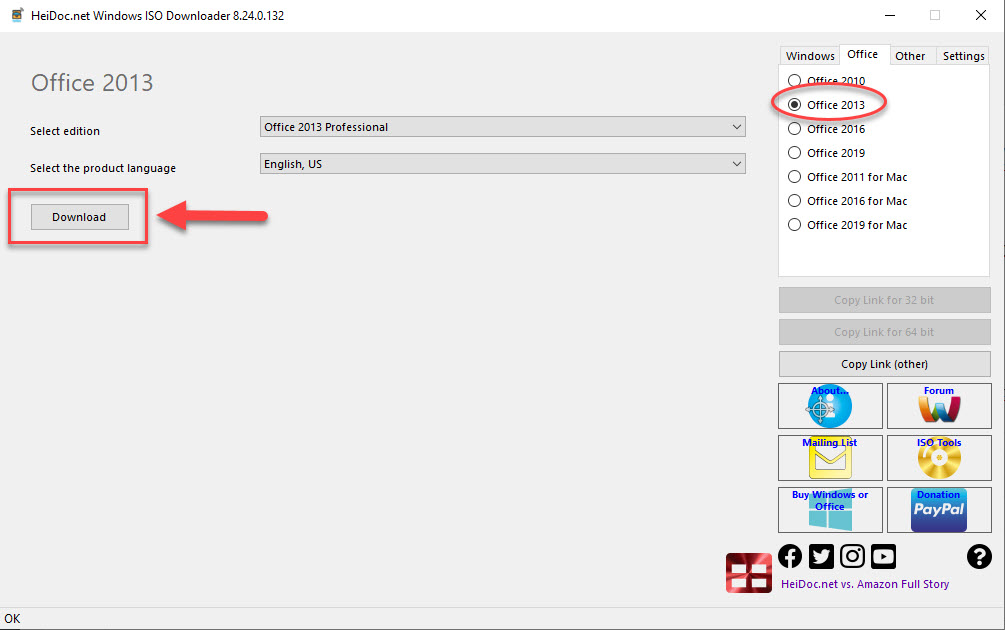 Tips: If you want to download Microsoft Office 2019 for Mac, select "Office 2019 for Mac".
3. After that, you select verison Office 2013 you want to download (Home/Personal/Pro/Pro Plus) and then select languge of it. Click on "Download" button.
4. Now you can see link download Office 2013 Disc Image (ISO file) from Microsoft.
Once the download is finished, you will get an image file. Then open it then run the setup file to install Office 2013 on your PC ( Setup.exe )
VIDEO TUTORIAL: How to Download & Install Microsoft Office 2013 Free Full Version on Windows 10

Read more: