Summary: This blog examines the causes of the 'Microsoft Excel has stopped working error and how to manually fix the problem. You can use Stellar Fix for Excel to easily repair the file and retrieve all of the data it contains. 
Is your Microsoft Excel program performing strangely or has stopped working? Excel not responding is a common problem when you try to access a spreadsheet or run the program.
Possible Causes behind 'Microsoft Excel has Stopped Working' Error, and Solutions Thereof
Note: After applying an update for Excel, several users have reported experiencing the 'Excel has stopped working' issue on Windows 10, 8, and 7 OS. (KB3118373). Whether you've also installed the update, uninstall it and see if it fixes the problem. Please see this link for more details.
Cause 1 – Microsoft Office Excel Application is Outdated
If you haven't installed MS Office updates, Excel may stop operating, hang, or freeze.
Solution – Keep Microsoft Office Installation Updated
Setting Windows to automatically download and install the most recent (and recommended) Microsoft Office updates may assist you in resolving the Microsoft Office Excel has stopped operating issue. Installing the updates essentially aids in the replacement of obsolete files as well as the correction of vulnerabilities that may be producing issues with your Excel application.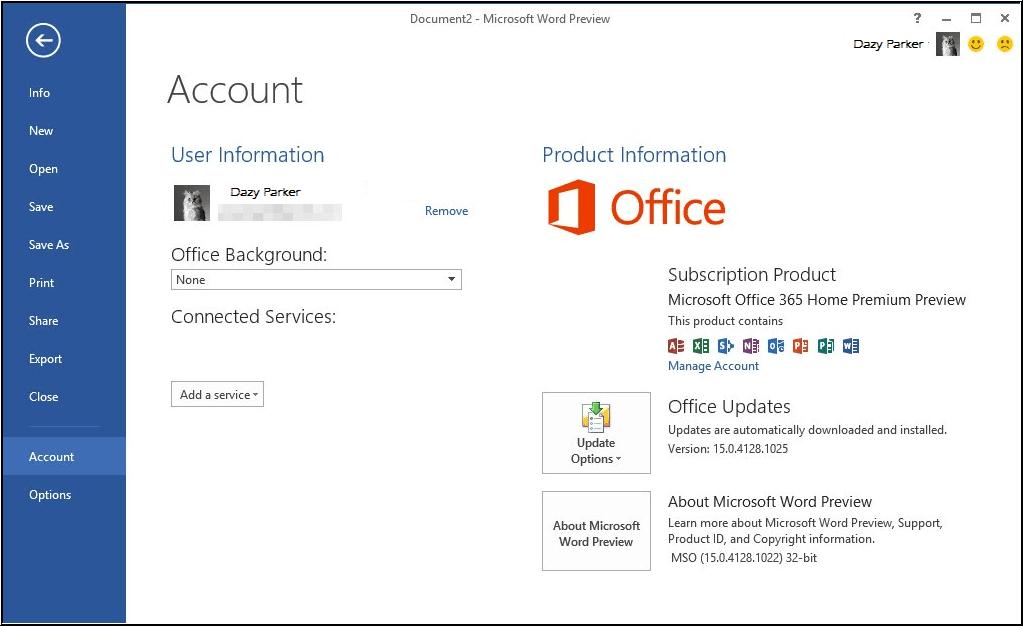 For more information on installing Office updates, see here.
Cause 2 – Faulty Add-Ins
Add-ins make working with Excel easier, but they can occasionally cause the application to malfunction.
Solution – Disable Faulty Add-Ins
Start Excel in safe mode, which will allow you to open the program without any add-ins. To start Excel in safe mode, do one of the following.
1. While opening the software, hold down the 'Ctrl' key. When prompted to open Excel in safe mode, click OK.

2. In the Run dialog box, type 'Excel /safe' and then click OK.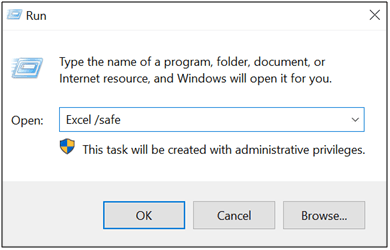 If the problem has been resolved, try disabling the add-ins by following these instructions:
Step 1: Go to File > Options in Excel.
Step 2: Select Add-ins from the Excel Options window.
Step 3: Change the Manage dropdown to COM add-ins at the bottom of the 'View and manage Microsoft Office Add-ins' dialog box. Select the Go option.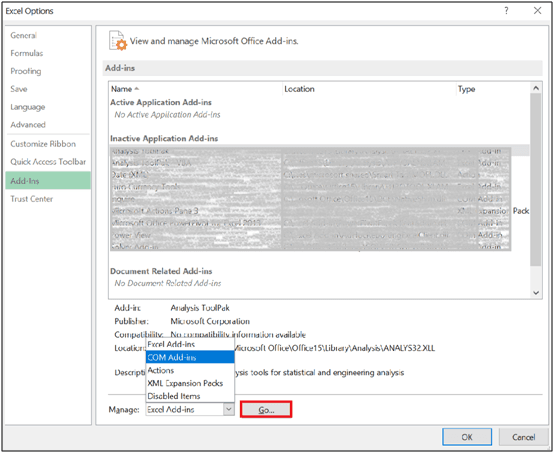 Step 4: Select OK after unchecking all of the checkboxes in the COM Add-ins dialog box.
Check if Excel is working by restarting it. Re-enable the add-ins one by one if everything is working well (while simultaneously restarting Excel each time). That way, you'll be able to figure out which add-in is causing the issue and permanently stop it.
Cause 3 – Problematic Macros
It is claimed that Excel macros inconsistently cause Excel to stop working.
Solution – Recompile Macros
Here's how to utilize macros without getting the "Microsoft Excel has stopped working" message:
Step 1: Open Excel and select Developer > Visual Basic from the Developer menu.

Step 2: Select Tools > Options from the menu bar.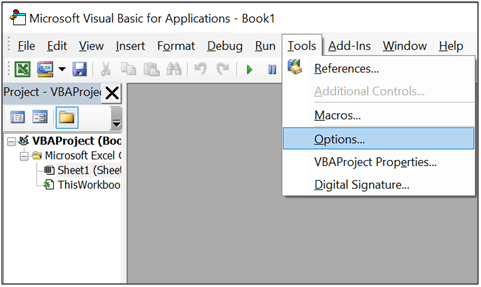 Step 3: On the General tab of the Options window, uncheck the 'Compile on Demand' box.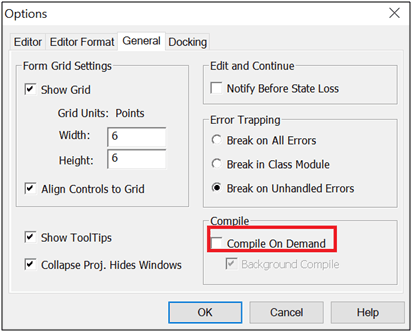 Step 4: To add a new module, right-click Module in the Project navigation bar and select Insert.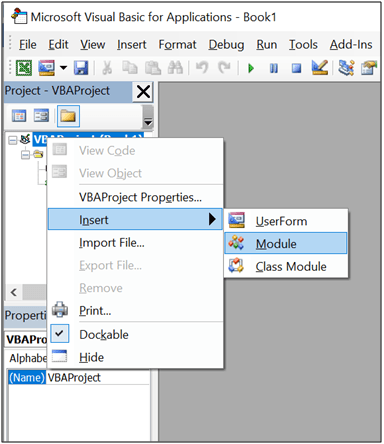 Step 5: Close the application and save your spreadsheet.
When utilizing macros in MS Excel, you won't get the MS Excel not working problem if you follow these steps.
Cause 4 – Virus Infection and Antivirus Integration with Excel
Using anti-virus software that is out of current makes it simple for viruses to infiltrate your computer, leading Excel to stop working. This problem might also occur if your antivirus software is incompatible with the Excel program.
Solution – Check if Antivirus Program is Outdated or Conflicting with Excel
To protect Excel from new viruses, make sure your antivirus product is up to date. Vendors of antivirus software release the most recent upgrades. Make sure you get the latest updates from the vendor's website.
You may have performance issues if your antivirus program integrates with Microsoft Excel. If this is the case, prevent antivirus software from interacting with Excel. Alternatively, uninstall any antivirus software add-ins from the application and see if that fixes the problem.
You can ask your antivirus software manufacturer for help in deleting the Excel integration from your antivirus application.
Caution: Changing your antivirus settings could leave your machine open to unwanted assaults. Use this at your own risk with this solution.
Cause 5 – Microsoft Office Installation is Corrupt
Excel not working error can also be caused by a malfunction or corruption in your Microsoft Office package.
Solution – Repair MS Office
Repairing your MS Office installation is a good idea. This will fix the 'Microsoft Excel has stopped working error and repair the Excel application.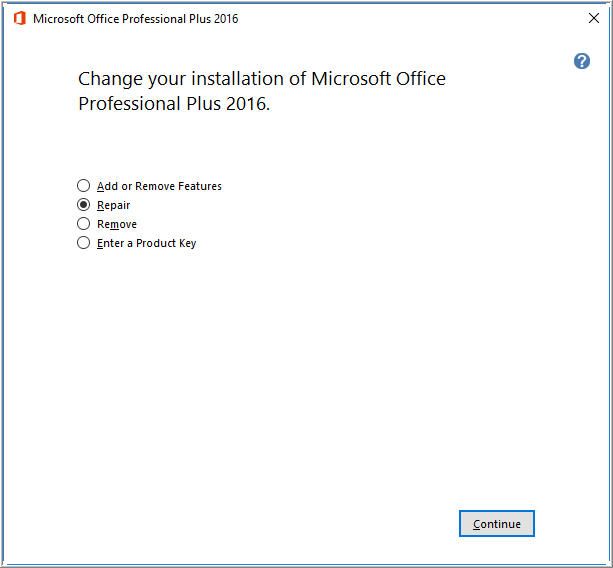 For more information on how to repair the Office application, go to this link.
Check this video for more help:

Recommended Solution to Recover Excel File
There could be an issue with your Microsoft Excel application if none of the previous fixes work. It could take hours to figure out what the problem is, let alone the time it will take to remedy it. Use Stellar Repair for Excel program to locate a rapid solution with no effort.
This professional Excel Repair tool can restore all data from a corrupt Excel (XLS/XLSX) file into a new blank Excel file.
See this: How to Resolve Excel File Corruption Errors Using Stellar Repair for Excel?
The software keeps worksheet settings and cell formatting while recovering tables, charts, cell comments, pictures, calculations, and more, thanks to its advanced algorithms. It can fix a single or a group of XLS/XLSX files.
Here is a link to an expert's review of the Stellar Repair for Excel software.
Wrapping Up
Before implementing the remedies listed above, make an effort to figure out what was the original reason why Microsoft Excel has stopped working. You can save time by selecting the best solution to your problem once you've determined the cause of the error. If none of the other options work, try Stellar Repair for Excel to correct the problem. The software assists in the repair of Excel (XLS/XLSX) files and the restoration of the data contained within them to their original state.