In this tutorial, learn how to fix "Error 0x80070141: The device is unreachable." when you attempt to open, move or copy files (JPEG, MP3, etc) from your smartphone to a computer.
Let me explain first what does 0x80070141 error code mean?
System error 0x80070141 usually happens when you attempt to copy files from your smartphone to your Windows PC. Among the most affected devices are iOS and Android devices. In most cases, you may not transfer the files to your Windows PC, which will prompt your PC to show this message: "The device is unavailable."
In addition, if there are damaged or incorrectly installed device drivers, the error code 0x80070141 may also appear. Other common causes are poorly installed applications and viral infections. Here is how you can handle the situation and fix this problem.
Read more: How to Fix the Device Attached to the Sys­tem is Not Func­tion­ing Error on iPhone
How To Fix Error 0x80070141 (The device is unreachable)
Solution 1. Troubleshooting hardware and devices
You can try running the Hardware and Device troubleshooter to solve some common problems. This utility will investigate your device for any problems that are already covered by repair strategies and recommend a viable fix if an issue is detected. To open and run the Hardware and Device troubleshooter:
1. On Windows 10, launch the command prompt.
2. Copy and paste the command below and press Enter.
msdt.exe -id DeviceDiagnostic
3. The Hardware Troubleshooter will display. You can opt to fix the one's you want or set it to fix the detected problems automatically.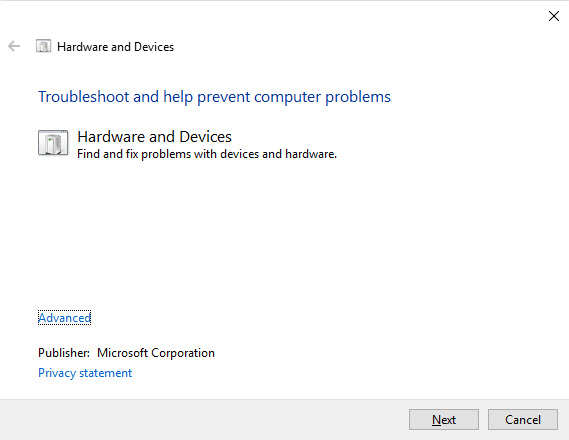 4. Once the troubleshooter is started, wait patiently until the investigation phase is complete. If a viable repair strategy is found, click on Apply this fix to enforce it.
5. After the fix is applied, restart your Windows PC and check if the problem is resolved at the next system startup.
If you're still getting the 0x80070141 (The device is unreachable) error when attempting to open media files from an external storage device, move down to the next solution below.
Solution 2. Using the USB 2.0 port
If you connect your smartphone to your Windows 10 PC via the USB 3.0 port, reconnect with a USB 2.0 port.
Some users that they're also facing the 0x80070141 error have reported that they managed to fix the issue by disconnecting the device from the USB port and connecting it to a different port.
If your USB 3.0 is not recognised or is not working properly by your Windows 10 PC, check out this tutorial to fix it.
Solution 3. Rename files
According to Windows 10 users, they encountered this issue while trying to access files using Calibre app. It seems that the issue is the long file path, and you can solve it by renaming the file or changing the file path you're trying to access.
Windows 10 has a certain limitation in terms of file path length, and if you're exceeding this limitation you'll experience this and many other errors.
To fix the issue, move them to a different directory or rename your files and try to access them again.
Solution 4. Trust this PC
Do not ignore the notification that displays on your iPhone and asks you if you want to allow a Windows PC to access the videos or photos on your iPhone after connecting your iPhone to the PC. When the message pops up, tap Allow, which is the first step to allow photo uploading.
Solution 5. Update iTunes to the latest version
If you're attempting to copy something from an iOS device (iTunes, iPod, or iPad) to a Windows 10 PC, chances are the problem is happening due to a severely outdated iTunes version. A lot of affected users have reported that they managed to fix the problem after they updated iTunes to the latest version available.
To update iTunes, open the application on your Windows PC. And go to the ribbon bar at the top, click on the Help button, then click on Check for updates.
Follow the on-screen instructions to complete the update, then restart your Windows 10 PC to check if you can copy files that have previously failed.
VIDEO TUTORIAL: How to Fix Error 0x80070141: The Device Is Unreachable in Windows 10

Hope something helps you. If you have any more suggestions or questions, please leave them in the comments section below.