In this tutorial, learn how to resolve Windows 10 Upgrade Assistant stuck at 99% installing.

How to fix Windows 10 Upgrade Assistant stuck at 99 percent
Method 1. Restart Windows Update service
1. Press Windows Key + R then type services.msc in the Run dialog box. Click OK to open Services.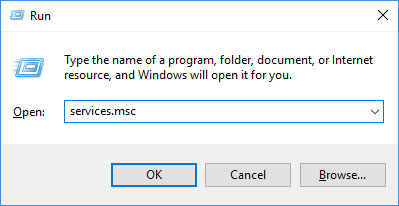 2. Scroll down until you reach the Windows Update service.
3. Right-click and press Stop, and then repeat the action but click Start instead.
4. Restart your computer.
Method 2. Using Command Prompt
1. Open Command Prompt as Administrator, execute these commands below:
2. When Command Prompt opens, type the following commands and press Enter after each.
sc config wuauserv start=auto
sc config bits start=auto
sc config cryptsvc start=auto
sc config trustedinstaller start=auto
exit
3. Restart your computer.
Method 3. Use Windows 10 Media Creation Tool
Upgrading with Media Creation Tool is quite an easy task, and if you follow the instructions below closely, you should be able to do it in no time:
1. Download Media Creation Tool by following this link.
2. Run the tool and accept the Licence Terms.
3. Select "Upgrade this PC" and the downloading process should commence.
4. Once it downloads files, Media Creation will start upgrading.
5. This procedure should fully take up to 30 minutes, depending on your Internet connection and Windows 10 version.
VIDEO TUTORIAL:

Hope something helps you.