In this tutorial, learn how to fix Taskbar disappeared error in Windows 10.
The Windows 10 taskbar is a pretty useful tool, but it sometimes will vanish and users won't see anything at the bottom of the screen. In our experience, there are three main reason why your taskbar might disappear:
1. The taskbar is set to auto-hide and is not visible
2. The display resolution or main display changed and caused the taskbar to go off the screen
3. The explorer.exe process has crashed.
Read more:
How To Fix Clock Disappeared From Taskbar In Windows 10
How To Fix Taskbar Disappeared Error in Windows 10
Method 1. Unhide the Taskbar
Your Taskbar may be hidden. In order to fix the "taskbar disappeared" error, you need to open Taskbar and Navigationl in Control Panel and then unhide the Taskbar. To do that, follow these steps:
Step 1. Go to Control Panel.
Step 2. In Control Panel window, click View by > select Large icons.
Step 3. Locate and select "Taskbar and Navigation".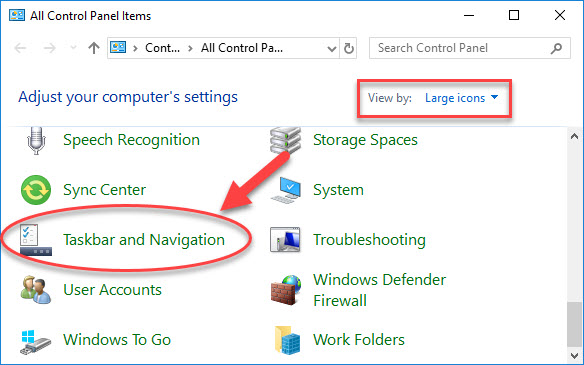 Step 4. If you are using a laptop, uncheck "Automatically hide the taskbar in tablet mode". If you are using a desktop, uncheck "Automatically hide the taskbar in desktop mode".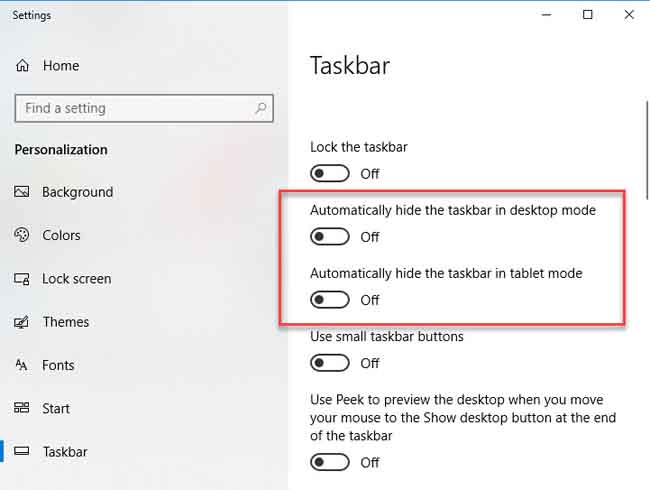 Often, there are instances when the auto-hide on the left or right of the screen and is missed by the user. Before undertaking the troubleshooting techniques, users should check for that as well.
Method 2. Changing the display settings
If you regularly connect your computer to external display options like an LED TV, the problem of "taskbar disappeared" could happen because of that. To get rid of the error, all you have to do is press the combination of Windows logo key + P and make sure "PC screen only" is selected.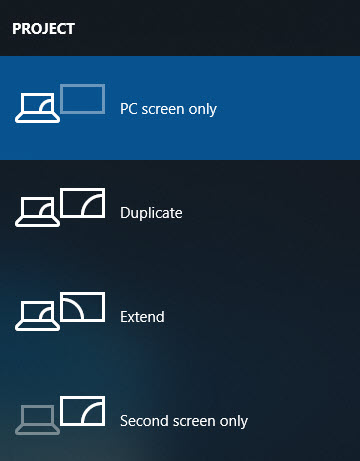 The display resolution or main display changed and caused the taskbar to go off the screen
Method 3. Restart Windows Explorer
If the problem still persists, the "Explorer.exe" process may have crashed. Explorer.exe is a process that is responsible for controlling the desktop and taskbar.
Step 1. Press Ctrl+Shift+ESC on your keyboard to open the Task Manager.
Step 2. If explorer.exe is already running, right-click pn it and select End Task before continuing on.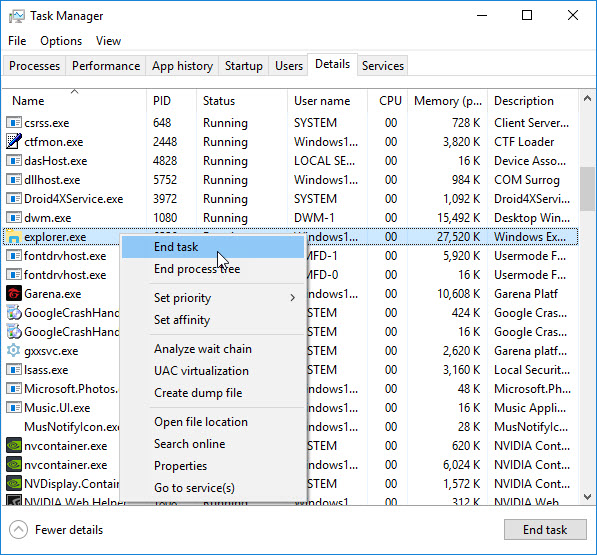 Step 3. From the menu, click File > Run new task and type "explorer" in the next window to restart the process. Click OK.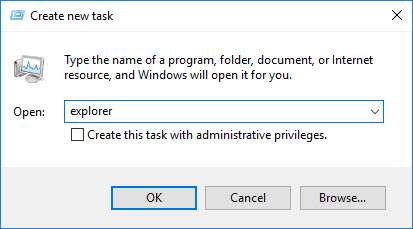 See also: How To Restart Windows Explorer
Checkout following video for live illustration of this tutorial:

Hope something helps you.