Many Windows 10 users have stated that An authentication error has occurred error message pops up on their Windows desktops. The error happens when they try to establish a connection with another remote PC with the Remote Desktop Connection app.
This problem has become increasingly prevalent since May 2018 updates for Windows 7, Windows 8/8.1 and Windows 10. These are a few methods that might fix the authentication error has occurred error in Windows.
To get started, make sure that you are logged in as an administrator and have an active internet connection.
How To Fix An Authentication Error has occurred (Remote Desktop)
Method 1. Making changes in Group Policy Editor
To fix the error "An Authentication Error has occurred", you can try enabling the Encryption Oracle Remediation policy setting with the Group Policy Editor. Here are the steps:
1. Press Windows + R, type "gpedit.msc" in the dialogue box and click OK.
See more: How to fix "Windows cannot find gpedit.msc" in Windows 10
2. Once in the Group Policy Editor, go to the following key:
Computer Configuration > Administrative Templates > System > Credentials Delegation
3. Locate the "Encryption Oracle Remediation" setting in the right pane. Double-click to open it.
4. Tick the Enable radio button. Then choose the Vulnerable option from the Protection drop-down menu.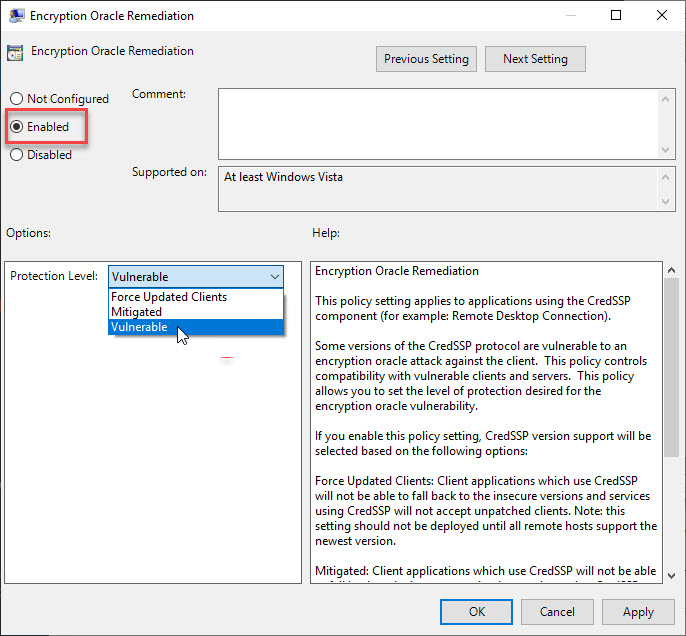 5. Click Apply > OK to save changes.
6. Open Command Prompt as Administrator. Then type gpupdate /force in the Prompt's window and press Enter.
Now check if the issue is resolved.
In this video, we will show you how to fix the remote desktop error "An authentication error has occured. The function requested is not supported."

Method 2. Edit the Registry
To fix The remote desktop authentication error has occurred, the function requested is not supported error, you need to edit the AllowEncryptionOracle registry key.
1. Press the Windows logo key + R at the same time, and then type in regedit. Click OK.
2. In the Registry Editor window, navigate to the following path:
HKEY_LOCAL_MACHINE\Software\Microsoft\Windows\CurrentVersion\Policies\System\CredSSP\Parameters
3. Find the AllowEncryptionOracle DWORD. Double-click on it to open its Edit DWORD window.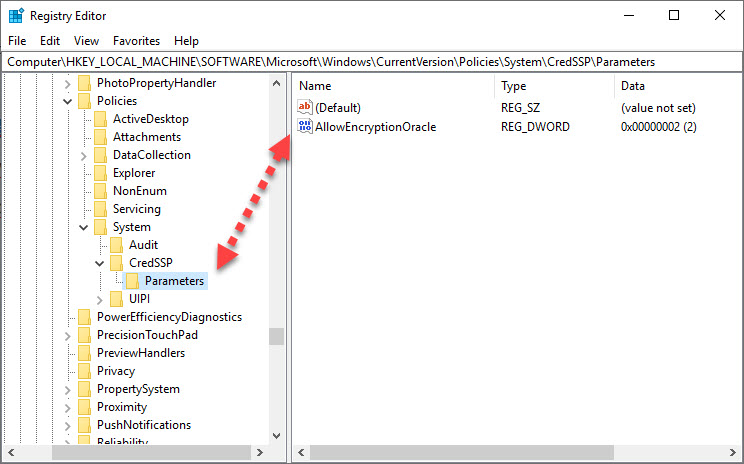 Note: If you can't find the AllowEncryptionOracle DWORD, create a new DWORD by right-clicking an empty space on right of the Registry Editor window and choosing New > DWORD. Name AllowEncryptionOracle as the DWORD title.
4. In the Value data text box, type the value 2. Click OK.
5. Close Registry Editor and restart your computer.
After restarting your PC, check if the error message is resolved
Those are some of the methods that will kick-start your Remote Desktop connection.
Hope something helps you.