In this article, learn how to fix QuickTime install error in Windows 10.
If you can't install QuickTime in Windows 10, and receive the following error message "ul_catalog.98cb24ad_52fb_db5f_ff1f_c8b3b9a1e18e not found in cabinet file quicktime.cab. This could indicate a network error, an error reading from the cd-rom, or a problem with this package.", we would recommend you follow the steps below.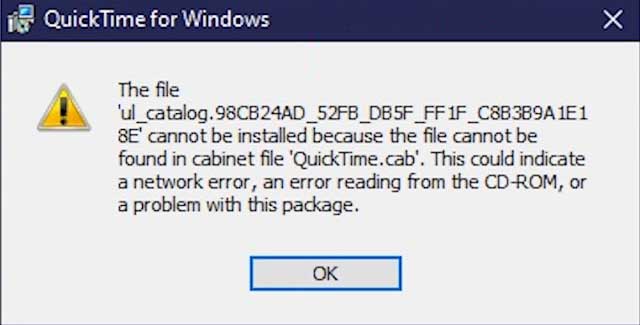 How to fix QuickTime install error in Windows 10
Method 1. Run the installer in the compatibility mode
1. Download QuickTime for Windows 10 and save it.
2. Go to the download location, find the QuickTime installer then right-click on it and select Properties.
3. Go the Compatibility tab, tick the Run this program in compatibility mode for box.
4. Choose Windows Vista from the drop-down menu.
5. Tick the Run this program as an administrator box.
6. Click Apply > OK to save changes.
Now you should be able to run the QuickTime installer without any problem.
Method 2. Use a customized installer to install QuickTime (third-party source)
1. To begin, click here to download the Windows 10 installer for QuickTime.
2. Uninstall all previous versions of QuickTime. We would recommend you use a third-party uninstaller and our tools of choice is none other than Your Uninstaller.
3. Restart your PC.
4. After restarting, try running the installer and wait until the process is finished.
Method 3. Try installing an older version
1. Visit Apple's support website and select an older version of QuickTime.
2. Download the QuickTime installer and run it in the compatibility mode for Vista and with the administrative permission.
3. Wait until the installation is finished and check if the problem is solved.
Method 4. Use a reliable QuickTime alternative
If you're keep having Quicktime installation problem on Windows 10, perhaps you should consider switching to an alternative.
Cyberlink PowerDVD should be able to replace it just fine. Cyberlink PowerDVD offers great features, and there's no current video format that can't be played with Cyberlink PowerDVD. If you're looking for a proper QuickTime replacement, be sure to try this tool.
Read more: Best DVD player apps for Windows 10
That's about it.