In this tutorial, learn how to fix Enter key is not working issue on Windows 10 PC or laptop.
The Enter key (or Return key), is frequently used to start a new paragraph or line. With Enter key, you can begin a desired process or finish an "entry" quickly, instead of pressing the OK button all the time.
If you are having the Enter key not working problem, here is how to fix it.
See more: How To Fix Keyboard Not Working in Windows 10
How to Fix Enter key is not working on keyboard for Windows 10
FIX 1. Physically check the keyboard
If you are using a computer and Enter key is not working properly, we are recommending you to check if there is a physical blockage under the keys. If that's the case, you need to physically clean the keys and the keyboard.
In addition, test if the connection mode that you are using for your keyboard is working fine.
Finally, check your keyboard on another computer or laptop. If your keyboard is not working properly on another machine, you will need to purchase a new keyboard.
FIX 2. Run the Keyboard Troubleshooter
You can run the Keyboard Troubleshooter to resolve the Enter key not working issue on Windows 10 PC. Here are the steps:
1. Click on Start Menu and then click Settings.
2. Select Update & Security.
4. In the left bar menu and click on Troubleshoot.
5. Scroll down and locate the Keyboard troubleshooter. Select it, then click the Run the Troubleshooter button.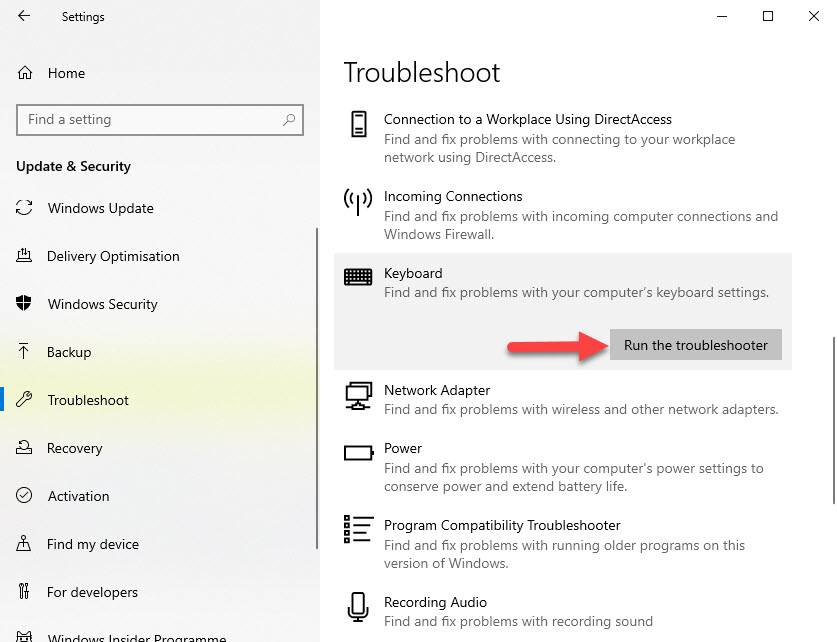 6. Wait for the tool to complete the scanning process and then follow the on-screen instructions for troubleshooting.
7. Restart your computer and your Enter key should be working perfectly again
You may also reset the keyboard to default settings or run the Hardware Troubleshooter too.
FIX 3. Turn of Sticky Keys, Toggle Keys and Filter Keys
Sometimes, enabling Sticky Keys, Toggle Keys and Filter Keys stop some keys on the keyboard to work as expected. To fix that, you need to disable these features.
1. Open Settings app and select Ease of Access.
2. In the left pane, click on Keyboard, make sure that the status of Sticky Keys, Toggle Keys and Filter Keys are all set to Off.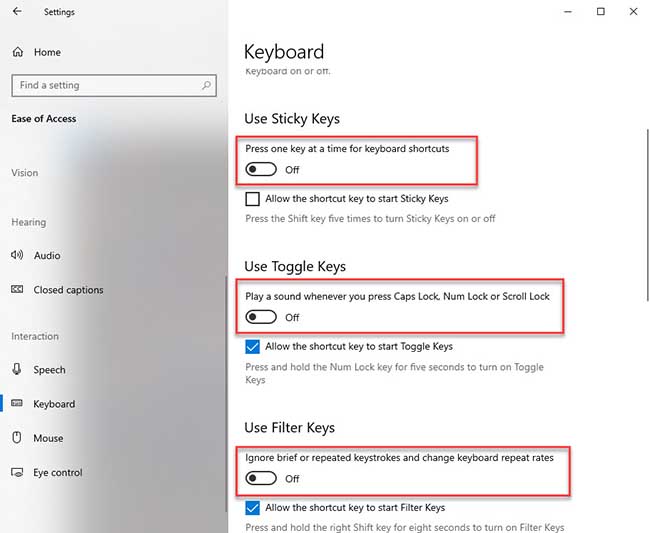 3. Test the Enter key on your keyboard to check if it works.
FIX 4. Update the keyboard driver
You need to update your current driver with the latest driver version. Here are the steps:
1. Press Windows Key + R then type "devmgmt.msc" in the Run dialog box. Click OK to open Device Manager.
2. In the Device Manager window, expand Keyboards category, right click your keyboard device and select Update driver.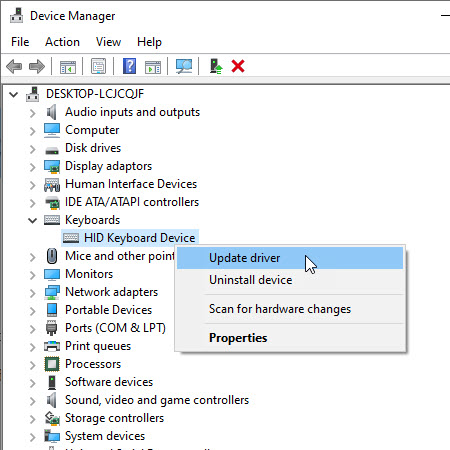 3. Select on Search automatically for updated driver software.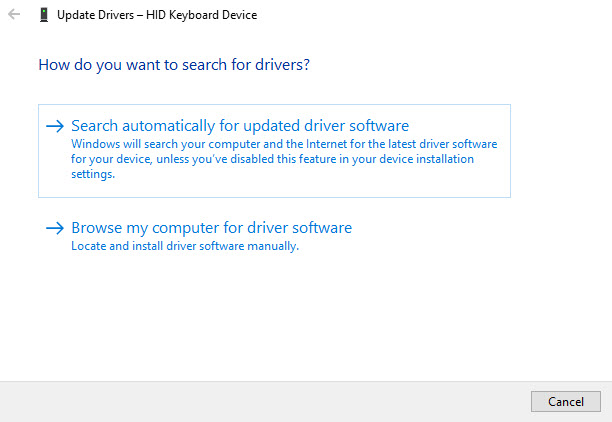 4. Wait until Windows is finished updating keyboard driver and restart your system.
After restarting your computer, check if the Enter key is working.
You can also visit the manufacturer's website of your keyboard, search for the right driver. After that, download it and install it on your computer.
However, if you're not confident playing around with drivers manually, you can do it automatically with Driver Easy. Driver Easy will automatically recognize your system and find the correct drivers for it. You don't need to risk downloading and installing the wrong driver, you don't need to know exactly what system your computer is running, and you don't need to worry about making a mistake when installing.
In this video, we are gonna show you how to fix Enter Key not working issue on Acer laptop Windows 10

Hope something helps you. Let us know if the methods to fix the enter key worked for you.
See more:
Windows key not working
W S A D and Arrow keys are switched
Multimedia keys not working
Keyboard shortcuts and Hotkeys are not working
Laptop keyboard not working.
Function keys not working
Caps Lock key not working
Num Lock key not working
Shift key not working