By default, Windows 10 will open JPG or JPEG files with the Windows 10 Photo app or your favorite photo viewer whenever you click any JPG file. If you find your JPG files are no longer being opened as you like, there are a few things to check. This tutorial also applies to almost any file type or type of image as well.
OK, if you can't open JPG or JPEG Files in Windows 10, let's look into a couple of solutions that could fix the problem.
How To Fix Windows 10 Won't Open JPG or JPEG Files
Method 1. Reset Photos app
First of all, you should reset the Photos app on your Windows 10 PC. Here are the steps:
1. Click Start and select Settings.
2. Navigate to Apps > Apps & features.
3. Now, scroll down and find out the Microsoft Photos app and select it and click the Advanced options.
4. On the next screen, click on the Reset button labeled to initiate the process.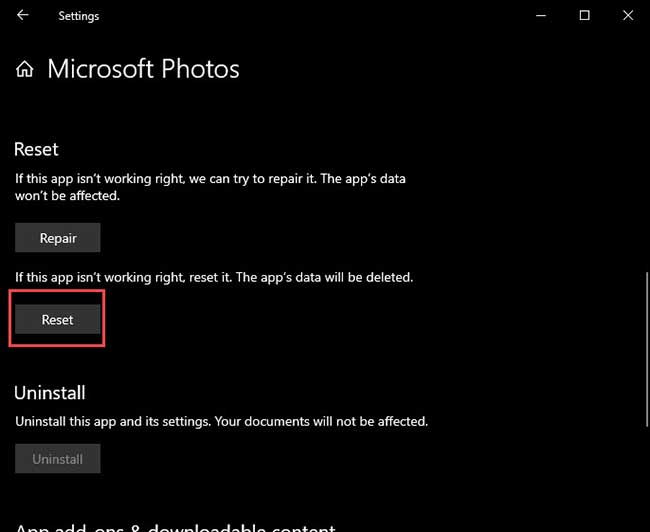 Method 2. Reinstall the Photo App
Frankly, the reason for not being able to open PG or JPEG files might have a lot to do with a bug in the Windows 10 Photo app. We recommend remove the Photos app and reinstall and check if that helps. Here are the steps:
1. To begin, start Windows Powershell as an Administrator and then execute the following command to uninstall the Microsoft Photos app and then press Enter:
get-appxpackage *Microsoft.Windows.Photos* | remove-appxpackage
2. Once the Photos app is removed, restart your computer.
3. Now you just open the Microsoft Store, search for Microsoft Photos and download and install it again.
You could also use Your Uninstaller! to uninstall the Windows 10 Photo app with a click.
Method 3. Select Photo Viewer as the default
Compared to the Windows 10 Photo app, Photo Viewer is faster, although it doesn't have some of the great features. However, if you're already no fan of the Photo app, then Photo Viewe is good enough.
1. First, you'll need to restore Photo Viewer.
2. Having done this, choose any image file and right-click on it, and you will see it included in the Open with context menu. You will also see it offered to be set as the default Photo Wiewer if you wish to.
3. To make Photo Viewer the default program for opening JPG or JPEG files on your Windows 10 PC, open the Settings app, then go to System > Default apps > Photo Viewer > Photos. Lastly, choose Windows Photo Viewer from the list and from there, everything should work as expected.
In this video, we are gonna show you how to fix Windows 10 cannot open JPG or JPEG files
That's about it.